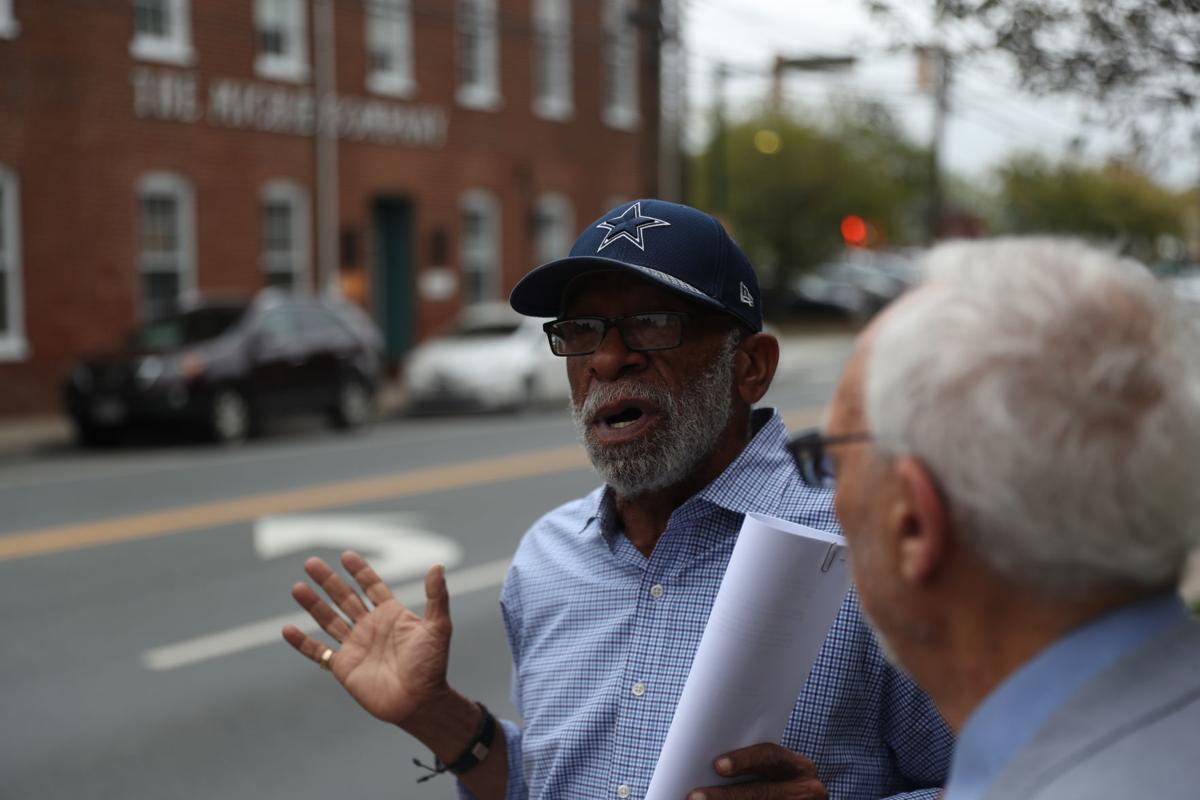 Herb Dickerson was at home with his family in Charlottesville's Fifeville neighborhood on Aug. 27 when Virginia State Police assigned to the Jefferson Area Drug Enforcement task force ordered everyone out of the house and handcuffed his daughter and her friend in front of the daughter's children.
According to a search warrant, police were looking for Dickerson's son, Kenyatta Anthony, and a cache of weapons. They found neither at Dickerson's house. In fact, according to Dickerson, his son was standing across the street during the raid.
Now, Dickerson is asking for answers and an independent investigation in the wake of the raid.
"I would hate to think this was proper protocol for handling an arrest," Dickerson said during a press conference Monday. "They terrorized the whole neighborhood."
According to Corinne Geller, a spokeswoman for the state police, Anthony is a person of interest in an investigation of a homicide that occurred in July in a neighboring jurisdiction.
"The task force had received credible information that Anthony, a convicted felon, was in possession of at least one firearm and was at his father's residence located on Seventh Street. A search warrant was obtained for that residence. As the state police and task force approached the residence, Anthony fled the house," Geller wrote in a statement. "As has been previously stated, the use of the tactical measures utilized to effect the warrant were standard practice for the purpose of public and officer safety, especially when searching for a violent convicted felon."
Dickerson and his lawyer, Jeff Fogel, sent a letter to Gov. Ralph Northam on Friday seeking a meeting and an independent investigation of state police procedures.
A spokeswoman for the governor said Monday that the office had not yet received the request; once it did, it would process and review it.
"Based on the warrant, why would you go through all that?" Fogel said Monday. "There was no reason to conduct this level of a raid."
According to the search warrant affidavit, an informant, who previously had made cocaine purchases as part of JADE investigations, told police that Anthony was known to carry a gun and had been staying at Dickerson's house.
During the search, police found a box of .380 bullets, an empty bullet box, a 9 millimeter bullet, a bag of white powder and a scale, according to records. No arrests were made as a result of the raid, according to Fogel, and police have not yet identified the powder.
Dickerson and Fogel said that if police were looking to catch Anthony in possession of a gun, they should have made more of an effort to track his movements and stop him on the street, rather than upending a neighborhood when children were home.
"It doesn't make any sense to have militarized equipment go into a neighborhood," said Harold Folley, a community organizer with the Legal Aid Justice Center.