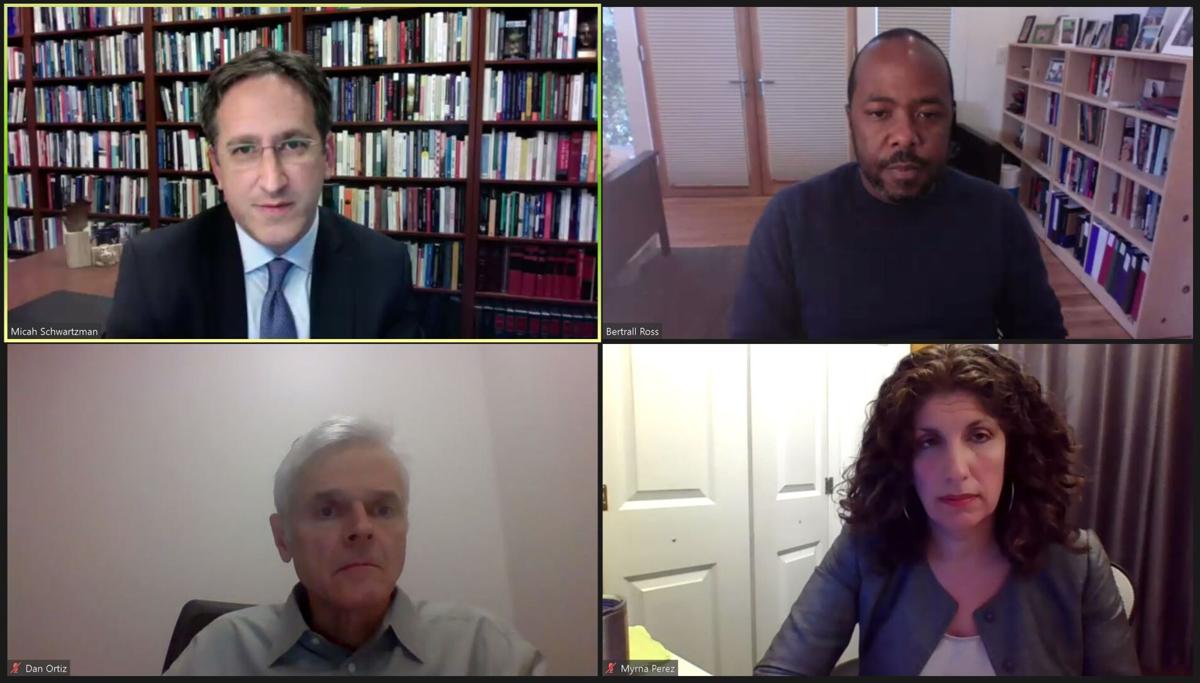 President Donald Trump's legal challenges are unlikely to impact the outcome of the election, but they could impact the future of mail-in voting, according to experts who spoke during a virtual University of Virginia panel Monday.
Hosted by UVa's Miller Center, the hour long panel discussion focused on the legal issues arising from the 2020 presidential election, including lawsuits filed by the Trump campaign, the possibility of recounts and the role of federal courts.
The panel featured three speakers: a Daniel R. Ortiz, UVa law professor and director of Supreme Court Litigation Clinic; Bertrall Ross, a Chancellor's Professor of Law at University of California Berkeley School of Law; and Myrna Pérez, director of Voting Rights & Elections at the Brennan Center for Justice.
Ortiz began the panel by sharing his insight into the lawsuits filed by Trump and his campaign, all of which are unlikely to succeed, he said.
Trump has claimed that, despite polling results, he has not lost the election to Democrat Joe Biden and that he is the victim of widespread voter fraud. These assertions are thus far baseless.
The lawsuits fall into a few sets, Ortiz said. Some of the cases involve poll watching and arguments from the Trump campaign that its poll watchers did not have adequate access. Other lawsuits are accusing poll workers of "ballot curing," or fixing ballots, Ortiz said, and a few other lawsuits are concerned with poor ballot instructions, such as "Sharpiegate" in which a false rumor spread that ballots filled out with Sharpie markers would not be counted.
The problem with these accusations is that there's usually not much evidence to support them, Ortiz said, pointing to the poll watching situations where the issue affects both Republicans and Democrats equally and have been resolved already.
"The other problem with them is that when there is evidence, there's usually no problem," Ortiz said. "For example, the claim that Nevada is accepting out of state ballots may be true, but it's been pointed out that that's legal; out of state students, military and other people have the right to send their ballots in from out of state."
In theory, Ortiz said the pressure the Trump campaign is putting on states where the vote is closer, like Pennsylvania and Arizona, could set off a complicated process that begins with the state legislatures appointing electors and a subsequent refutation by Congress.
"I don't think there's actually much to worry about here, you'd have to have a lot of pressure to create state legislators and critical ones to actually take this leap and override the democratic vote in those states," Ortiz said. "Already, the leaders of the Pennsylvania state legislature seem to be throwing some cold water on the idea."
During her portion of the panel, Pérez highlighted the various ways states across the nation updated their voting rules to account for the COVID-19 pandemic and, broadly, make voting by mail and voting early easier and more accessible.
Much of this was playing catch-up, she said, and showed how our electoral systems are not designed to handle stresses.
"I think it took the potential of the widespread disenfranchisement of people who are usually not disenfranchised to move policymakers into making our elections more resilient and making sure that voters had more options," she said.
Though there was a huge growth in mail-in voting this election, Ross said he was not sure that this trend would continue, in part because mail-in voting may be seen in future elections as disproportionately benefitting Democratic candidates.
"The combination of President Trump and the Trump campaign's so far are baseless assertions that mail-in voting is infected with fraud and the fact that the decision of Democrats to mostly vote by mail and Republicans to mostly vote in person, could reinforce the narrative and mail-in ballots are good for Democrats and bad for Republicans," he said. "And we know that once that narrative takes hold, it is hard to achieve reform in the absence of a unified, partisan government at the state level."
In order to predict the future of mail-in voting, Ross said all eyes have turned to the two run-off Senate elections in Georgia. If Democrats win both those elections then they will effectively have a majority in the Senate as well as the House of Representatives, opening the path to voting reform via a unified Congress.
However, if Republicans win one or both of the Senate elections, maintaining their Senate majority, then a split government will make the path to more widespread mail-in voting and other voting reform more difficult.
During the audience question portion of the panel, Ortiz reiterated that, even if some of Trump's lawsuits are successful, they are unlikely to change the results of the election.
"Even if they were successful I don't think they're going to be changing enough numbers at this point to make a difference," he said. "Which is one of the reasons why I think it's very unlikely to end up in the Supreme Court, even though some justice may be interested in taking up the Pennsylvania case."
Answering another question, Pérez said she thought the media had done a good job explaining to voters what was at stake in the election, but did a poor job explaining that some isolated voter issues were not a national problem.
"I cannot tell you how many times I was on a radio show, when a voter would call in and say, 'Oh, I'm really worried that my vote is not, my mail ballot is not going to count because of signature matching' and they were in a state that doesn't have a robust signature matching requirement," she said.
In order to avoid a "doom-spiral," Pérez said the media should try to "size-up" worry instead of making hypothetical situations seem more likely than they are.