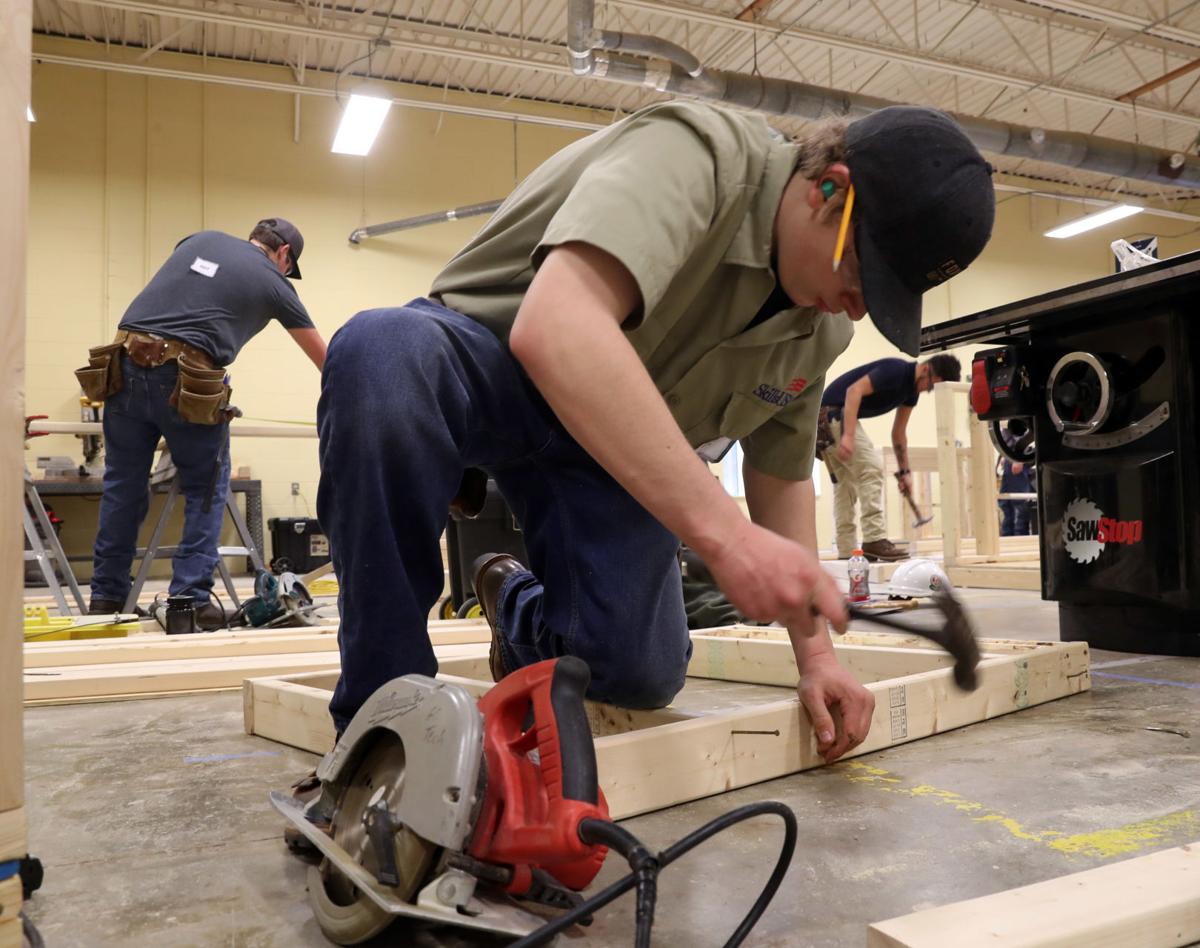 All classes at the Charlottesville-Albemarle Technical Education Center will continue online this school year, following the county school system's stages of reopening.
"We're going to do all that we can to make it really rich and engaging, but we are not going to lose this school year with our kids either," CATEC director Stephanie Carter said Tuesday evening during a quarterly board meeting.
Students will be provided tools to learn the skills at home such as mannequin heads for cosmetology students, miniature car engines for students in automotive service technology and food for culinary arts students. The teachers will record their lessons using a GoPro so students can see up close what to do with their hands.
"What we're really looking at is that we're so hands-on and wanted to give our students a first person perspective on skills," Carter said. "For instance when [instructor Matt Richardson] is doing presentations on how to repair an engine, when he looks at the engine, you can actually see what's there."
The GoPro cameras are a change from the spring and one of several changes planned for the school year. The center is jointly managed by the Charlottesville and Albemarle school divisions, both of which are starting online for the first nine weeks, and serves area high school students. The center board is made up of members of both School Boards.
"I think you have one of the more challenging curricula across the school divisions, because almost by definition everything we do at CATEC is hands-on. It sounds like you've been running to keep up," board member Kate Acuff said.
The videos will be recorded and available online. If needed, they'll be provided to students on a USB flash drive.
A virtual town hall for CATEC families will be held at 6 p.m. Aug. 18 to provide more information about virtual learning.
Carter said the online classes shouldn't affect the industry certifications that students are working toward in CATEC programs.
"Everybody knows that schools are in this situation and so they're really working with us," she said.
Enrollment is up for CATEC with 320 students enrolled and 20 on the waitlist. Only two programs — auto body repair and firefighting — are not full.
Carter attributed the increase to the ability of students to take academic courses such as Economics and Personal Finance at CATEC alongside their trade classes.
Adding those courses "helped loosen up their schedule so they could get over here," Carter said.
Carter said that area high school principals have worked with her to schedule CATEC students early in the school day to ensure a smooth transition in the event that students can return to school buildings.
Albemarle County school staff members are supporting CATEC in preparing for virtual classrooms. The center will use Schoology, the division's learning management system, and has been assigned a county Learning Technology Integrator.
Carter said CATEC teachers have been training this summer on the flipped online classroom model, which means students watch a lecture or lesson before class so the teacher can focus on projects and assignments during class time.
Like Charlottesville and Albemarle school divisions, CATEC is planning to offer synchronous classes in which all the students join a virtual class at the same time.
"All of our kids will have the tools they need to be able to do the hands-on learning that we would traditionally do at CATEC," Carter said.
Instructors will hold office hours during the week to meet with students.
Carter said she's also increasing the student support team at CATEC, which is led by the school counselor, to make sure they are keeping students engaged.
"I think that's one of the things that worries me the most about going online is just building the connection that we have with students," she said.
The instructors are working on creating a student orientation complete with videos of teachers in their classroom as another way to connect with students.
"For me, the exciting part is that our teachers are going to have these really well thought out and planned online courses that we can use for flipped instruction if a student misses a day of class," Carter said. "We built this repository and so while this is challenging, I'm really looking at it as an opportunity to move CATEC forward too."
Be the first to know
Get local news delivered to your inbox!