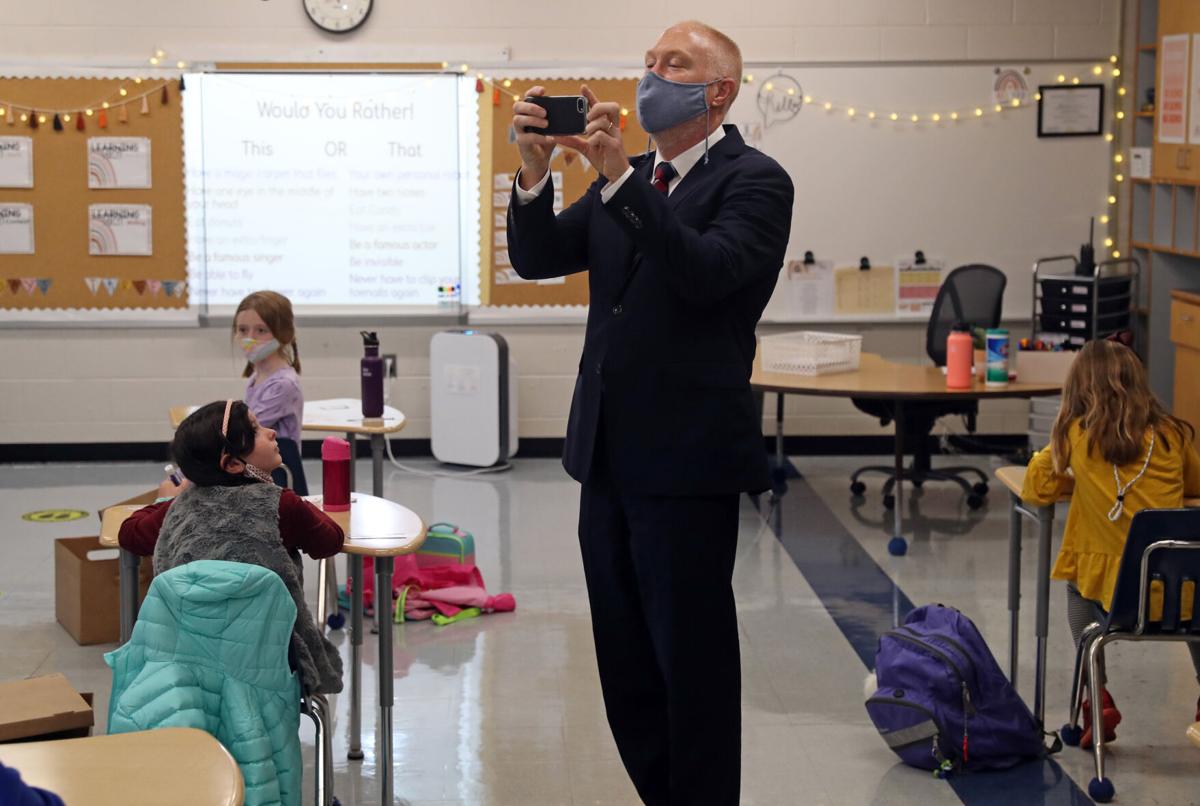 As Albemarle County Schools prepare to increase the number of students learning in person next month, some School Board members are worried about how the county will make learning equitable between students who are taking all of their classes online and those who are attending in-person.
The School Board voted 6-1 on Thursday evening to move to Stage Four of reopening, but pushed back the start date to March 15 in order to give employees more time to receive at least one dose of the vaccine. The new date means that students in fourth grade and higher will resume in-person classes a year after Gov. Ralph Northam first closed schools amid the COVID-19 pandemic.
"I support having students in schools if that's what their families need or want," said School Board member Judy Le, who was the one dissenting vote. "But we also need to serve all of our students. And that also means the nearly half of our division who has chosen to remain virtual. And we know that more of our students of color, and our economically disadvantaged students are in that group, while more of their white and economically advantaged counterparts have chosen hybrid learning."
So far, 42.8% of employees working in-person currently or in the next stage have received their first dose, about 26% are scheduled to do so and 13.8% said they don't want to receive the vaccine or are undecided. About 10% of employees who want to get the vaccine have not been able to schedule an appointment.
In new reopening guidance released Friday, the Centers for Disease Control and Prevention said that vaccinating staff is not a prerequisite to offering in-person instruction.
"We realize again that this motion is probably not something that everybody likes, but it's really the best that we can do, I think, given the circumstances," board chairman Graham Paige said after the vote.
Stage Four will bring several changes beyond opening up in-person classes to all students and increasing the number of days preschoolers through third-graders will attend from two to four. School meals will only be delivered on Fridays, as opposed to the current model of every day. Families can still pick up meals from select sites around the county every day.
"In my opinion, to bring pre-k to [third grade] students in four days a week, we're compounding the inequities that have plagued us for generations," Le said during a lengthy statement explaining her vote and how the division historically has served students of color and those from low-income households.
Elementary students will not have art, music, P.E. or library classes together because of a new staffing model to allow for more students to come into the school buildings more often. Instead, students will have access to online lessons in those subjects, known as specials, that they can work on independently.
That staffing model also utilizes talent development teachers, media specialists, teaching assistants, English as a Second Language teachers, and interventionists as general classroom teachers for the kindergarten through third-grade classes.
About half of the teachers assigned intervention roles, 21% of ESOL teachers and 60% of those special subject teachers will be classroom teachers in Stage Four, according to data provided to the School Board. All intervention and ESOL students will continue to receive services, the division said.
"I think that there is a simple fix for this," Le said. "I feel like keeping our hybrid students at two days a week will help us preserve those intervention services, those ESOL services, and those specials, and we can help not deepen these inequities."
This is not the first time Le has raised her concerns. Division officials have spent months planning for hybrid learning under Stage Four and first presented details on its plans to the board in December.
Deputy superintendent Debbie Collins said in an interview this week that the goal for special classes is to have division-wide lessons available monthly. Those will be asynchronous, meaning students can work on them at their own pace and independently. Currently, elementary students have the option to attend an online special class live.
"We're hiring teachers to come in and have those resources up and available," Collins said.
Board members said Thursday that delaying the start of Stage Four was fair for all groups and a compromise with teachers who have been against expanding in-person classes.
Angel Pilkey, the student representative on the School Board, said he supported moving back the timeline.
"We owe it to [teachers] to make sure that they're taken care of," he said. "And I know they've had my back, personally, ever since I've been in the school system and again, I would not be here if it weren't for them. And I think this shows that we're addressing that problem and that we have their back a little bit, too."
At past meetings and on Thursday, several teachers called on the division to hold off until all employees had the chance to receive the two-shot vaccine.
"Teachers are suffering, too," said Anna Dinwiddie, a teacher at Albemarle High School. "We are hurting, and we are feeling like we have no say and not only going back into school without being fully vaccinated, without herd immunity and without any recognition that we are doing a really good job in this situation we have been put in."
Several parents, sharing their experiences about the harm virtual school has caused their children, pushed for the division to open quicker and offer more in-person instruction for middle and high school students.
Alana Smith, a parent in the Scottsville district, said the current system of virtual learning is not working for her children, three of whom are doing online classes.
"I believe it is way past time for them to return to school," she said. "Currently, my two teenagers do pretty much nothing but stare at screens, all day long and this is very unhealthy. And they're not learning the material as well as they have in the past. They are isolated and cut off from their friends, their grades are suffering and this is not a good situation for them.
Her younger children have struggled to retain the information learned last year and have seen their reading levels drop, she said.
"Honestly, as much as their teachers try really hard, they hate doing Zoom school," she said. "It's really sad to see their love of learning crushed when they're so young, but that's what's happening."
Board member Dave Oberg said that he was sure the board's decision wouldn't make anyone happy.
"I want to make sure that the people who are virtual are still receiving to the best extent possible with the people who are going hybrid are getting so that we don't create a second class setup," he said.
Students in fourth grade and higher taking hybrid classes will be broken up into groups — A and B — and will come to school every other day, with Friday designated an at-home learning day for both groups. Some students might be invited to come in for four days a week as needed.
Before the vote, Le sought to clarify the differences in instructional time between the hybrid learning students and those in all-virtual, especially with the expansion of in-person days for preschoolers through third-graders.
"The instructional time has not changed," Collins said. "The time with teachers has perhaps shifted."
The learning day for both groups is six and a half hours, though virtual students will work independently during the afternoons.
"As a parent, that other half day is not instructional time," Le said. "So, that to me is an inherent difference between what the virtual students are getting and what the hybrid students are getting."
Board vice-chairwoman Katrina Callsen said that more information about what the Stage Four decision will look like in classrooms would be helpful.
Albemarle County Schools Superintendent Matt Haas said there have been varying degrees of difference between virtual and face-to-face education over the years.
"I would echo the sentiments that were shared earlier: that it's not going to be perfect, there is going to be a change, but it is a choice," Haas said. "I don't necessarily think we should apologize for it because we're dealing with the resources that we have. And we have a directive from the Governor of Virginia to make face to face instruction our primary objective and that's what we are doing."