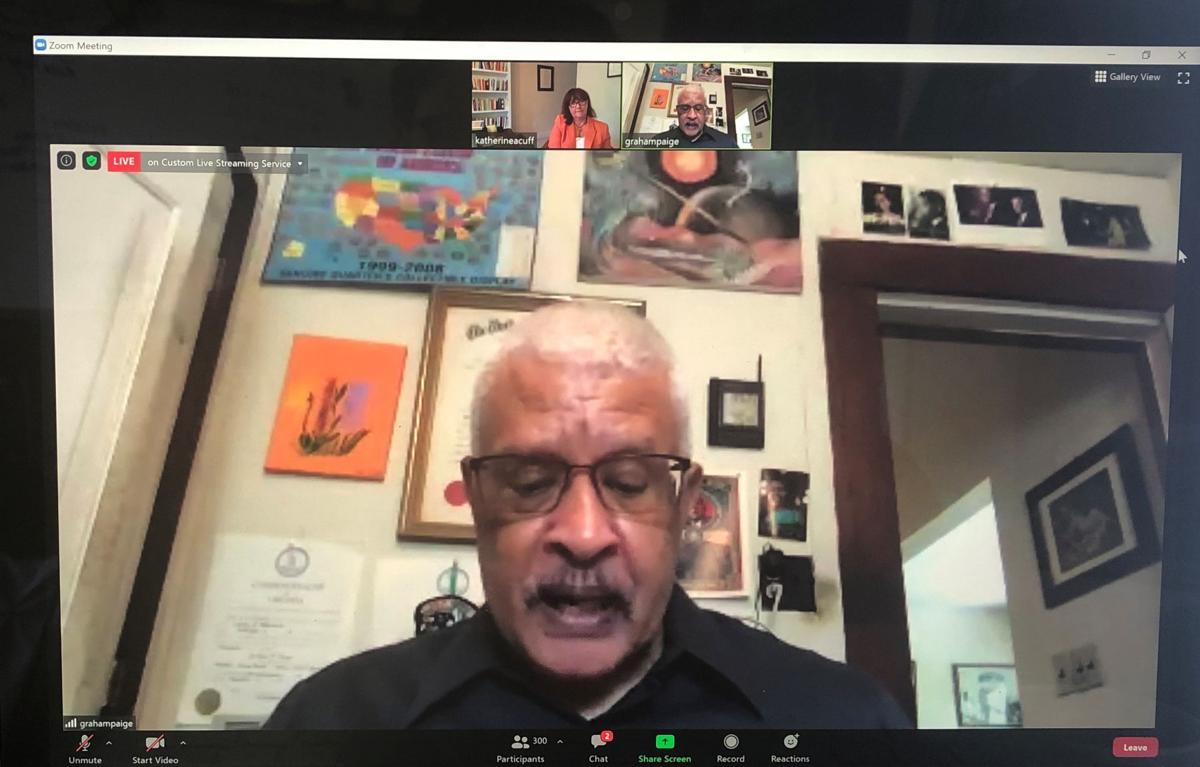 Parents and teachers packed a virtual town hall Thursday to hear about plans to reopen Albemarle County schools and to ask questions.
The town hall, held over Zoom, is the first of three planned over the next few days. Hosted by School Board members, the event gave parents and teachers a chance to ask questions about reopening plans. Thursday's event was scheduled for an hour but lasted more than 90 minutes.
Many questions were not answered, and the division is planning to add answers to a list of frequently asked questions to its website. That list will be published in a few days.
The School Board is expected to vote on a plan for classes July 30. The next town halls are 2 p.m. Friday and 6 p.m. Monday. For more information, go to k12albemarle.org/acps/return-to-school. Capacity for the town halls is limited to 300, though recordings of the meetings will be posted on YouTube.
The first day of school is set for Sept. 8.
During this first town hall, participants peppered the panel, which included the director of the Thomas Jefferson Health District, Dr. Denise Bonds. Questions ranged from what would happen if a student or staff member tests positive and the risk that a child could become infected to how virtual learning would work and the mask requirement.
Parents said they want to see clear guidelines and standards for virtual learning to ensure consistency across the division, as well as in-person classes for working families.
Bonds walked through the different guidelines and the culture changes — such as normalizing mask wearing — that will be necessary if schools have in-person classes.
As for the risk, "every day I learn something new about COVID-19," Bonds said, adding that children appear to have fewer complications if they contract the virus.
A recent study of 65,000 people in South Korea found that children younger than 10 seem to transmit the virus less often than adults and older children, according to The New York Times.
In the local health district, people 19 and younger account for 12% of positive cases, a sliver of the hospitalizations and none of the deaths.
Bonds said families that have a child who tests positive will not be required to share that information with their school. However, the health department knows about every positive case in the district and will conduct investigations for each. Investigations include tracing known contacts and letting those people know they might have been exposed to the virus.
Bound by state privacy rules, Bonds said the health district does need to get permission to speak to an infected person's contacts, which would include schools.
"I will say that probably 90% of the time people really understand the importance of letting others know they've been ill, so that they can quarantine and do the right thing," Bonds said. "It's very rare that we don't get permission from an individual to share that information with the appropriate contacts."
The division currently is asking families to pick an instructional option — hybrid or all-online — for the coming school year. The intent form is due July 31; however, parents said during the town hall that they needed more information about virtual learning, such as a sample schedule, to make that decision.
Debbie Collins, assistant superintendent for student learning, said daily schedules would be released in early August. The division has provided general information about virtual learning on its website.
Elementary students could expect two to three hours a day of direct instruction virtually, depending on grade level. The virtual week would include special classes such as art, music and physical education. Activities that students can complete independently, away from the screen, also will be provided.
Middle and high school students could expect about four hours of direct instruction with each day including four classes. Courses necessary for graduating and to fulfill the Standards of Learning are guaranteed to be offered, according to the website.
Classes at the Charlottesville Albemarle Technical Education Center will only be taught online if all courses division-wide are taught remotely.
Families can switch models if there's space, though that change will take several days to process, according to the division's website.
Given the volume and diversity of questions, some suggested in the town hall's chat box that the division host separate forums for parents and teachers.
Board member Kate Acuff, who hosted the forum with board Chairman Graham Paige, said the board has received hundreds of letters from community members with questions, suggestions and concerns regarding reopening.
"I've been impressed with how engaged our community is in our children and our schools," she said. "Parents have advocated passionately about their children for their children, which is absolutely appropriate."
Acuff added that the board is trying to balance the health and education needs of students and employees and the larger community while having the best possible outcomes.
"But there's no denying that schools are a place where people might get infected," Acuff said. "... We are working hard to minimize class sizes and interactions, but those measures are imperfect. … We're having to make plans based on the constraints that we have in terms of our buildings, testing, changing epidemiology in the community. You all have made wonderful comments, and we will do our best to answer them."