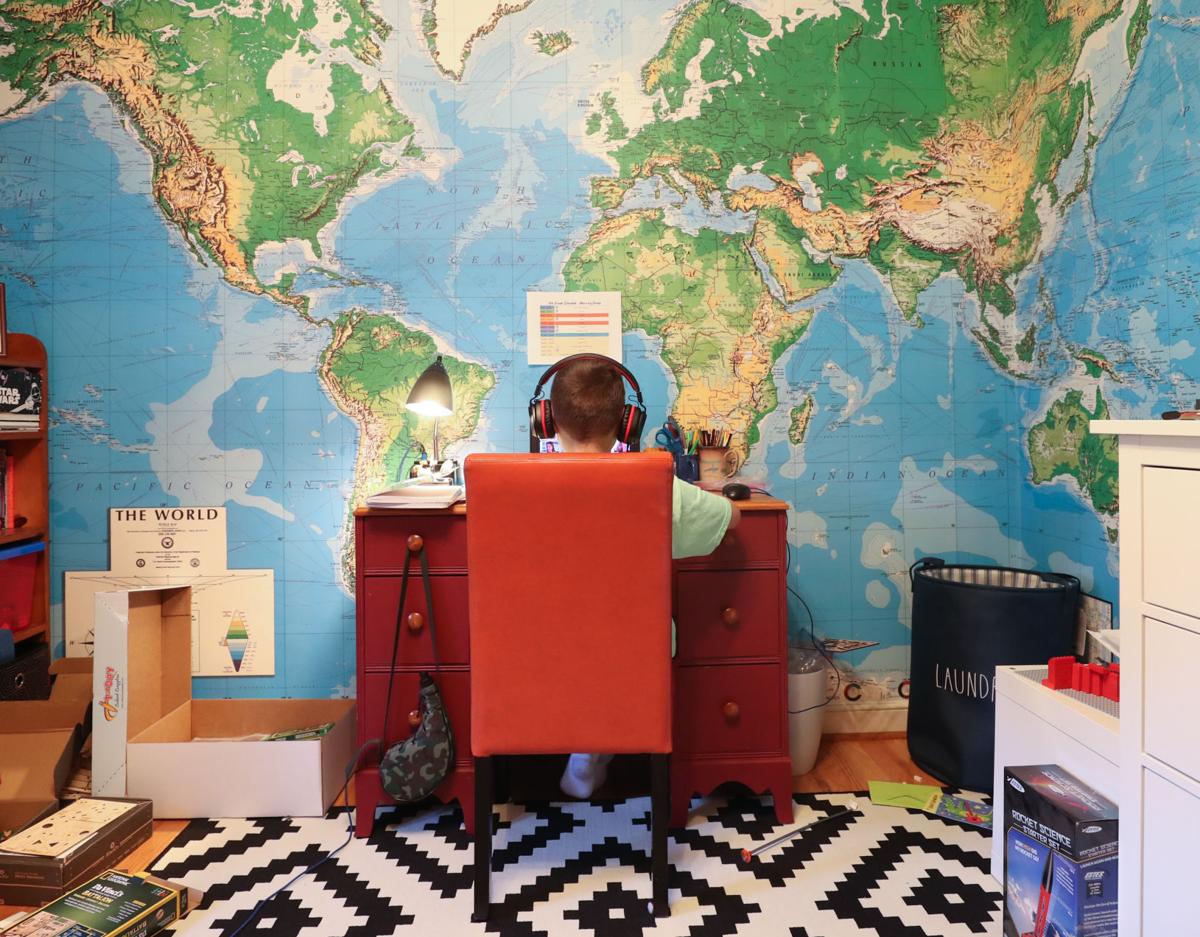 Maverick McIntyre's first day of school as a fifth-grader at Woodbrook Elementary started on a confusing note.
"I couldn't get on to Zoom," he said at the end of the day. "Then, my mom found the link."
Charlottesville and Albemarle County schools joined others across the country in the experiment of widespread virtual learning Tuesday. Schools closed indefinitely in March as the virus spread, using virtual learning to round out the 2019-2020 school year. The University of Virginia also resumed its fall semester Tuesday with the start of in-person classes.
Like Maverick, students in both districts reported some initial challenges in joining virtual classes but said things went fairly smoothly after that, though an internet outage in Charlottesville affected some students and staff for about an hour. School officials in Charlottesville and Albemarle have said the focus of the first week is on making sure students can connect to classes and building relationships.
Although the day wasn't exactly like the school Maverick's used to, "it had a school vibe," he said.
He said sitting at a computer for three hours was different for him because he's usually only allowed an hour of computer time. But, math was fun and he got to see most of his friends during class.
"It was kind of awkward," he said of saying hi to them over Zoom.
Maverick's sister Maddox McIntyre, an 8th grader at Jack Jouett Middle School, was expecting the first day to be a disaster. By that metric, the first day went well, she said.
The online meetings were a little confusing, Maddox said, because some students couldn't find the links and joined class later. And, after one full day, her back hurt from sitting at the computer.
The middle school day in Albemarle County includes four classes, which last about 80 minutes. In between classes, Maddox messaged her friends to talk about what the teachers said and to clear up any confusion.
"I got to see my friends as long as their camera was on," she said.
Looking ahead, she's excited for an independent study class focused on project-based learning.
"I've never had a class like that before," she said, adding that she liked how she will have different options for projects and that it seemed as if the class would be student-led.
In Albemarle County, schools were expecting about 680 students to use school buildings for classes, an invitation extended to students without internet access, some with disabilities and English-language learners.
Before Tuesday, a teacher at Monticello High School who was supposed to be working in the building tested positive, according to an email from principal Rick Vrhovac to staff, and a close contact of the teacher is in quarantine for 14 days. The teacher who tested positive is in isolation for 10 days.
Division spokesman Phil Giaramita said this could be the first case among instructional staff, though officials don't know for sure because neither employees nor the Thomas Jefferson Health District is required to notify the division of a positive test.
Cases weren't tracked during the summer when employees weren't physically reporting to work. However, the division thinks there might be 10 or fewer employees who have tested positive since the spring.
Charlottesville
Staff in Charlottesville City Schools kicked off the day by delivering breakfast to students along bus routes and at schools as part of a "Breakfast Blitz."
The division also will be providing free meals, which include lunch and breakfast, to students who qualify each day during the school year. More information is available at charlottesvilleschools.org/food
Later in the morning, an internet outage caused by an issue with Securly, the software used to filter online content, disrupted classes for students and teachers working out of the building, though Charlottesville spokeswoman Beth Cheuk said it was resolved within an hour after the Department of Technology was able to find a work-around. The outage also affected schools in Virginia Beach and others along the East Coast.
Chris Meyer, who has a child at Jackson-Via Elementary, said the first day was going better than expected and that the meals pick-up went well. Three students were working out of Meyer's house, and connectivity was an issue all day.
"One kid is doing PE right now, so the whole house is shaking as he jumps up and down," he wrote in a Twitter message.
About 70 Charlottesville students logged on to class from the second floor of Walker Upper Elementary School as part of the Piedmont Family YMCA's virtual learning center, though their initial class meetings were disrupted by the outage. The organization also started a center at the Brooks Y location to provide families with a childcare option. About 80 children attended the Brooks center, which included classes on the gym floor and other repurposed facilities throughout the facility.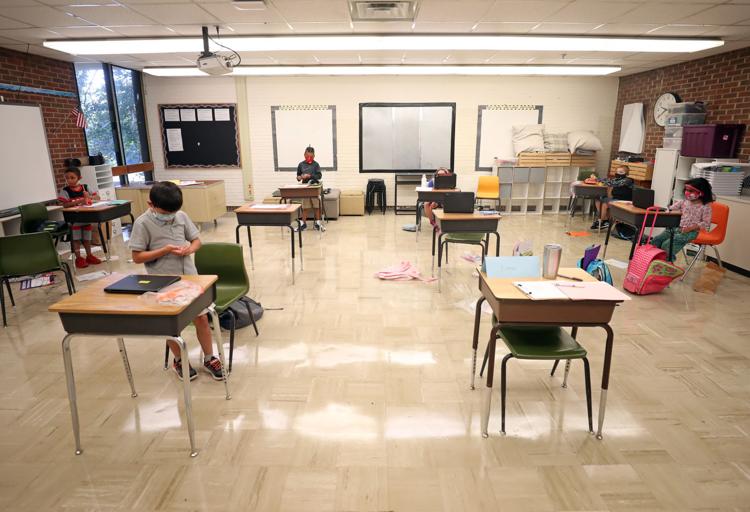 The Walker location can accommodate up to 200 children, and the Y is still hiring staff to work in the centers. Fees for the virtual learning center are on a sliding scale and depend on a family's income. Scholarships are available to help offset the cost as well.
Bonita Patton, senior youth and family director for the Brooks Y, said the centers will be a learning experience for all involved and that she expects a lot of trial and error during the first week as the staff members work to help students get up and running in their online classes and back into a school routine.
"We want to support them the best way we can," she said.
The Y drew on lessons from its after-school and summer camp programs for the virtual learning centers. Patton said they didn't have a positive COVID-19 case during their summer camps, which ended last week.
She credited parents for being honest with the camp staff and keeping their kids home if they didn't feel well or might have been exposed.
In addition to frequent hand-washing and sanitizing, students were put into small groups and stayed in the same classroom except to use the bathroom or go outside. Students and staff also have their temperature checked and go through a daily health screening before entering the building. Masks were required.
Patton said they learned during the camps that students don't really understand staying six feet away from their friends. Tape on the ground showed students where to stand.
"You have to do a lot of redirecting in the hallways," she said.
The Boys and Girls Clubs will start full-day programs next Monday.
In the different classrooms, the center staff led activities to help students get to know one another and to get organized for virtual classes.
In line with the state's guidelines for childcare centers, students were given a bag with all their necessary school supplies, which they can keep in a basket near their desk. They'll be at the same desk each day.
The centers are open until 5:30 p.m., so when the school day ends, students can participate in different enrichment activities.
With summer camp ending Friday, Patton said they had to move quickly to switch gears for virtual learning. On Tuesday, they were setting up the space and had plans to set up a game room for students to use for breaks from the computer.
"We still have a lot of unpacking to do," she said.
Be the first to know
Get local news delivered to your inbox!