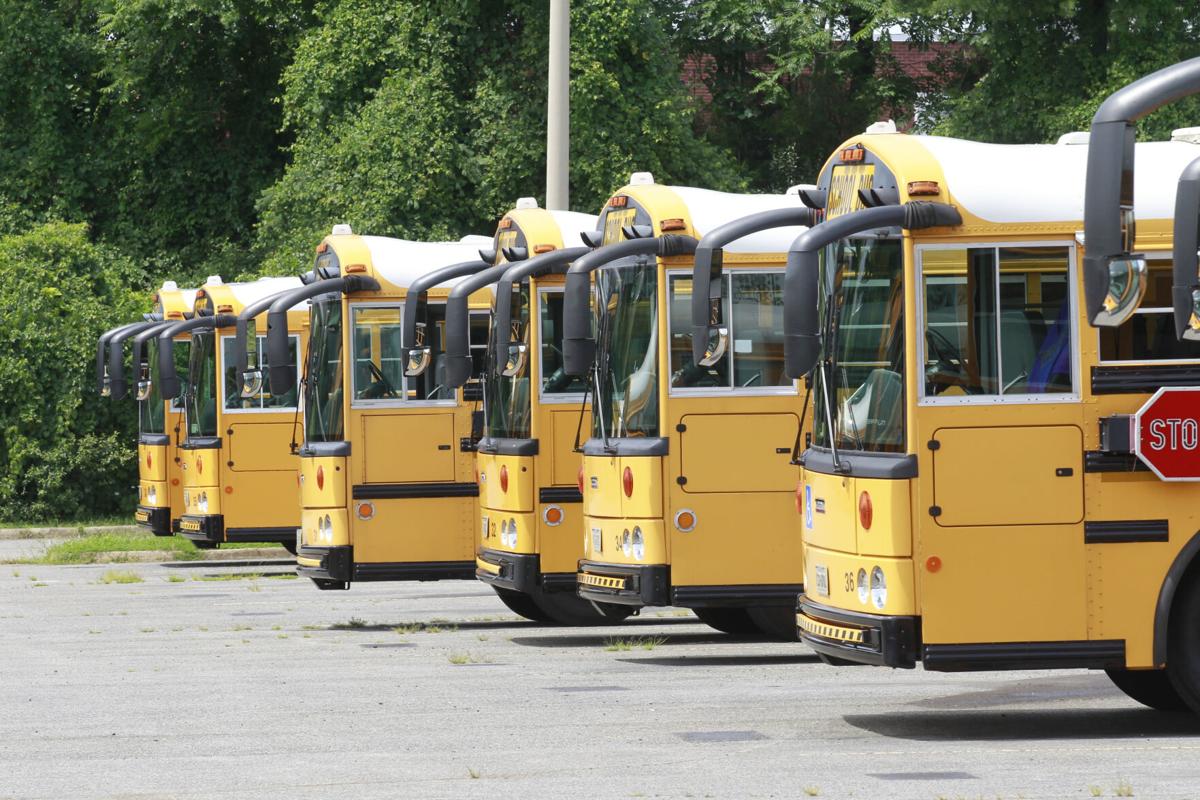 With the help of Del. Sally Hudson, D-Charlottesville, and thanks to efforts to have buses run more routes, Charlottesville City Schools is close to solving a daunting transportation issue.
In the week since in-person classes started, the waitlist for transportation has dropped from 143 to fewer than 20 students after more drivers were hired and other changes were implemented.
The division is focusing on serving students who otherwise would be without reliable transportation to school because school bus capacity is limited due to the pandemic. A shortage of drivers as students returned to classrooms exacerbated the capacity challenges, leading a range of school and community groups to organize alternative ways to get to school.
Hudson helped address that shortage by working with the Virginia Department of Motor Vehicles, division officials said. Potential school bus drivers had experienced months-long delays to schedule an appointment to take a knowledge test on a computer, the first step in the licensing process.
"We appreciate Del. Hudson's efforts with the DMV, which already got one applicant through testing," division spokeswoman Beth Cheuk said, adding that applicants can now get tested within a week.
Most of the students who were on the waitlist started riding the bus Monday, Cheuk said.
Hudson reached out to the Virginia Department of Motor Vehicles earlier this month after the Charlottesville School Board discussed the transportation challenges, and her staff checked in with the Albemarle County school division as well.
Hudson said that part of the job as a state lawmaker is to understand what state agencies can help and when it's appropriate to accelerate a process.
"I knew there was something we could do," she said.
To drive a school bus in Virginia, individuals must have a commercial driver's license and the S endorsement.
Hudson also helped the Albemarle County school division expedite their efforts to administer the written test remotely rather than having applicants go to the DMV. Currently, the county schools' transportation department can administer the road test for the license but not the written knowledge test.
"They're taking the people that were qualified to do the road tests, and they would be the test administrator," said Jim Foley, director of transportation for the county school division. "So we'd have to have computers set up on-site just for testing, and we're in the works of doing that."
Foley said that process could be ready by the end of this month, giving the school division more flexibility to get potential drivers through the training process.
"DMV is interested in doing it because then they don't have as much work to do, and they can leverage us to do it for them," he said. "And it benefits us, so it's really a win-win."
The remote testing option is primarily for county trainees. Foley said it would be difficult for the county division to help with other school systems.
"If we can help, we will, but our staffing is pretty tight," he said.
The Charlottesville school division contracts with the city transit department for pupil transportation. The $2.9 million contract for this fiscal year includes 28 drivers, according to division documents. Since September, the city has lost 12 drivers to other employment or because of COVID-19 concerns.
That meant the city could run 10 routes at the elementary level, for Walker Upper and Buford Middle and for Charlottesville High School.
To help more students get to school on the bus, Cheuk said Pupil Transportation has created more double-runs, meaning that one bus is used for more routes. Solutions for the remaining students on the waitlist are being finalized.
Additionally, the city is continuing to work on contracting with a company to bring in more drivers.
"We know these challenges are not over, but we're so appreciative of our partners at the City in Pupil Transportation and Safe Routes to School, and we thank all the community members who have stepped up to assist," Cheuk said. "It was ambitious to offer four days of in-person instruction all the way from preK through grade 6, but we felt like it was the best option for our students."
Foley said his team started looking to add the remote knowledge test for the CDL months ago and was one of nine school systems with pending requests, according to an email from DMV commissioner Rick Holcomb sent to state lawmakers.
"It's been fast-tracked thanks to Del. Sally Hudson's work," Foley said.
About 37 schools and organizations are able to offer the written test and road test remotely. The DMV expanded remote knowledge testing to include CDLs as a result of the pandemic.
The delay at the DMV extended the division's hiring process by a couple of months, Foley said. Typically, applicants that pass the interview stage and complete tasks such as a drug test and physical can start a training class with the division — the first week of which is focused on the written test.
After they pass the knowledge test, a driver would receive a permit and could complete the next week of training before taking their road test.
"But because it was very difficult to schedule, they may not be able to take the second week of training," he said.
Foley said he has lost about 10% of the driving staff since schools closed in March, which is about 17 positions. He expects that he lost five out of the 12 applicants because of the DMV delay.
"Some of it is we're not able to get people in the door to even apply because they see how long the wait is," he said. "... In addition, if you're going to be a bus driver, you know, that means you want to work and start earning a wage. But if you're waiting two months to get a permit test and you can't continue training, you're more than likely going to go somewhere else and find a different job."
The division has struggled to fill open bus driver positions and has made several compensation changes in recent years to address that issue. Foley said the department was fully staffed before the pandemic.
"But then COVID hit, and we lost a bunch of people," he said. "So now we're starting to come back a little.
Foley said the division is recruiting drivers for a June training class. The Charlotteville school bus driver position is part time, and drivers get some health and retirement benefits. Drivers can start at either $16.64 or $18.41, depending on work week hours.
Currently, county drivers start at about $15.33 an hour but that will increase to a little more than $16 an hour after July 1. They also receive full-time health and retirement benefits.
"You can work 12 months a year, 40 hours a week, or 182 days for 5 hours a day," he said. "You can work pretty much as little or as much as you want."
So far this school year, 11 transportation employees have tested positive for COVID-19 and several others have had to quarantine, but Foley said they haven't had documented cases of students contracting the disease from drivers or visa versa. He credits that to the range of mitigation measures in place on school buses from cracking a window to limiting the number of students abroad to disinfecting the vehicle after each run.
"So I would encourage people that might be retired or concerned about catching the virus that the CDC has said that school environments are very safe, and it's been proven to be the case for us, too," he said.