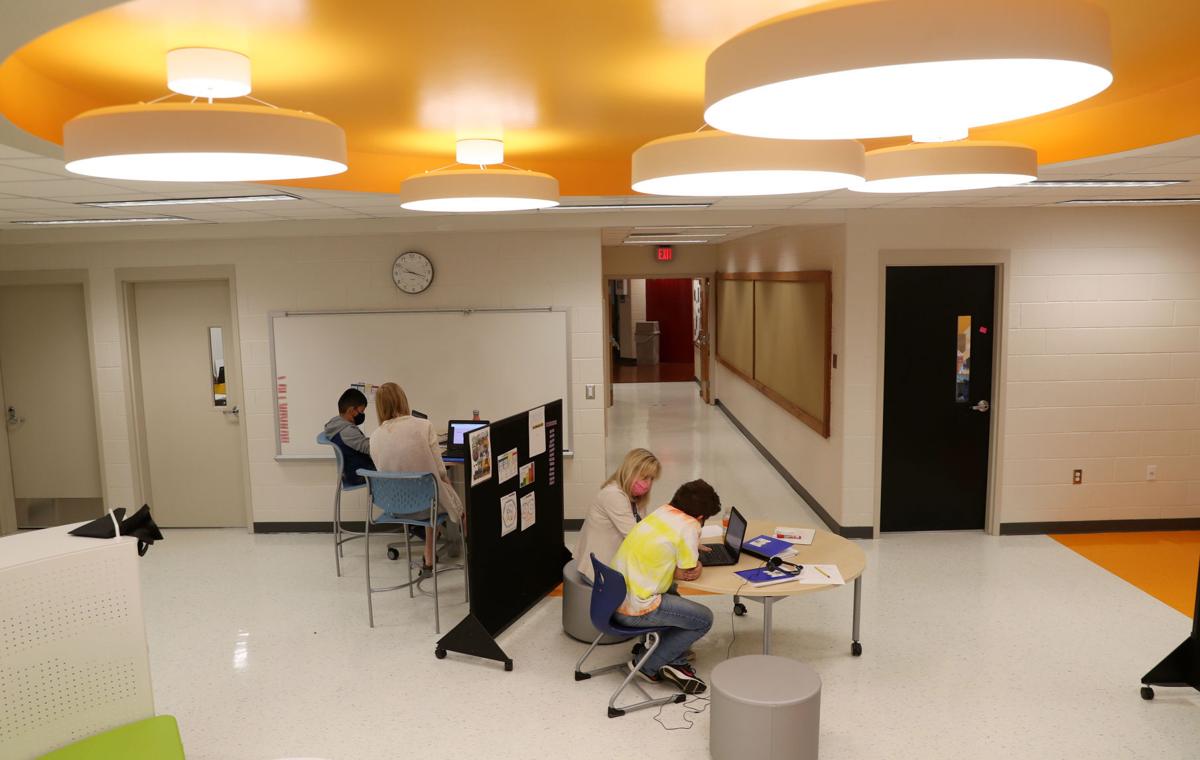 By next school year, students at Scottsville Elementary will have more modern classrooms, a bigger gym and access to three learning kitchens.
Those changes and others are part of the school's $12 million renovation and expansion that started this summer and will continue all year. For now, crews are working on the expansion next to the school while some students and teachers work inside the school, which was built in 1974.
Some parts of the school already look new from work completed over the summer. Some walls were torn down to make room for a collaboration zone where students from different classes can work together. Each set of four classrooms will have a similar space when the project is finished.
"Our teachers are really great at working together and collaborating, … but I think those Collab Zones will even improve that more and allow for some more opportunities for that," Scottsville principal Staci England said during a tour this week.
With most of the students out of the building because of the virtual start to the school year, England has been showing families the changes through videos posted to social media.
Overall, the expansion will add six classrooms, two offices and another bathroom in addition to a larger gym. Scottsville and Red Hill Elementary are the only schools in the division that don't have full-sized gyms.
The renovations will extend throughout the building, changing out the school's orange tile because designers couldn't find a match for it and creating a James River-focused interior design that highlights the school's rural nature and some of the science Standards of Learning.
"The goal is to eventually not be able to say you are in the old or new part of the school, but to just be one school," England said.
This year, about 223 students are enrolled at Scottsville and the building can hold 189 students, according to division documents. Several trailers are in use at the school now. After the expansion, the building capacity will be 303.
England said that with this expansion, the school is able to grow more without having to add another trailer if enrollment increases.
A $6 million, 6,300-square-foot expansion is currently underway at Red Hill. That project includes a new gym, stage and support spaces such as staff offices and storage space and is expected to be done by next school year. The building capacity will go from 162 to 216 students after the project's completion.
So far, the new bathrooms at Scottsville and collaboration zone have been a hit with the students who are taking classes at the school.
"They love the brightness of the light," she said. "Even the classrooms are just seeming lighter now with those white divides."
She added that she's also excited about having a lighter and brighter space overall as the construction brings in more natural light to the school.
Another change she's looking forward to is the addition of three learning kitchens, each of which will have a fridge, stove, microwave and oven.
Last year, students in second grade baked muffins and cooked pancakes as a class — projects that tie into different subjects such as science and English.
"It just adds more passion to the kids' day," she said. "The kids help direct some of that learning, and our teachers are deft at integrating standards within the things that kids are interested in."
Because of the construction, the fifth-grade trailers at Scottsville were removed and the classes were moved into the building.
"Honestly, it's just better to have everyone together," England said. "The fifth graders felt apart from the school for the past several years. We tried calling [their trailers] the Quad, which made it sound collegial but it wasn't ideal."
England is hoping that having all the students eventually under one roof will make it easier for the older kids to work with the younger students.
"Kids are reading buddies with each other, and once a month we have school wide activities where they work together," she said. "And they just truly love it."
The kitchens will add a new element to that multi-grade work, she said.
With the expansion, music and art also will be in the same building rather than isolated in a trailer behind the school. Additionally, those teachers will have access to rooms specifically designed for their subjects.
"Having music and art and PE all within the building, I think we'll show the value of those classes," England said.
Additionally, with a larger gym, England said the school can better utilize staffing. In recent years, the school's enrollment has allowed for more than one PE teacher, but the gym could only accommodate one class at time.
"So we couldn't utilize our staffing to its maximum," she said. "Whereas with a bigger gym, we can have two classes going on at a time, and that will allow some flexibility for scheduling and better meet the needs of kids."
Classrooms also have moveable walls between them that could be opened up to allow for more space for social distancing among students. In a non-pandemic school year, the moveable walls could give students more opportunities for collaboration with other classes.
Before, the classrooms had walls that were "moveable in theory," England said.
"And these just move really easily," she added. "They're whiteboards. They're magnetized."
England said the construction crews are a little behind schedule because of the pandemic, so not all the classrooms are set up.
Aside from that, the renovation is going smoothly, she said.
"I would say the highlight for me is just seeing the excitement in the kids and the excitement in the teachers as they have come to see the space," she said. "I've given some tours to community members as they come to pick up iPads or [other supplies], and they really love it."