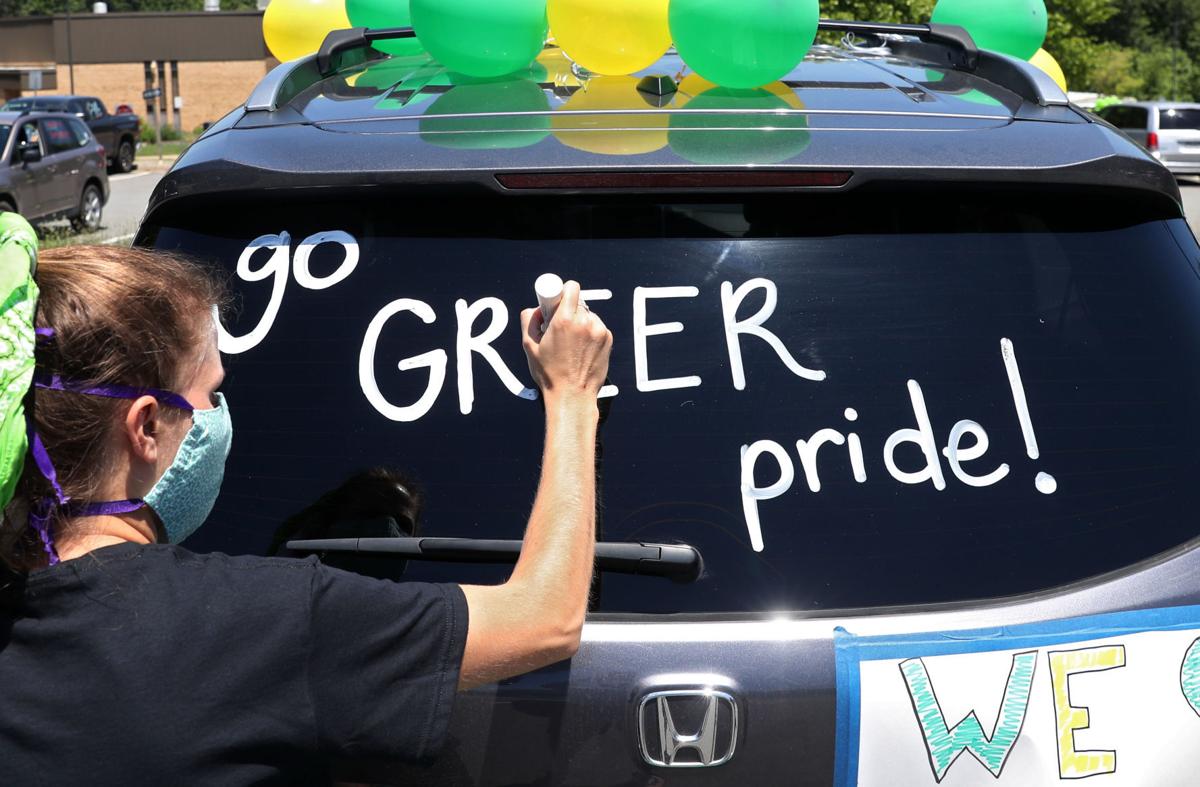 As local schools prepare to reopen next month, they're giving special consideration to students for whom English is not their first language, from enhanced support to an in-person option to ensure that they can learn the language skills they need to succeed.
In Albemarle County, students learning English are one of the groups that have been invited to school buildings for online classes. In Charlottesville, educators are planning a multi-step effort to connect with these students and make sure they have what they need.
The effort is being made because learning English is pivotal to learning other subjects. In-person classes and talking with classmates immerses students in the language, which will be lost during online classes.
But, remote learning is better than nothing, said Monte Hackney, the school specialist with the International Rescue Committee's Charlottesville office.
"The level of instruction that we would hope for; it's not ideal," Hackney said. "... We anticipate the language acquisition to be much slower among students who haven't had that experience, who are online only."
Fall plans for English Learners, which were informed by lessons learned during the spring closure, have had to overcome several barriers, including a diversity of languages. Charlottesville City Schools had about 530 English Learners — 14% of the division's student body — who speak more than 50 languages. In Albemarle, there are nearly 1,470 English Learners, about 10% of the overall enrollment, speaking 77 languages.
The variation means that the teachers turned to translation services, live interpreters and other tools to make sure they stayed connected with families, a priority for both school systems, and to make sure they could access the online learning programs.
The federal government, which helps to fund programs for English learners, told districts in May that they needed to continue language services and support during the pandemic. English learners are eligible for services after taking a test that gauges their language proficiency.
In March, after schools suddenly closed, grade-level teachers as well as those who focus on English Learners experimented with a slew of tools and strategies to connect with students and their families: adjusting their work schedules to evenings and weekends to meet with parents, making home visits to deliver learning packets and troubleshoot technology and handing out their personal cell phone numbers.
This effort was aided by months of classroom time to establish protocols and build relationships with students and families.
"In the fall, that'll be a little bit harder with our newcomers who hadn't had that classroom experience in schools," said Jean Pfautz, an English as a Second Language teacher at Charlottesville High School. "We will have to be wiser about how we can support them."
Chris Chang-Bacon, an assistant professor of education at the University of Virginia Curry School of Education and Human Development, said students learning English are dealing with multiple challenges and inequities in addition to their language skills.
"They're also dealing with poverty and racism in the same way that a lot of other groups or students are, and they're dealing with these things all at once," Chang-Bacon said. "So I think it's really important for our community to see how our English learners are being served as a reflection on how we are reaching a broad range of students in our community."
He said that he hoped teachers would use visual aids like they would in the classroom.
"It all becomes verbal, and all becomes talking, which is one of the hardest ways to engage," he said. "When you're learning a language, to listen to someone talk at you, it all goes by so fast."
Hackney said many of IRC's students have responsibilities in the home, but school is really a chance for kids to be kids.
"I would hope that even if they are at home doing online instruction that it can be organized in a way that allows students to kind of block off that time and be students," he said.
He also pointed out that many children who work with IRC have waited months — or even years — to resume regular schooling.
"This is a continuing gap, something that students will need to recover from," he said. "There will be catch up to be done … This is something that is going to have an impact that is lasting over the next year or two or three years."
As part of the county school's staged reopening plan, Albemarle officials are inviting English learners in fourth grade or higher with limited language proficiency to come into buildings for more assistance with virtual learning when the new year starts on Sept. 8.
About 272 students who are considered newcomers and beginnings with learning English would be eligible for the in-person assistance. Direct instruction is crucial for those two groups in order for them to acquire the academic language they need to absorb lessons, according to the division's reopening plan.
"English learners who have not reached language proficiency by fourth grade find it more challenging to master the curriculum," said Debbie Collins, the deputy superintendent of Albemarle County schools, during a School Board meeting last month.
Instruction in the early elementary grades would help students with their reading and language skills, which is the reason making the cut-off fourth grade, she said.
To help with the language barrier, teachers used different tools. For phone calls, they used an on-demand service with a live interpreter who would join a family conference call. Others found texting parents useful because they could copy the message into Google Translate.
"You don't have at [your] disposal people who can speak all of the languages that we have," said Steve Saunders, principal at Greer Elementary, of using InterpreTalk. "That was a way of leveling the playing field is to be able to communicate with families."
At Greer, where 34% of students are English Learners, teachers found success with recorded videos that included teachers' voices and collaborating with each other to plan lessons for these students.
"We had a hard time directing learning without our faces and voices," said Jessa Lucia, an ESOL teacher at Greer, adding that Zoom made virtual lessons easier because they could share their screen and allow students to see how they solve a problem.
In other online activities, students also were asked to complete sentences and read aloud for video recordings.
"It's really helpful for ESOL students to produce that language," Jessa said.
Other Greer teachers said this summer that they had to be flexible in scheduling student and parent meetings because many of their families were essential workers.
"I had a lot of parents who couldn't do SeeSaw, but they came to all the zoom meetings or we would FaceTime or I could call them," said Joanie Evans, a kindergarten teacher. "They still wanted that contact with me, even though the academic part might not be as easy for them to access. But the personal connection was huge."
A hurdle at the beginning of the online switch was making sure students had access to technology, the internet and the necessary programs in addition to the school meals program and other community resources.
Connectivity still is a problem for families in the county and city schools, said Hackney.
Albemarle County's International and English as a Second Language department used a hotline that was available 24 hours a day to field calls from families about their needs. They helped 150 families with finding food, shelter and other resources.
"It was really based on whatever the family needed," said Emily Elliott, an instructional liaison with the department.
Elliott credited the ESOL teachers with adapting and finding creative ways to engage students, from cooking classes to co-planning with other teachers to break up lessons into "must dos" and "may dos." She added that each approach varied depending on the student.
"There's no cookie cutter model," she said. "It was based on the needs of school, number of students and what they were facing on a daily basis."
Peniel Mutombo and Zohra Neejah, students in the city schools, missed seeing their friends while schools were closed but liked being able to work on assignments on their own time.
They thought their teachers helped a lot with online school, though they preferred direct instruction — either in-person or online — to help with their language skills.
"I want to learn English," said Zohra, who will be attending Buford Middle School this year. "I want Buford teachers to talk to me face to face, even if it's over Google Meet."
Elena Kryzhanovskaya, an ESL teacher at Walker Upper Elementary, credited Zohra with advocating for herself and encouraged her to do that at Buford.
"Everytime I had a question, I texted my teacher," Zohra said.
Kryzhanovskaya said she held an online class meeting about once a week but was available to students who asked for more help. She met daily with those who reached out and advocated for themselves.
"I think it would be important for the kids in the fall to know, like, these are the three numbers that you can call or text whenever," Kryzhanovskaya said. "It doesn't mean that we're going to answer right away, but we will get back to you within 24 hours."
In Charlottesville, about half of the English learners are considered to be newcomers or beginners with Level 1 or 2 language proficiency.
Kryzhanovskaya used home visits to reach students who were struggling. She said she went to some students' homes weekly to read books together.
"Instead of asking them to come to our turf; we're meeting them on their turf," Kryzhanovskaya said. "We're trying to meet them where they are academically economically and physically. I think that was kind of refreshing."
Before schools were closed down, Pfautz had a sense that something was going to happen and the ESL team at CHS made an effort to get contact information for students and bookmark all the online programs they typically use in their internet browsers.
"Still, it took so many home visits to remind them of the bookmarks," she said.
Kryzhanovskaya and Pfautz said the online activities only reached about one-third of their students. To help, Pfautz said she sent packets of work to the newcomers because they were having trouble accessing the online programs.
"We could feel their frustration, so we did send some packets home and then we could kind of talk through them online for the ones who made it, but there was still a disconnect with who got the packets and who was showing up to ask questions. And so we need to do that better in the fall."
For this school year, each student will have a case manager to monitor their participation in classes and communicate with teachers about their academic needs. An ESL counselor will help check in on their social-emotional health and assist with outreach to families.
The home visits were a highlight for Pfautz, who said the typical school year doesn't always have time for them. Some families invited her in for tea, which she declined for safety reasons.
"Our community, in particular, with so many refugees and asylum seekers and special immigrant visas, they're so resilient, and this is not the hardest thing they've had to go through by any means," she said. "But to see them with their families and have their parents come and chat with us made me realize how important that was and how I really want to continue that family engagement piece."