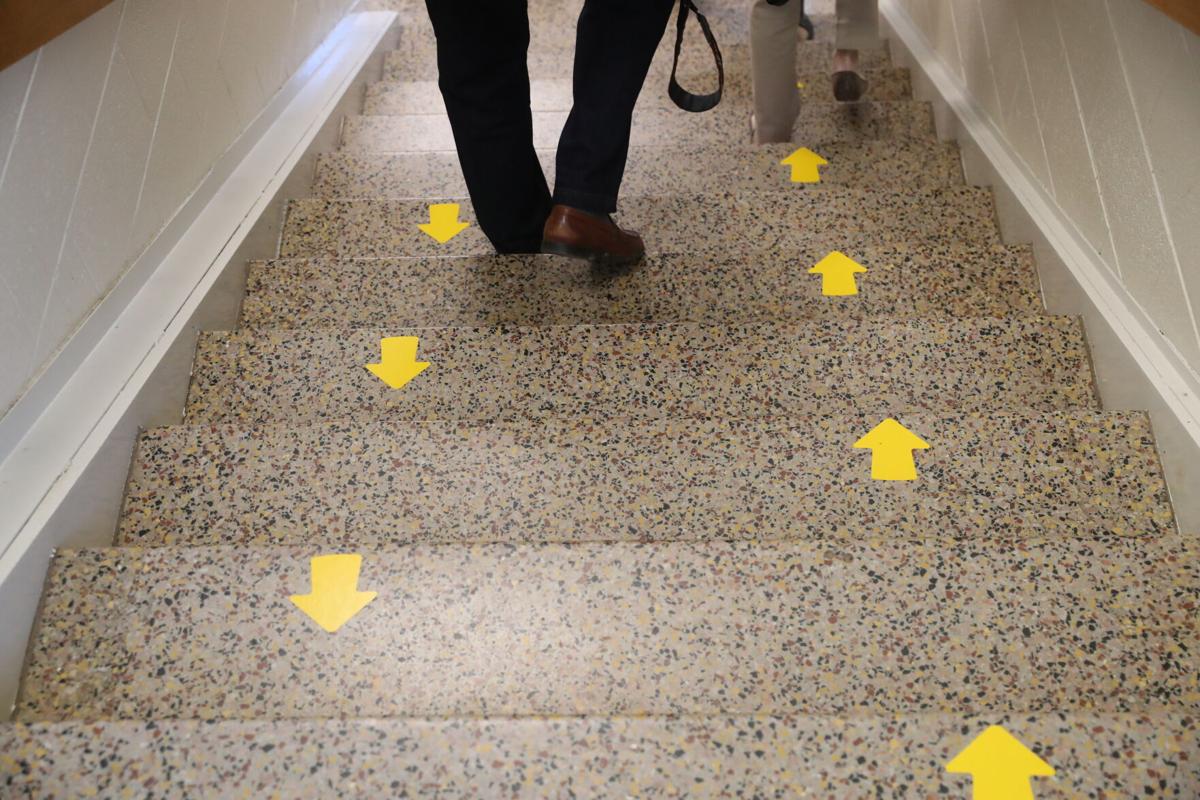 Albemarle County schools have seen an increase in positive COVID-19 cases among students since opening up in-person classes to more students; however, the mitigation strategies appear to be working and limiting the spread of the virus within schools.
"I think the proof of that is that while we're seeing individual cases spike or increase, we still are not seeing in-school transmissions, which is really where the mitigation strategy works because the mitigation strategy doesn't protect the student in the community," division spokesman Phil Giaramita said, adding that the increase in cases was not a surprise.
With 8,000 students back in the buildings, Stage Four is the biggest test yet of the division's COVID mitigation measures, including social distancing, mask wearing, upgrades to ventilation systems and installation of standalone air purifiers. About 2,500 students had in-person classes during Stage Three, which started in November.
In the two weeks since Stage Four began, 31 more students have tested positive and 121 more students have had to quarantine because of a possible exposure to the virus, nearly half of whom are student-athletes, according to the division's COVID-19 dashboard. The positive cases among students account for 43% of all student cases since the school year began. About one-third of the student quarantines this school year have been in the last two weeks.
Western Albemarle High School has had the most cases, at 11, while Woodbrook Elementary has had 10. Monticello and Albemarle High schools each have had seven cases.
Contact tracing through the Blue Ridge Health District has shown that most students who tested positive were exposed to the virus in their own home or community, not in school, Giaramita said.
"When you look at why that's been the case, and why we've had that kind of success in limiting transmission, it has to be because of the good mitigation strategies," Giaramita said. "I think they clearly are working, and the data supports that."
Presumably, if the mitigation measures weren't working, the division would see more outbreaks as students test positive after having to quarantine because of exposure at school. An outbreak is defined as two or more people testing positive because of exposure in a common setting, such as at school or work.
Currently, there are no active outbreaks in the county school system, according to the division's dashboard. The Blue Ridge Health District, whose service area includes but also extends beyond Albemarle, has reported four outbreaks in K-12 schools since the academic year began.
Throughout the district, the rise in positive cases has tapered off and plateaued with 1,092 new cases reported this month. That's a drop from 2,314 new cases in February and 3,237 in January.
In Charlottesville City Schools, 10 students have tested positive since in-person classes resumed for some grade levels March 8, according to the school division's dashboard. This academic year, the division has had a total of 13 cases among students.
In Albemarle, cases among staff have been fairly flat since resuming Stage Four, with one employee testing positive since March 15. COVID-19 vaccinations for school staff started in January and most employees have had the chance to receive at least one dose before Stage Four began, according to division data.
Families are not required to report positive cases to the schools, though the health district investigates each case and determines who needs to quarantine.
"We've been impressed from the beginning about how painstakingly the health department has conducted these investigations and how thoroughly," Giaramita said. "It's not guesswork."
Giaramita said there has been some confusion among families about who is making the final call on quarantines. Although the division notifies families about the need to quarantine, they are passing along health district directives, he said.
He added that each case is reviewed individually and that there's no policy that says an entire team has to quarantine if a student tests positive for COVID-19.
"If you look at the way the mitigation strategies have been implemented in the schools, particularly when it comes to quarantine, we certainly have been on the side of caution," Giaramita said. "... I think it's worked. I think you would see higher in-school transmission numbers if the mitigation strategies were relaxed."
The cases and quarantines among student athletes have disrupted game schedules and ended seasons early, in some instances. Currently, 46 student-athletes at Western Albemarle are staying home because of a possible exposure to the virus during a practice or game.
Western Albemarle has had the highest quarantine numbers among student-athletes, at 87, according to an analysis of division data. At Albemarle High School, 38 student-athletes have had to quarantine at some point this year.
Giaramita said the division has received some critical emails from parents who were frustrated and questioned why their student or an entire team needs to quarantine compared with how other school districts have handled the issue.
"One of the risks of resuming athletics is that if there is a possibility that you do get a positive case, it's probably going to affect more students than if a positive case was a child who got exposed outside the school and was in the classroom," he said.
Giaramita said he understands the frustration among parents and student-athletes as this is the second year that the pandemic has disrupted sports and other hallmarks of the high school experience, such as prom and graduation.
"It's one of the prices being extracted by being safe in the pandemic," he said. "That has to come first, even though it may cause some disappointment."