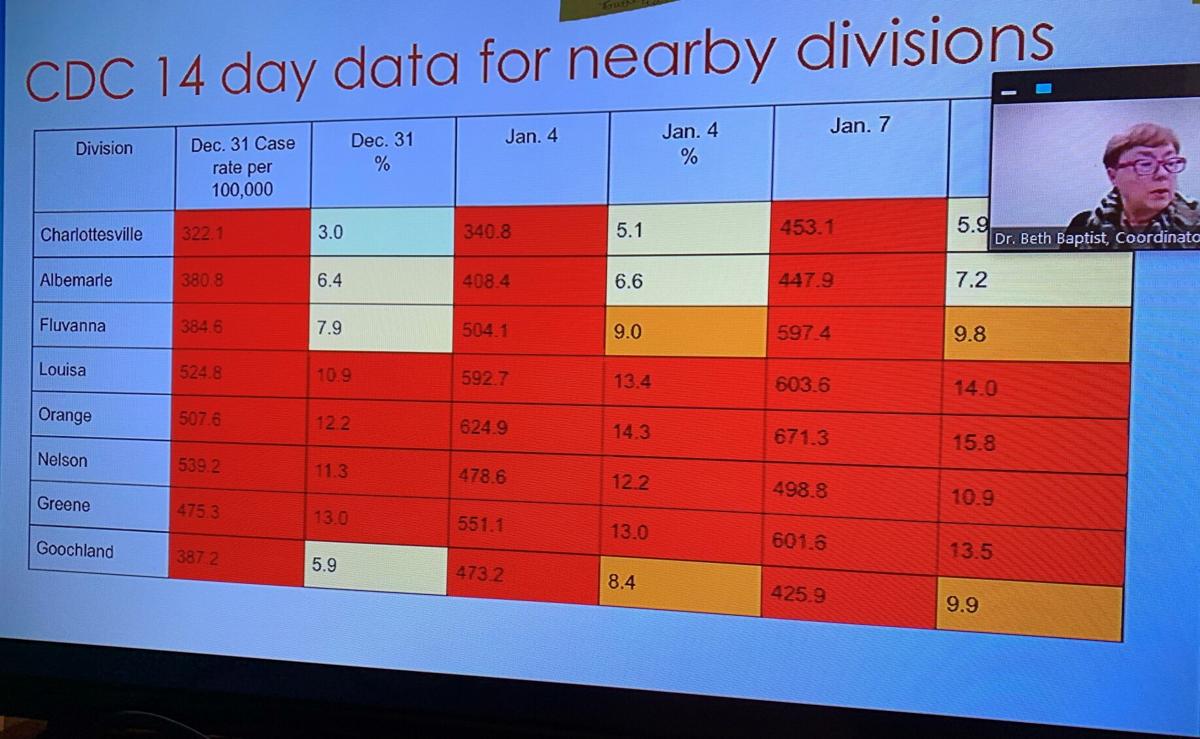 With local COVID-19 case numbers surging, a split Charlottesville School Board pushed off the start of in-person classes until at least March 8 — almost a year since school buildings first were closed amid the COVID-19 pandemic onset.
The board's 4-3 vote followed more than two hours of a wide-ranging discussion on the start date, how to provide assistance to at-risk students, the role of vaccinations in reopening decisions and what COVID metrics would be required to start in-person.
Last month, division staffers revamped their plan for in-person classes, limiting them to preschoolers through second-graders while providing targeted assistance to other students in need such as those in special education and English-language learners.
Throughout Thursday's discussion, board members were divided on the best way to restart in-person classes amid a surge in COVID-19 cases, especially as vaccination rollout has begun. The vote was the first about reopening that wasn't unanimous.
Newly elected board Chairwoman Lisa Torres and members LaShundra Bryson-Morsberger and Jennifer McKeever voted no, saying they didn't think case numbers would improve by then.
"We're at the beginning of the surge is what I'm concerned about," McKeever said.
The division has pushed back the start date for in-person classes several times, largely abandoning the quarter-by-quarter approach to learning models that it outlined in July. Some board members said constantly revisiting the date is causing more stress for staff and they advocated for having the data, not a set date, guide their decision.
Schools Superintendent Rosa Atkins previously recommended starting in-person classes Jan. 19, and the board was supposed to review the COVID-19 data during Thursday's meeting. But in response to the rising numbers, Atkins suggested starting Model A on Feb. 22.
Atkins said she hoped the extra time would give the case numbers time to decrease as well as allow for vaccinations to increase. School staff are included in the state's second priority group. No other details were presented as to how that date was decided.
Atkins said that she was concerned about the safety of students and staff but also had "grave concerns" about students for whom virtual learning is not working.
"Especially when you get to our high school," she said. "We have students that we're going to lose in our high school because they're not engaged."
Board members in support said that students are struggling with virtual learning and wanted to see students back in school.
Board member Sherry Kraft said she didn't know if Feb. 22 was the right date and later suggested the March 8 option.
"We have to try to get our kids back as soon as we can," she said. "We have to get it rolling."
That seemed too soon for most board members, given that cases are projected to peak that day, according to a UVa model.
McKeever said she supported a mid-March start date for classes but also wanted to see some elements of Model A started sooner. If high school athletic team can practice, she reasoned that some CHS students can go into the buildings for extra help during the mornings.
"I'm just trying to make sure that our kids graduate," she said.
The plan for Model A at CHS doesn't change the current schedule for virtual learning.
However, Atkins didn't want to start providing assistance for students at only one school because that would create an equity issue.
James Bryant, newly named vice chairman of the board, agreed with Atkins because that would leave out elementary students. McKeever strenuously disagreed with that stance.
McKeever and Bryson-Morsberger said that they wanted to find a way to support students who are most in need without restarting in-person classes.
"So while we're waiting to go back face to face, can we come up with a model that addresses those groups?" Bryson-Morsberger asked. "... Something to start somewhere."
There was talk among some board members about creating a new model that would provide targeted supports from preschool to 12th grade, but it was unclear by the end of the meeting if that would happen.
"I think there's a lot of confusion about what is permitted and not permitted given our vote," McKeever said near the end of the meeting, adding that she would like to see broader thinking about what's possible and what students need.
This school year, the board has not weighed in on every reopening decision. The division has provided in-person support for students in special education programs without explicit board approval. Additionally, the board has not discussed the status of winter sports, even as other school divisions have opted out of the season.
Bryson-Morsberger said the Feb. 22 date was arbitrary and wanted to see a focus on improving virtual learning for students right now.
"Because the date chasing is just creating more stress than there needs to be," she said. ".... It would be a shame when we're this close to the vaccine, and we're in the middle of the surge for us to just make a decision because we're all getting COVID fatigue. I just think it's better if we really base it on what we know is coming."
The School Board and division leadership have been using the Centers for Disease Control and Prevention's indicators and metrics to evaluate the local case numbers and positivity rate. The metrics are used to gauge risk levels from lowest to highest risk of COVID transmission in the schools.
Neither division staff nor the board have set what those different risk levels mean for in-person classes.
The two indicators are case incidence rate, which is determined by the total of new cases per 100,000 residents over the last 14 days, and the percent positivity rate, which is an average of positive cases over the same time period.
Localities throughout the health district have case incidence rates in the highest risk category following the surge of cases that started around Thanksgiving, and positivity rates vary from moderate to highest risk.
Although numbers in Charlottesville and Albemarle are lower than surrounding localities, Beth Baptist, the city school's COVID liaison, said the city is not an island.
'We have to remember Charlottesville is not an island, because we've got people coming in and people going out every day so there's so much movement back and forth," she said.
As of Thursday, the city's positivity rate over the last 14 days was 5.9% while case incidence rate is at 453.1. December was the worst month of the pandemic as the Blue Ridge Health District reported 2,181 new cases, 86 new hospitalizations and 10 new deaths.
Currently, 69 people with COVID-19 are hospitalized at the University of Virginia Medical Center.