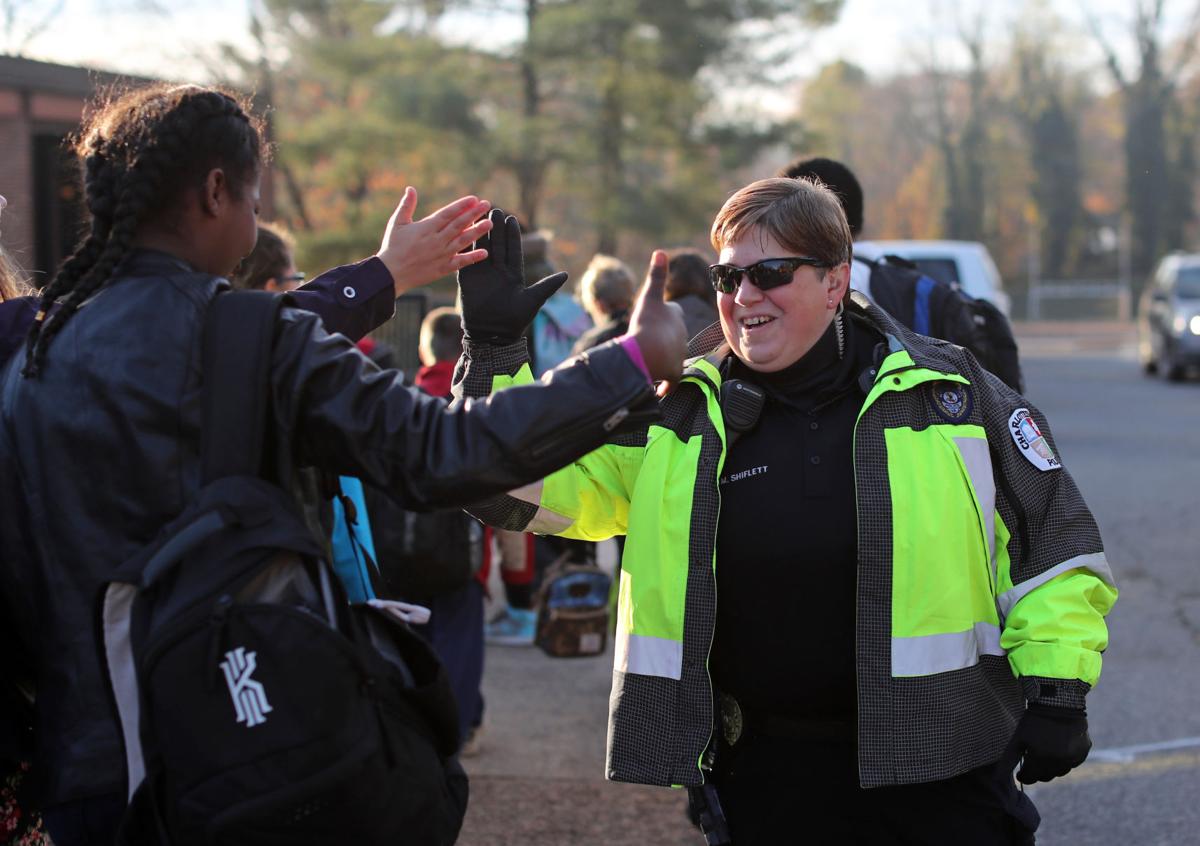 A committee tasked with finding a replacement for the school resource officer program in Charlottesville City Schools has settled on a model used by the Toronto, Ontario, school division.
The plan would replace police officers in schools with unarmed safety monitors, who are well-known adults from the community. Their task is to build relationships with students and monitor school grounds. The Toronto District School Board discussed the approach with Charlottesville residents in a virtual forum earlier this month.
After the meeting, the committee decided to customize the Toronto model — a process that most likely will involve more community and student input — though no official vote has been taken. Eventually, the committee will recommend a new model to schools Superintendent Rosa Atkins, who will then make a recommendation to the School Board.
"I think people really loved the relational nature of it," division spokeswoman Beth Cheuk said of the Toronto approach. "The fact that it pulled from community leadership and really leveraged relationships."
Charlottesville and Albemarle County were part of a wave of school districts that ended the use of school resource officers last year amid widespread protests about policing and racial justice. SROs are law enforcement officers and typically employed by the police department.
The Albemarle County School Board reviewed information in August about a new "security paradigm" that could include the creation of an in-house school security program, hiring more mental health professionals and a new agreement with the county police department. The board and division staff said a new model would be considered as part of the budgeting process for the coming fiscal year.
Since then, the committee of Charlottesville teachers, parents, students, community members and law enforcement has grappled with whether and how to replace school resource officers.
Over the course of seven meetings since November, the committee reviewed the role of police in schools, the pros and cons of SROs, survey data from students and staff, and how other school systems approach the issue, according to meeting minutes.
Complicating their efforts has been the lack of examples to turn to, said Kim Powell, the division's assistant superintendent for finance and operations.
"And the reality is I think Toronto is perhaps the furthest along in this journey and that's why everyone else is pointing to them, because it's a change that everybody's undertaking at the same time," Powell said. "… We always want to learn from others, and so when you're all learning at the same time, it makes it hard."
Other school systems that have decided to remove SROs are also looking at the Toronto model.
Those on the safety committee were never tasked to create their own model but rather to respond to division staff's suggestions and examples.
Some community members have worried that the division would use SROs this school year or include them in a future model, and raised the issue at School Board meetings and at the community forum.
Neither the committee nor the division is planning to bring back school resource officers for this year or as part of the new model.
Powell said at forum that it was difficult to find a city school system in the United States that did not use school resource officers or armed security personnel. Charlottesville has been looking at peer school systems for guidance.
Toronto schools removed SROs in 2017; enough time to gather data about how the new approach is working. In the last three years, suspensions have dropped by 25% and expulsions are down by 50%, according to the district's presentation, though officials weren't certain about the correlation between that decline and the removal of SROs.
The data is important to assuage concerns about not having officers in the schools, Powell said.
"And that's not a small number of people, necessarily," Powell said. "They may not speak up as often or as loudly, but how do we get the understanding and confidence to where we would like it to be to move forward with this type of change?"
Toronto's decision to remove school resource officers followed a lengthy and in-depth review that sought to hear from thousands of students and community members about the officers' presence in schools. That review was part of a broader push to better serve and support students who were persistently falling behind that included a committee to the principles of equity, human rights, anti-racism and anti-oppression.
As part of that approach, the district decided to focus on the 15% of high school students who said the officers made them uncomfortable, replacing the SROs with the safety monitors.
"They're the folks who if a phone goes missing in the morning, they've got it in their hands by the afternoon," said Jim Spyropoulos, the district's executive superintendent for human rights and Indigenous education. "Everybody knows them and they know everybody."
The district also added support for school administrators to deal with discipline and building relationships with students.
Powell said the committee is hoping to make its recommendation to Atkins within the next month, which could brought to the School Board by March. The committee also wants to give the public a chance to weigh in before making a recommendation.
Some Charlottesville schools staff members said they didn't want to be without the officers and valued the relationships the SROs had with students. They are worried about responding to incidents that require law enforcement and losing a direct line to emergency services for health and safety crises, according to a November presentation.
People at listening sessions were worried about building security, asked for more de-escalation training and wanted to see positive relationships prioritized in the new model.
"The School Resource Officers are straight up useless," one student wrote. "I've never seen them doing anything productive, so like what's the point of them even being there at school?"
Disproportionate Arrests
As it works to adapt the Toronto model, the committee is working to seek more input from students of color at CHS.
In December, the Black Student Union at Charlottesville High School encouraged the committee to replace SROs with resources that will focus on the causes of behaviors and disciplinary challenges. Those resources would include more social workers and guidance counselors.
"The Black Student Union has full confidence that this approach will create an environment that will help our students and will take a step in the right direction towards breaking the school-to-prison pipeline," the group wrote in a statement.
Since the 2017-18 school year, SROs have made 37 arrests at CHS, Buford Middle and Walker Upper Elementary, according to data presented to the committee. Of those arrests, 48% of the students were Black boys and 21% were Black girls. Black students account for about 32% of the division's student body.
Half of those arrests ended with the student in court and with a record. Charges against Black boys were more likely to end up in court. The other option is for students to complete a diversion plan that keeps them from officially being charged.
"That so many more offenses are being diverted when they're coming out of schools indicates that the things that kids are getting arrested for in schools are things that they would likely not be on the street and are very low level in general offenses," said Shannon Ellis, an attorney with Legal Aid Justice Center's Youth Justice program.
Ellis was one of the presenters at the Jan. 12 community forum. She said that diversion plans are only available to certain low-level offenses and to people with clean or close to clean records.
About half of the arrests were related to assault charges and 10 were in connection with drug, alcohol or tobacco possession or distribution of marijuana. Black students made up about 60% of the assault arrests. Six of the seven arrests involving white students were related to possession or distribution.
In recent school climate surveys, 27% of CHS students and 32% of Buford students said they disagreed or strongly disagreed that an SRO at the school makes them feel safer. About 5% of CHS students and 7% of Buford students said they interacted with an officer once a week or daily.
The division didn't provide any other quantitative data to the committee about how SROs interacted with students at school.
Powell added that with the small numbers of students who would physically go to CHS and Buford Middle School as part of the new model for in-person classes, no SROs will be in the buildings this school year.
"With the amount of time that we're looking at that's remaining in the school year, the best decision is to focus on the long term," Powell said.
Regardless of the use of school resource officers, the division still has to draft an MOU with the police department to outline their involvement in the schools, according to committee documents. State code requires schools and law enforcement work together in three areas: crimes that must be reported, threat assessment and crisis planning.