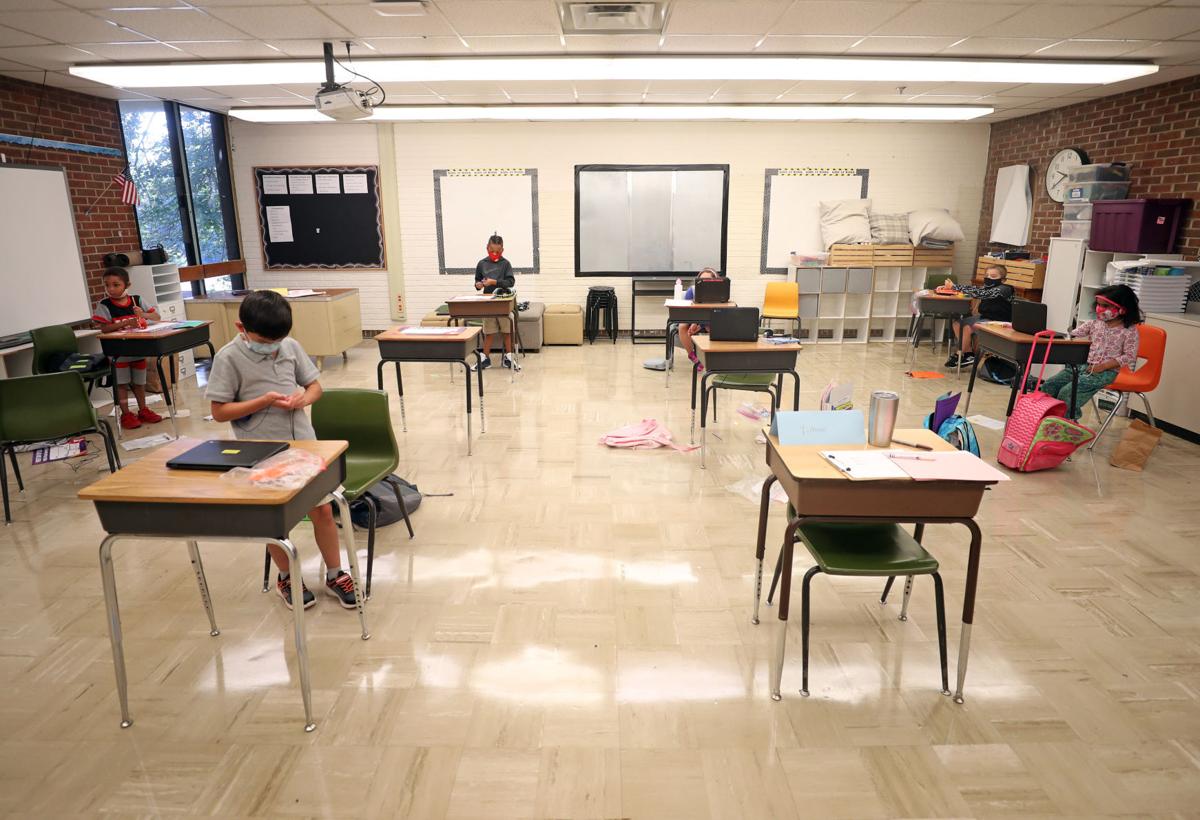 Charlottesville City Schools sent its advisory committee members to the drawing board Wednesday to draft proposed models for how to return to in-person learning. The committee has been given deadline of Oct. 14 to produce something.
A third group will look at the division's facilities, the pros and cons of mitigation strategies and investigate wastewater testing, which the University of Virginia has used to detect potential outbreaks in its residence halls.
The committee of more than 55 community members was convened to make a recommendation about the division's learning model, and the School Board will hear an update at their meeting Thursday.
The Charlottesville School Board typically meets monthly, though members could call a special meeting in October to further discuss reopening plans. The advisory committee is set to meet again Oct. 14 and Oct. 28 and could present a recommendation at the board's Nov. 5 meeting.
The Albemarle County school division sent a survey to families Wednesday evening seeking feedback on moving to the third stage of the division's reopening plan, which would allow more students, including preschool through third-graders, to have in-person classes. The School Board is expected to vote on that proposal Oct. 8. The second quarter starts Nov. 9.
In Charlottesville, committee members were told Wednesday that any plan for reopening would require four weeks to implement starting after the board approves a plan and families are surveyed. That timeline would allow time for division staff to process the forms, group students by the preferred instructional model and plan for bus routes.
Wednesday's meeting follows weeks of back and forth in the Charlottesville schools community as the division started planning for how to offer in-person classes during the pandemic, which prompted numerous emails to School Board members.
Overall, the batch of emails to board members, obtained Friday via an open-records request, show that the concerns from the fraught reopening conversations in July haven't been resolved. Teachers are concerned about their health and safety while parents generally are worried about their children and how being away from school buildings and their friends is going to affect their mental well-being.
Less than a week after parents first heard of the initial plan for classes to start Oct. 13, the division dropped the idea and proposed new options to the advisory committee for the second quarter and beyond — both of which were similar to learning models presented over the summer that provided students with either two or four days of in-person classes. The division said last week that it changed course from the initial plan "due to feedback received."
A key concern among the teachers and parents who emailed the board was the disruption of students' schedules during the first quarter and the quick timeline to switch to in-person classes. Some of those who wrote supported the Oct. 13 start
"A premature return to in person learning would undermine all the hard, and frustrating, work the teachers have put in to make virtual school so exceptional," wrote Allison Pillow, a school counselor at Johnson Elementary. "Whenever the time comes for students to return to our buildings I would hope the board would allow ample time for all staff to switch modalities. A return as early as Oct 13 would not allow this transition to be anywhere near effective, including safety, academic and other concerns."
Other teachers said the division was not prepared to reopen, citing the amount of cleaning supplies provided and sanitizing expectations for the school day.
In the emails, parents did acknowledge the hard work of teachers to make virtual learning work. The effectiveness of virtual learning appears to be key to which learning model someone prefers. Teachers told board members that virtual learning is working, while parents report struggles to keep their children engaged with school work.
"Despite the work and preparation for virtual school, it simply does not work, and it's unrealistic to expect any improvement," wrote Stephen Turner, a Charlottesville parent and committee member. "Having our children back to in-person instruction is the only target we should shoot for."
Turner added that the virtual instruction has been not effective at keeping his daughter engaged and learning and the expectations for younger children to sit in front of the computer and deal with technical issues are "completely unrealistic."
"The original vote was for the first nine weeks of school and I think that HAS to be honored," wrote Ginger Clare, a Charlottesville parent. "It loses all integrity to return now. We have set up work and childcare around this all virtual schedule. We know it might change after the nine weeks but to switch it before then just isn't right. The kids are just now getting into routine. The teachers have worked so hard to set this all up and learn this new way of teaching."
Kristen Sancken and Susanne Sachs, who are part of the International Neighbors virtual learning center, encouraged the division to stick with the all-virtual model for the first quarter in order for the organization to maintain a continuity of care for the families they work with.
"As a nonprofit working diligently to support the efforts of our public schools, it's impossible to plan our budget, supplies and volunteer needs while public school plans constantly shift beneath us," they wrote.
They added that going back to in-person classes would benefit refugee students.
"The first week of virtual learning has been a steep learning curve for all families, but perhaps more like scaling a sheer cliff for refugee families," they wrote.
Had the division moved forward with the initial plan there was no guarantee that students would have their same class or teacher if they switched to a hybrid learning option.
"All that careful, careful relationship building that the division was so intentional about at the beginning of the year will be lost," wrote Christine Esposito, a gifted-resource teacher at Johnson Elementary, of changing teachers. " … Yet, now a family may be forced to choose between keeping those vital relationships and keeping their children safe. Based on previous survey responses, it is likely this will disproportionately affect our families of color."
Esposito added that virtual learning for her has meant tech support for families and office hours for students who need help. She wanted to know more about how the division would serve those who want to remain virtual — about 40% percent of families, per a division survey conducted in July.
"Sometimes students just want to sit in a breakout room by themselves and work — knowing that with a press of a button I'll be in that room to walk them through a problem," she wrote. "Last week, I worked with a student who was dancing in her footie pajamas while we worked through her understanding of multiplication and how to use that to solve a math problem. That's what virtual learning looks like when everyone is learning virtually."
The emails showed persistent concerns about the impact of the University of Virginia on local case numbers as well as a range of practical questions that some families need answers to in order to feel comfortable returning to school amid a pandemic.
For example, parents and teachers want to know about how staff and students will be assigned to classes, whether in-person or virtual, planning time for teachers, classroom configurations and how other mitigation measures will be implemented.
Others cited the virtual learning centers at Walker Upper Elementary and other locations across the city as examples that in-person learning can happen safely.
Andrew Kahrl, another Charlottesville parent, said online learning is making his daughters actively dislike school and disregard the value of education.
"Their entire day is a constant struggle with the technology and with fighting the temptation to play with the other features on the school-issued Chromebook," he wrote. "They are learning nothing except for bad habits that will be hard to break the longer this continues."