When local school systems decided to start the school year online, Angel Feero and Abundant Life Ministries started planning for how to help their families and students who were already behind in reading and math before schools closed in March.
So the organization, which works with families in the Prospect neighborhood, created a virtual learning center at Christ Episcopal Church in downtown Charlottesville to support those students. They opened their doors on the first day of school.
About 24 students are attending Abundant Life's virtual learning center. At the center, they get support from volunteers as they tackle online classes, eat a snack and lunch, have time outside and socially-distanced interaction with their peers, and play games such as bingo or a pirate version of Simon Says.
"We're concerned that students are going backwards, which is what we are afraid of," said Feero, director of elementary programs for Abundant Life. " … The hardest thing is watching the kids struggle through it and not feel like I can do more."
Abundant Life, along with several area organizations, has switched gears to help children and support families during the online start to the school year. Charlottesville and Albemarle County school divisions started the school year mostly online Sept. 8.
"Doing four days every week for the whole morning is a big addition to what we were doing," Feero said. "It's been a big shift, but we're making it work."
Most of the local centers are at capacity and have wait lists.
The city school division partnered with the YMCA and Boys & Girls Clubs to offer childcare in two of their schools after identifying about 200 families who need childcare with school staying online
The YMCA has about 172 students enrolled at its two centers, and no additional spots because of staffing issues, though they are continuing to interview and hire staff members.
The Boys & Girls Clubs has 339 children enrolled in its programs. The Jack Jouett and Cherry Avenue clubs have wait lists.
Charlottesville City Schools have not yet decided what classes will look like for the second quarter, though some area organizations aren't sure if they'll be able to continue the virtual learning centers after the first quarter. Their operations are contingent on funding, staffing and being able to follow all of the Centers for Disease Control and Prevention's recommended strategies to limit the spread of COVID-19.
At the learning centers, masks are required for students and staff, temperatures are checked and groups of students are kept separate. In addition, students each have their own workstation and set of supplies in line with the recommended health and safety protocols.
Interest in Abundant Life's programming increased after the start of the school year. Initially, Feero said parents felt they could handle virtual learning, but many changed their minds when it started.
"It was a lot more intense for them than they were thinking because many of them are working and trying to support their kids," she said. "Then people started calling."
Feero has also fielded requests from social workers in the division asking if they could add families to the program.
In an interview and at recent School Board meetings, Feero has asked why the school system is asking others to be in-person with kids while saying it's unsafe for anyone in the schools.
At Christ Episcopal, volunteers can take groups of students to McGuffey Park across the street for breaks during the day. The 24 students are split into four groups overseen by three staff members and a rotating crew of 34 volunteers
The program only runs in the morning. Children get a free meal through the school division before they are sent home. The academic support program is free to those in the ministry's footprint.
Feero says online classes are difficult for many of the students, who say they are bored with classes, which she interprets as the children not being engaged. For the younger kids, the biggest challenge is sitting still.
"So we're having to do a lot of giving them a little fidget toys or something to draw on or getting them off to take a walk," she said. "Those are things I share with parents because they do go home in the afternoon and then log on to their afternoon sessions. But I've also heard that some kids are not logging back on in the afternoon. They're just kind of spent. It's too much."
Abundant Life hasn't had a positive COVID case since starting. Participants are required to notify Feero if they test positive, and anyone with flu-like symptoms is not permitted to attend until they have been symptom free for 24 hours.
City of Promise
At the City of Promise, about 10 kids are regularly attending its two learning centers. The organization was able to open up a new space before the start of the school year, giving older students a separate place to go. Between the two locations, the organization can help students from kindergarten to 12th-grade in half-day programs.
"We want to make sure we keep everybody safe," said Melissa Steppe, program supervisor and pathway coach for grades 5-8, of the capacity constraints.
Students at the Page location, which is open to up to five kids in K-6, have their own room.
The new location is off 10th Street in the old Coca-Cola Bottling Works building. There, students have swivel desk chairs and their own table. Masks and face shields are available for those who need them. Five windows are open to allow for more ventilation.
A "Black Panther" movie poster adorns one wall of the bright space.
Because of the need for ventilation, having the windows is a must, so Steppe said organization staff are still considering plans for the colder months.
"So that's something we're gonna have to really talk about," she said.
Similar to Abundant Life's experience, interest in the virtual learning center picked up as the school year got underway.
"For parents, it's been a challenge," Steppe said. "Virtual learning and homeschooling is new for everybody. There are challenges and some of them want school to start."
She said they heard the need from some parents that their kids needed a change of scenery, which the learning centers provide.
Steppe has heard more positives from the students.
"It gives you an opportunity to just be a student," she said. "They don't have to worry about being the fun person or the bully or getting bullied. It's a balance."
Students have said they are struggling with homework and staying awake.
"They are adjusting beautifully to something totally new to them," she said.
International Neighbors
For area immigrants and refugees, local nonprofit International Neighbors worked to set up a virtual learning center. They currently have three groups with six elementary students each who spend the day together.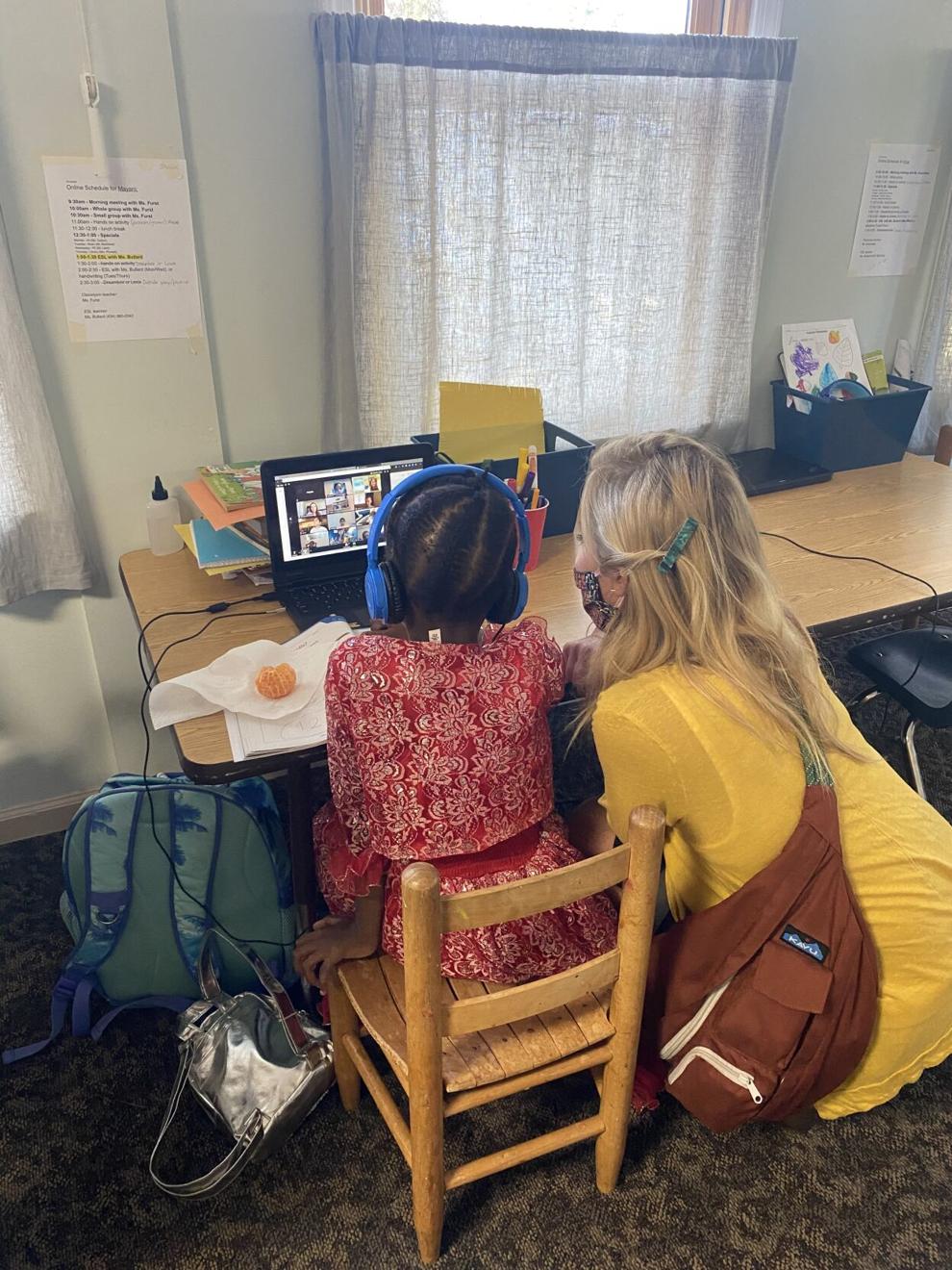 Kari Miller, executive director of International Neighbors, said students who are learning the English Language need to hear the language and the support of an adult who is fluent to help troubleshoot technology, remind them to stay on task and overcome other hurdles.
"These families are not proficient in the digital world and especially not English," said Miller, who taught English-Language Learners in the city schools. "These kiddos are not receiving support at home."
A volunteer with the organization, which works to assist refugees in the area, helped them secure a $24,800 grant to support refugee students by creating the learning centers. The funding primarily went to hiring four part-time staff members and will only last nine weeks.
The organization has required donations for supplies, masks and other resources. A few weeks into the school year, private donors helped the organization secure a van service to bring the kids to and from the center.
Students are working out of the organization's office as well as the Charlottesville Friends Meeting House, which has a playground and outdoor space for children.
The learning centers opened a week into the school year. Since then, Miller has seen an improvement in students who have attended as they engage more in their classes.
"Under these classrooms at home, they wouldn't even be able to log in," Miller said. "The schools all provided computers, but the kids didn't know where the plug goes, and then that you have to plug it in. … It's so many so many skills that people assume that these folks have, and they're not able to. So we're seeing a big benefit with all these children."
Although the centers are capped at 18, Miller has received more than 200 requests from the Charlottesville and Albemarle school divisions to help other students.
"It's overwhelming," she said of the requests.
In one room with younger students, each child's schedule is taped up near their desk, so the volunteers can help them through the day.
Learning the schedules and different teachers was an obstacle at the beginning, Miller said. Organization staff also had to learn Canvas, the division's learning management system that hosts all online classes.
"We have volunteers that have signed up to come and help," she said. "Really everyone needs a one-on-one tutor or advocate to navigate all this."