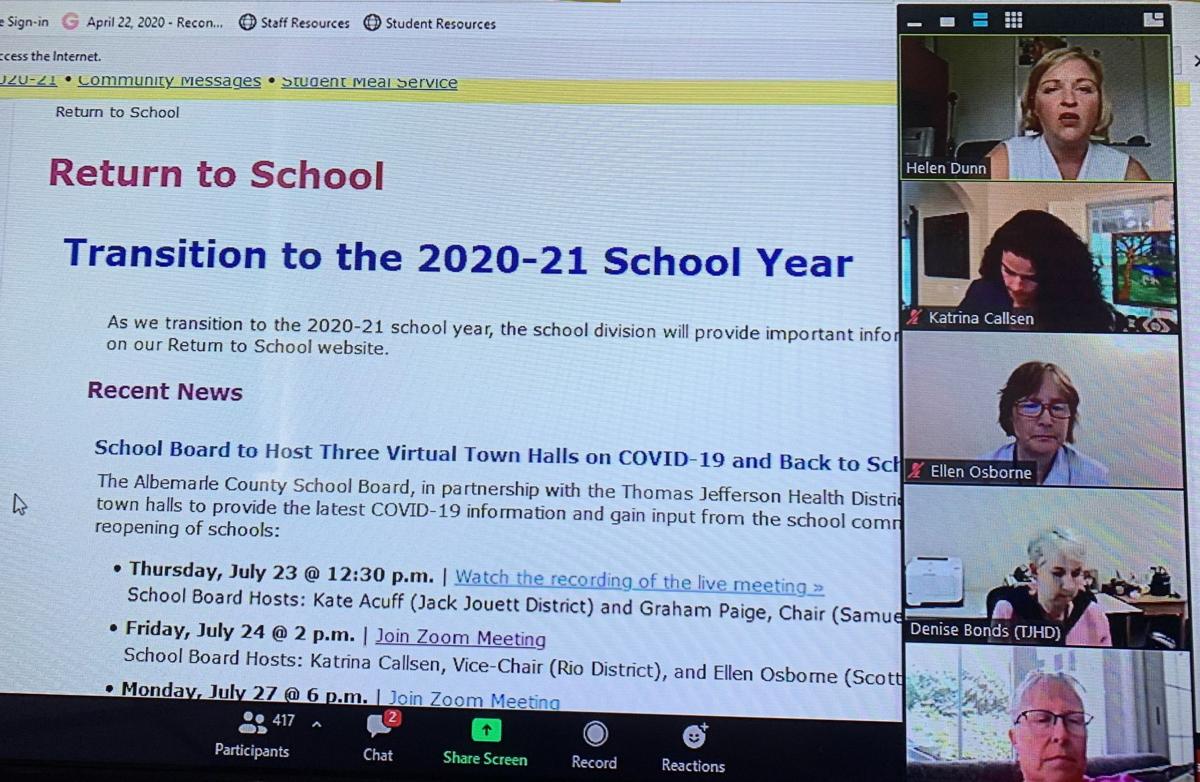 School Boards for Albemarle County and Charlottesville will decide this week how to open schools for this coming year — capping off months of intense debate about the best option.
"I just want you to know that we're making these decisions in a thoughtful and deliberate way," county School Board member Judy Le said during a town hall Monday. "I also want you to know that we hear you and we will continue to, because [we are] making a decision on Thursday but surely that's not the last one we're going to make."
Both boards meet Thursday and the decisions will focus on the schedule for students, the lynchpin that will determine how other parts of the school system will run, from instruction to transportation. Staff and parents have posed questions that so far have gone unanswered.
The Charlottesville School Board will hear from public health officials and physicians and review survey data before making its decision.
Charlottesville board chairwoman Jennifer McKeever said the school community has been sympathetic to the difficult decision before the board and that any decision will be made to ensure the wellness of the overall community.
Commenters at the three town halls fell largely into two groups: those who said it was too dangerous to return to school and that in-person instruction constrained by social distancing and other safety precautions wouldn't be effective; and those who felt that the risk could be reduced through masking and social distancing and felt that not returning to school would have a detrimental effect on students.
"The AAP, the CDC, respected physicians in our community who we've heard in these town halls [of] our government have all said the same thing: Get our children back in school," said Christine Koenig, a parent. "... Please don't give up on the children and families for which all virtual schooling will be detrimental to their learning and overall health without even trying to see if we can make it work."'
Koenig, who spoke at Monday's town hall, asked board members what level of risk is acceptable.
"If we're waiting for a vaccine, then we should be prepared to wait years," she said.
On Thursday, both school boards will hear about plans for an online-only start to the school year. Division staff in Albemarle and Charlottesville previously detailed similar plans to send elementary students to school four days of the week. Middle and high schools students would go to school one or two days a week, depending on the plan.
Albemarle County and Charlottesville City Schools are the last in the area to vote on a reopening plan. Most of the area school systems have decided to offer a mix of online and in-person classes, but some are re-examining their plans after push back from staff and parents. Parents in any division can opt for online-only classes.
Other Virginia school systems, including several in the Richmond area and Nelson County, have decided to start virtually.
With nearly 15,000 students, Albemarle County is the largest school system in the area. The first day of school is set for Sept. 8. The Charlottesville School Board has not officially changed the first day of school but a move back to Sept. 8 is widely expected.
Afraid of the virus and citing other concerns, teachers and other school staff have generally supported virtual start to the school year, penning multiple open letters and putting a litany of questions to division leaders about their plans.
"We believe that in-person classroom experience for students as outlined by the Administration in the July 9th Board meeting will be unsafe, educationally ineffective, and potentially traumatizing," the Albemarle Education Association wrote in a letter to the School Board this week. "This undeniable fact is no one's fault. The inability to offer effective in-person instruction is not the result of any failure by the Administration or the Board. It's the reality of COVID-19."
Teachers, in the letter and other comments, have said that they worry that anything less than 100% of online classes would detract from planning to improve virtual learning, a component of all the presented plans.
Officials for both school systems have said virtual learning will be much better than the program provided in the spring after schools were suddenly closed and forced online and provided general information about their plans.
Albemarle County officials said in June they would prioritize in-person instruction for young students, those with disabilities and English Language Learners.
During the town halls, which did not appear to be accessible to families for whom English is a second language, the county's Special Education Advisory Committee and other parents of students with disabilities advocated for in-person classes. As of Tuesday, more than 160 parents and community members signed on to the open letter making a similar ask.
"A fully virtual plan will not meet the educational, social or emotional needs for this student population, some of whom require 1:1 assistance throughout the school day," parents wrote in the letter, adding that teachers should be provided with appropriate protective equipment and other tools to keep them safe.
Charlottesville and Albemarle school divisions are working to ease the transition to online learning by regularly checking in with students and families.
In the local health district, people 19 and younger account for 12% of positive cases, a sliver of the hospitalizations and none of the deaths.
Dr. Michelle Rindos, a county parent and doctor at the University of Virginia Medical Center, attended the first town hall. She has four school-aged children and would like to see in-person options, especially for her younger students.
She wants the division to use data, follow federal and state guidance as well as recommendations from the American Academy of Pediatrics in making their decision.
With the proper protective equipment and other restrictions, in-person school could be safe, she said. She also cited some studies of contract tracing and schooling in other countries that show children are less likely to become infected or transmit the virus, though the science is far from settled on the issue.
"I mean, I don't want my kids to go to school if they're going to get sick, and then I get sick and I get my patients sick," she said. "But we've looked at the research and we're taking into consideration a lot of things."
To teachers who worry about students adjusting to a new type of school, she said, "that nothing is like it was before and we need to give the kids more credit.
"We can do enough to warn them about precautions, as we have been this whole time, and I think the kids are incredibly resilient," she added. "They'll just be happy to be out of the house and to have interpersonal relationships."
Unanswered Questions
During the town halls, parents and teachers filled the Zoom chat window with hundreds of questions ranging from the nitty gritty of how the school schedule and social distancing would work and how teachers would be compensated if they have to quarantine. Others also asked about the availability of substitutes, specifics about the proposed mask requirement for students and what special education would like in either model.
Questions about how schools would handle positive cases and what would force a school to close went unanswered. The division is planning to release answers to the questions on its website, but the list was not published by press time Tuesday.
A few students weighed in as well, and asked for more specifics about how in-person and virtual school will be different compared to last school year.
"Any sort of details would be incredibly important and helpful," said Anna Rosner, a rising sophomore at Albemarle High School.
Mason Rothenberger, a rising junior at Western Albemarle High School, said that lots of high schoolers didn't want their curriculum to be cut or abridged in any way and wanted to know that their classes will be at the same quality.
Although many answers depend on the School Board's decision and how many parents choose each option, parents said during the town halls that they need more information to make an informed decision about whether to send their kids to school or keep them home full-time.
Families have been asked to fill out an intent form for the coming year by July 31.
"Something that resonated with me is that parents are feeling like they're having to do very important decision making without the facts, all the facts that they want," School board vice-chairwoman Katrina Callsen said at the end of Friday's town hall. "I would agree that it's very difficult."
She encouraged attendees to attend school-based town halls to learn more.
"I would offer that nothing that is being decided right now is set in stone," she said. "Everything is changing; the information we have is changing. So it's not necessarily the case that the decision that you make on that survey is going to be what your child is doing for the whole school year."
Summary of Area Reopening Plans
| School District | Plan* | Start Date** | Status |
| --- | --- | --- | --- |
| Albemarle County | Mostly online for first nine weeks | Sept. 8 | Pending |
| Charlottesville City | Online-only for first nine weeks | Sept. 8 | Pending |
| Buckingham | Virtual for first nine weeks | Aug. 10 | Approved |
| Fluvanna County | Online for first nine weeks | Sept. 8 | Approved |
| Greene County | Students in PK-5 coming to school every day and students in grades 6-12 attending in person two days a week and remaining virtual for the remainder of the time. | Sept. 8 | Approved |
| Louisa County | Most students are going to school two days a week | Aug. 13 | Approved |
| Nelson County | Mostly virtual for first 9 weeks | Aug. 24 | Approved |
| Madison County | K-3 mostly in person, few days a week for 4-up | Aug. 20 | Approved |
| Orange County | K-3, students with disabilities and english language learners: in-person two days a week. Students fourth grade and up: Virtual. | Aug. 24 | Approved |
| | *all includes an all-virtual option for students **some boards are considering a later start ***updated 9/1 | | |
| | | | |