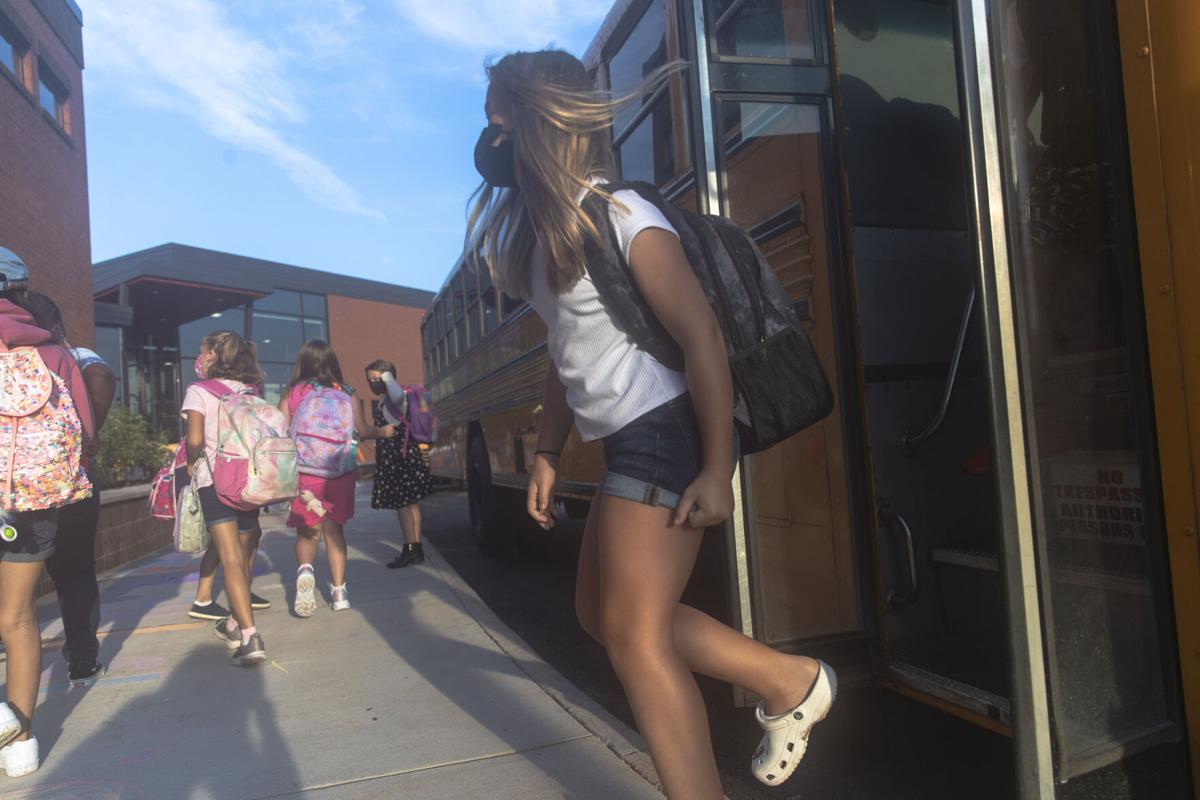 SCOTTSVILLE — Haven Moses, a fourth-grader at Scottsville Elementary, is excited for "pretty much everything" this school year.
That includes spending time in a building that has been renovated and expanded in the last year. Her teacher, Tim Decker, has a classroom in the school's six-room expansion, which includes a new full-sized gym.
Haven said she liked being in a newly built classroom and back at school.
"It's kind of different but like a cool different," she said.
On Monday, the first day of in-person classes for the Albemarle County school division, Scottsville teachers toured the new building with their students and went over different classroom practices and procedures to help students start the year off on a strong note. Students and staff members also had to get used to a new metric — three feet — for social distancing. Last year, everyone was spaced six feet apart.
Scottsville Principal Staci England said that typical first-day focus on procedures is even more important because of the expansion and renovation. New spaces can make students feel anxious, so she said practicing those procedures helps to give children structure and predictability.
Nearly 13,900 students division-wide started classes Monday, 414 of whom were part of the new all-virtual school, schools spokesman Phil Giaramita said. That also includes 288 preschoolers. The preliminary student enrollment of 13,858 is lower than what the division projected in February, when officials were expecting 14,046 students. In the 2019-20 school year, before the pandemic, the division had 14,032 students.
Monday was the first time since the start of the pandemic in March 2020 that all students will be in the buildings full time. Many of the COVID-19 safety measures that began last year remain in place.
In preparation for in-person classes, the division purchased eight classroom trailers to install at Albemarle, Monticello and Western Albemarle High schools and Henley Middle School. Not all of the trailers were ready for students Monday.
Giaramita said the AHS trailer was in use Monday while the Henley and Western Albemarle trailers will be used later this week. Monticello's will be ready Sept. 1.
The division also planned to hire nearly 200 teachers for this year, in part to help reduce class sizes. As of Friday, 15 vacancies remained, per division staff.
Charlottesville students will head back to school Wednesday.
On Monday, Victoria Melander was one of the first in the car line to drop off her two children at Scottsville. Her youngest child, Houston, is starting kindergarten, while Caroline is in Decker's fourth-grade class.
"I'll be missing them and getting the house clean," Melander said of her Monday plans as she waited for them to head into the building.
Melander, who attended Scottsville Elementary herself, said the expansion is beautiful, especially the new gym.
"It's wonderful," she said.
Among students exiting cars in the morning, levels of eagerness varied. Some couldn't wait for their parents to open the door while others needed more encouragement. One boy helped his younger brother put on his backpack before leading him into the building.
"You are going to do so good," one mother told her son.
All of those exiting the cars were wearing masks, which are required to be worn while inside county school buildings. Some students even wore masks that matched their backpacks.
Inside, Decker kicked off class with a morning meeting on the carpet and discussion about how the group spent summer vacation before explaining class procedures.
"We're gonna get along," he said. "We're like one big family in here."
Haven and other students in Decker's class had a chance to peruse the changes during a tour on the first day of school Monday. One student said the school was unrecognizable.
In addition to the expansion, the entire building was renovated to include new lighting, tile, more natural light and upgraded bathrooms, among other changes. A James River-focused interior design runs through the school's hallways.
Families had their first glimpse inside the completed expansion at an open house last week. England said the initial reviews have been fantastic.
The expansion also includes dedicated rooms for art and music classes. Before, both classes were held in trailers outside the building. In the new music room, instruments from xylophones to drums to ukuleles were unpacked and ready to be played. After a school year of virtual music classes and carting instruments to different rooms, teacher Mary Erwin was ready to welcome students to her new space. She planned to start with the xylophone after explaining the rules of the space.
Cricket Anderson, a fourth-grader in Decker's class, loved Scottsville's new look.
This school year, Cricket said she's looking forward to learning, especially division. Math can be confusing, she said.
Other students in her class wrote down their goals for this school year during a writing exercise. Some wanted to learn more about computers or to write more. The writing exercises, along with math worksheets, will be stored in a Pringles can, wrapped in several plastic bags and then buried on the school grounds as a time capsule of the students' work, Decker said. The students will make maps to the exact location.
When they dig up the cans at the end of the year, students will be able to see up close how much they've grown in the last school year, Decker told his students.