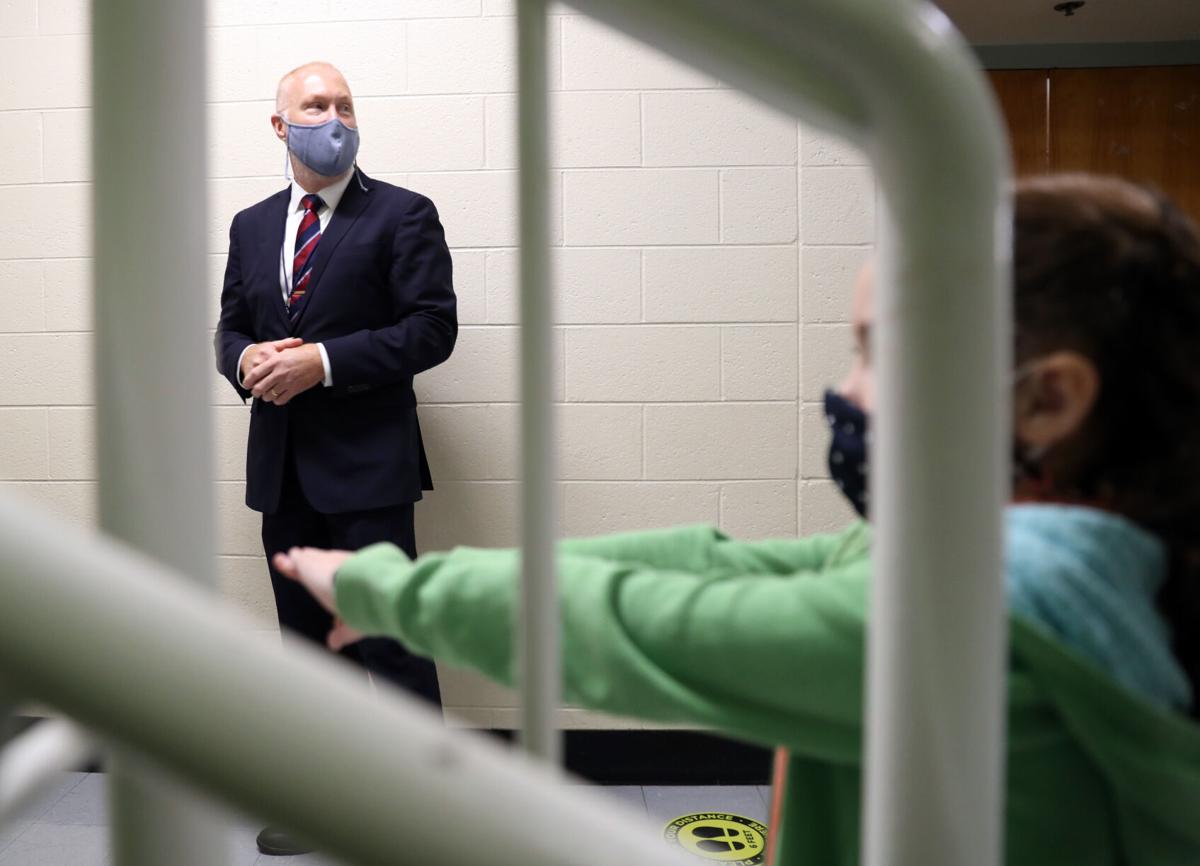 The full cost of the COVID-19 pandemic to Albemarle County students will not be known for a long time, but schools officials already are planning how to help them make up for lost learning.
"With the anticipation of the academic learning loss and school-based social emotional development concerns arising from the pandemic, it really is time to start thinking about the future beyond this school year," schools Superintendent Matt Haas said Tuesday during the first of a series of forums held to start soliciting ideas from the community.
More sessions and follow-ups are planned. Officials said at the first forum Tuesday that recovering the learning loss won't be quick. As part of a series of questions to kickstart discussions, participants were asked about their hopes for children and families two years out.
"We're trying to take somewhat of a long view but be urgent," said Debbie Collins, deputy superintendent of the school division. "That's a key piece. We can't be, 'Well, we'll wait for two years and see where we are.' No, we have to be systematic. We have to be urgent in our thinking around this."
The division hasn't formally assessed students to see where they are and how they've regressed since the prolonged school closure. However, a national review of data projects that students could lose anywhere from three to 11 months of instruction, according to McKinsey and Company. The extent of the loss depended on when students returned to in-person school and the quality of their remote instruction, among other factors.
Patrick McLaughlin, the division's chief of strategic planning, said Friday that participants had a range of suggestions including integrating courses rather than having standalone English, math and science classes, using more project-based learning and offering night classes. All of the submitted ideas are part of the initial brainstorming process and haven't been fully reviewed or vetted.
"No one is saying, 'hey, we're gonna have night classes at nine o'clock at night, or everything's going to continue to be virtual, but it really gives us a good starting point for our thinking to hear what the community was pulling out as areas of focus," he said.
Additionally, participants wanted to see the common pacing in classes continue, meaning that students across a grade level or subject area are learning the same material on the same schedule, regardless of which school they attend.
"The pandemic gave us an opportunity to really tighten up some of our pacing in our classes, and we saw some comments that said they hope that continues," he said.
The discussion questions revolved around three key topics: time, content and pedagogy.
"We can control time," Collins said. "We tend to think of time as a school year, perhaps we need to reconsider that."
Collins and other officials acknowledged the persistent achievement gaps among student groups in the division that were present before the pandemic. They're expecting those gaps to be exacerbated by the pandemic, especially among younger students.
"So you haven't learned to read yet, and you've lost time, the likelihood of you wanting to read necessarily by yourself at home gets less probable so those are the kinds of things we're trying to think about," Collins said.
The division also wanted feedback on how they could revisit lost learning with equitable opportunities for enrichment and without simply repeating the material.
"As we turn our sights to 18 months, a year, two years down the road, we need to be thinking about what we're going to be putting in place not only to close the gaps that we had going in, but to accelerate the type of learning we need to happen in our schools," Collins said.
During the forums, attendees weighed on the division's proposed Portrait of a Graduate, the first step in crafting a new strategic plan. The portrait serves as the guiding light of the planning process and was developed by a large group of community members over the last few months.
"The portrait process is really the dream process," McLaughlin said. "So if you took everything else aside and didn't worry about COVID or current state or achievement gaps or things like that, what do you want your kids to look like and to be able to do and to have developed by the time their K-12 experience is complete."
The design committee settled on a set of core competencies each graduate should have. Those include adaptability, communication, creativity, critical thinking, empathy, learner's mindset, social justice and inclusion, and anti-racist.
Virginia developed a profile of a graduate in 2016, which outlined the knowledge, skills, experiences and attributes that students must attain to be successful in college, the work force and life, in general, according to the Virginia Department of Education. The state later changed the graduation requirements to align with the profile, which went into effect in the fall of 2018.
The School Board will hear more about the proposed portrait in December, and then a team will start writing the actual strategic plan.
The division's current strategic plan ends this year, and the division wants a new one in place for the start of the 2021-22 school year.
"Our strategic plan is definitely going to be influenced by COVID," McLaughlin said. "... We know that one of the primary areas of focus is going to need to be how do we get back to not only to where we were, but how do you move things further ahead, because we had some pretty persistent achievement gaps prior to the pandemic."