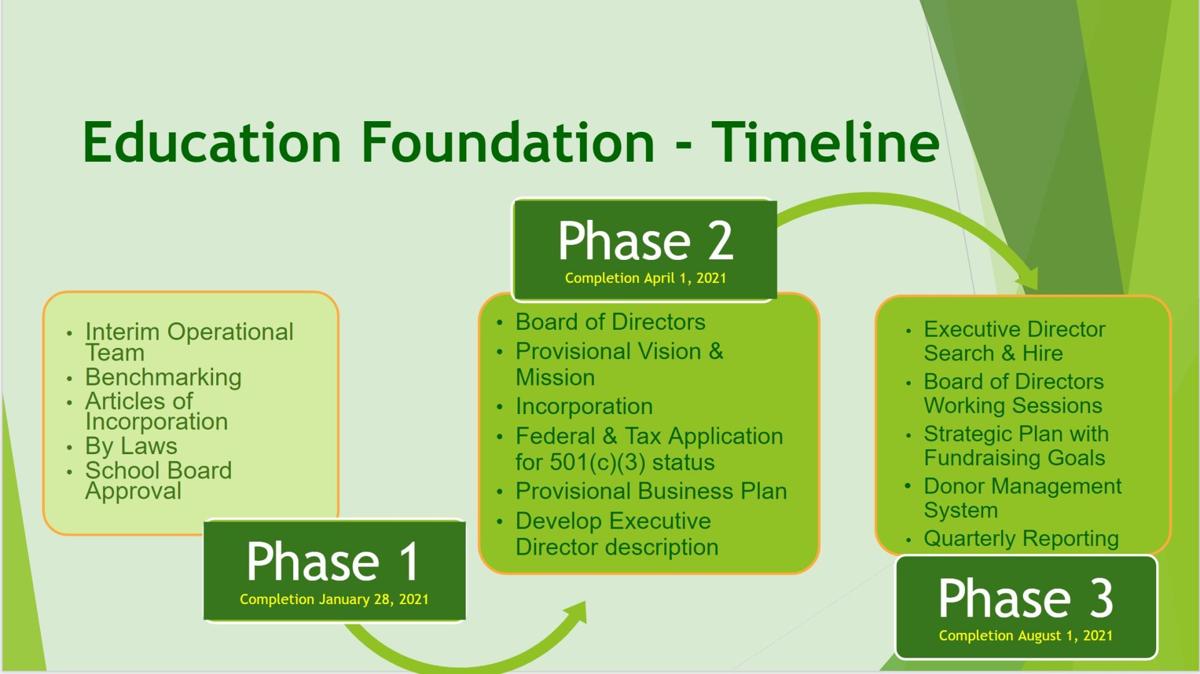 The Albemarle County school division is working to establish an education foundation to support its strategic initiatives.
"An education foundation will align with the division and board's strategic priorities to accelerate progress in our efforts to support all students' success and future options beyond high school," Kimberly Link, the work and community-based learning coordinator for the division, told the county School Board during a recent presentation.
Following the presentation and after limited discussion, the board unanimously approved establishing the foundation. The budget for the coming fiscal year most likely will include funding to help launch the organization.
A team has been working on the foundation since the fall. The idea has been mentioned several times at board meetings, but Thursday's meeting was the first time board members were briefed publicly on the topic. Board members often receive additional information in private meetings with division leaders.
Board members have said at previous work sessions that they see the foundation as a way to address inequities in the school system.
"That potential to establish your foundation is really something we should focus on because that could take care of some of our in-county needs — things that would be strictly for Albemarle County," board Chairman Graham Paige said at a budget work session in December. "I know [the Public Education Foundation of Charlottesville-Albemarle] helps us some, but if we had our own foundation, it would really be great. I know the city has a foundation already, so we need to enter that arena, too."
A committee of division staff members and community members is working to draft a new strategic plan, which will help determine which priorities the foundation could support.
Board member Kate Acuff said during the meeting that such foundations have worked well for other school systems, and she wants the Albemarle one to emulate the successful models.
"I think it's very important that we have one associated with Albemarle County Public Schools specifically," Acuff said. "I know that, and I was a member of the board of the Public Education Foundation, which works to cover both city and county schools. There have been significant challenges in both goals, and in getting buy-in for that. I really do think this has a great potential for our county schools, and I strongly support it."
As part of the initial phase, the division created an interim operational team, articles of incorporation and bylaws. The second phase involves seeking nonprofit status with the federal government, creating a board of directors, drafting a vision and mission statement and developing the job description for an executive director.
That second phase could wrap up by April, and the division wants to have an executive director hired by August.
The presentation did not address specifics about how a foundation would support the division's strategic priorities. Much larger school systems, as well as some in the region, have used a foundation to fund grants to teachers and student scholarships and support school programs.
In particular, Link said education foundations in Florida, Tennessee and Denver captured the team's attention. Those foundations stand out because of the impact and investment made toward improving equity and access, she said.
"Structurally, an effective foundation for ACPS will align its philanthropic endeavors with strategic input from the division, from the School Board and from its board of directors," Link said.
She added that the organization will work with parent-teacher organizations to support fundraising and opportunities for all students, as well as collaborate with other groups, such as the Public Education Foundation of Charlottesville-Albemarle, that have partnered with the division.
"We seek to continue partnership with these foundations and more to potentially engage in joint projects for greater scale and greater impact," Link said.
Community donations have helped students with the transition to all-virtual learning this school year. In August, PTOs in Charlottesville City Schools banded together to help students and schools with needs related to online classes. Since then, the CCS Reopening Fund has raised more than $161,000, which has helped to buy desks and school supplies for students and to pay tuition at virtual learning centers.
Albemarle parents recently announced a similar effort. The Families Helping Families community fund is aimed at helping county students overcome obstacles to learning during the pandemic, as well as in a more typical school year.
Organizers are seeking to raise $150,000 for this school year and $500,000 over the next three years to address students' needs. Like the Charlottesville fund, Families Helping Families is being managed by the Charlottesville Area Community Foundation and gifts are tax-deductible.
Last year, the Charlottesville school division looked at hiring a specialist for annual giving to solicit and coordinate donations for division initiatives. That idea didn't move forward after pandemic-related budget cuts.
At future work sessions, Albemarle division staff and board members will talk about setting up the county foundation's board of directions, how to invest funds and ways to engage donors.
Board member Jonno Alcaro said he wasn't clear on whether the foundation would be focused on raising money for specific projects or building an endowment.
Link said the team working on the foundation has identified several models and that determining the best one will be part of future board discussions.