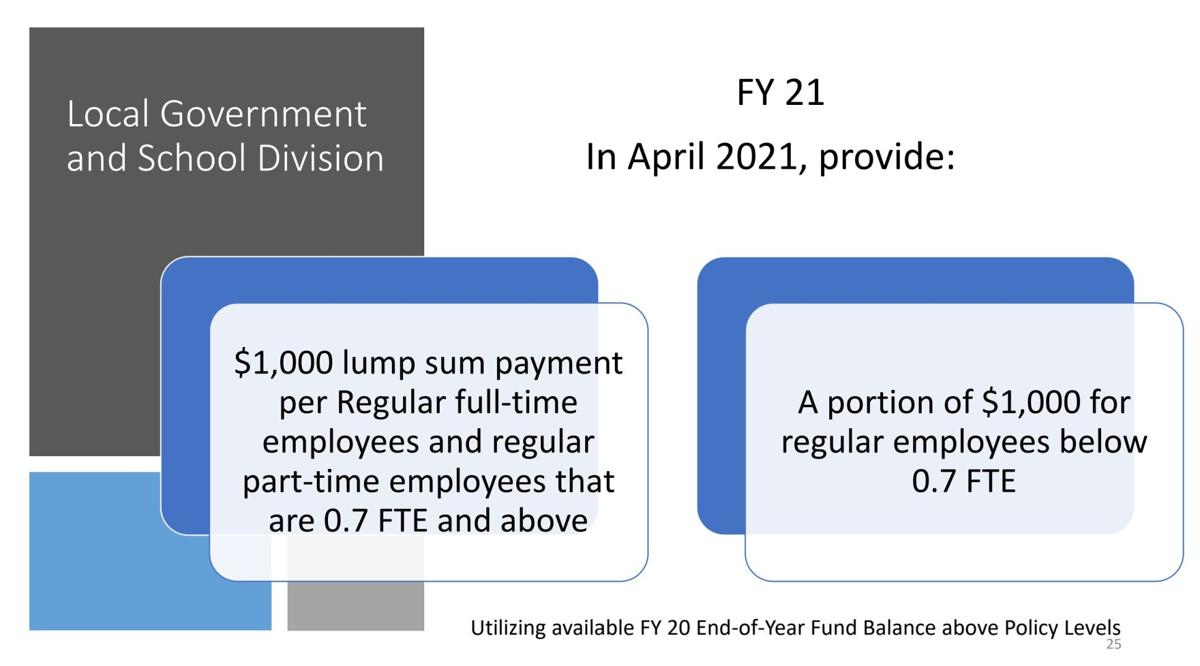 All regular school and government employees of Albemarle County likely will be getting an additional $1,000 this spring.
During a virtual joint work session with the county Board of Supervisors and School Board on Thursday, county staff presented the proposal to both bodies, and nearly all members were supportive.
The funding would come out of the year-end fund balance, and would cost up to $850,000 for the local government and up to $2.7 million for the school division.
"Our amazing staff did not receive a salary increase in this fiscal year, and ... 14 other organizations, or 25% of our adopted market, did give increases," said Human Resources Director Lorna Gerome. "In addition, we've talked about the challenges, and the dedication that our employees have continued to serve our students, our citizens, and support each other during these ever-changing times."
Gerome said county staff will develop recommendations and appropriations to take to each of the boards at later dates.
Albemarle government has a fund balance of about $7.5 million, and the school division said it has a fund balance of approximately $8.6 million, about half of which is within its 2% policy that it is able to carry forward.
The $1,000 lump-sum payment would go to regular full-time employees and regular part-time employees who are at least 0.7 full-time equivalent, while regular employees below 0.7 full-time equivalent would receive a portion of that. Substitutes and temporary employees would not receive the payment.
County staff said the pandemic risk recognition program — $1,250 or $750 in gross pay given to certain county employees last year — is "separate and distinct" from this $1,000.
Nearly all supervisors and School Board members expressed support of the new bonus proposal, but some thought it should be done differently.
School Board member David Oberg said he didn't like the flat rate because the raises that county employees forwent last year were percentage based.
"If we're paying the lowest full-time employee $1,000 and the highest-paid employee $1,000, it's a pretty good bonus for someone on the lower end of the wage scale but it's a pretty crummy bonus for somebody at the top, and the people at the top lost a significant raise," he said. "Just from my perspective, I don't know that I agree that it should be based upon, 'Yeah, everybody just gets a flat fee.'"
However, Supervisor Ann H. Mallek said, "I'm very much in favor of having it shifted more to the lower-wage earners right now because I think they need it more," referring to the economic pain of the pandemic.
School Board member Katrina Callsen questioned why they couldn't use the money for raises instead of bonuses.
"Something about just giving a one-time payment when we know that we're underpaying someone and we plan on increasing them, we didn't get them raises this year ... I don't know, just want to make note of that," she said.
Board of Supervisors Chairman Ned Gallaway said the one-time payment makes sense because the source of the money is also one-time.
"You wouldn't want to use one-time monies to do salary increases. That is not how we have ever done things, to use one-time money for ongoing expenses," he said.
The elected officials also gave feedback on their employee compensation goals and priorities for the upcoming budget.
Most said raising the county's minimum wage to $15 is their top priority.
Due to COVID-19-related revenue shortfalls, Albemarle cut a plan to raise the county's minimum wage to $15 an hour that was supposed to happen starting this current fiscal year.
Albemarle's current minimum full-time hourly wage of $10.20 is less than the median of Charlottesville and all counties that share a border with Albemarle. The median for school division employees is $10.27 an hour, while the median for local government employees is $12 an hour.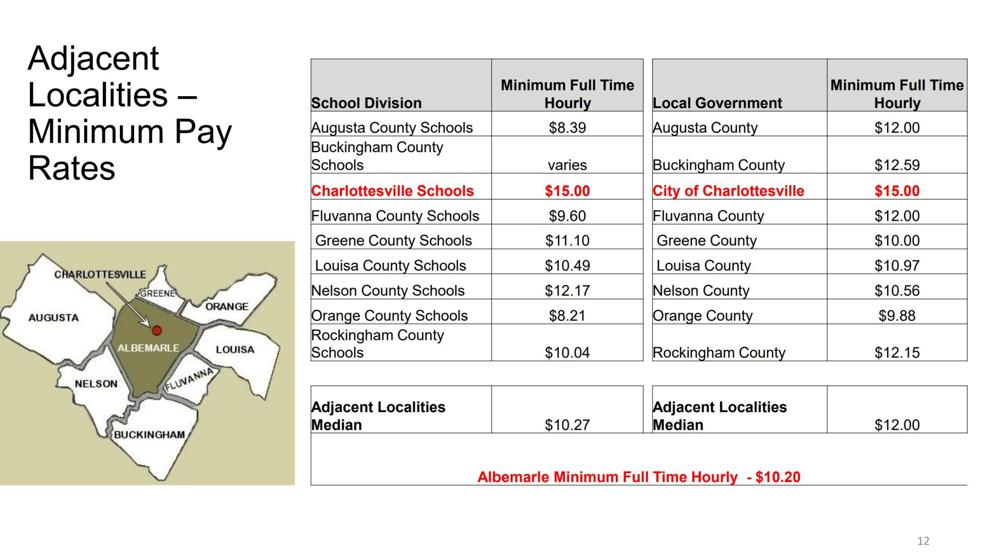 Callsen said those who make minimum wage or close to it in the school division are teacher assistants, library assistants and other employees who spend a lot of time with students.
"Those are people that are having a lot of contact with our students, and particularly our vulnerable students, and so I think it's really important that we keep them in the conversation because we want to be able to recruit and maintain and keep employees who can build relationships with our students," she said.
Some supervisors said increasing the public safety pay scale is also a priority for them.
In 2019, Albemarle started step scales for the sheriff's office and the police, fire-rescue and emergency communications departments for most sworn positions based on position and years of experience.
Dana Robb, the county's program manager for compensation and rewards, said Albemarle is about 3% below the market. She said, as an example, the county is about $3,000 low from its market target for the police officer position.
"We believe that this is having an impact, as we are seeing applicant pools that are half the size that they normally are, and the withdrawal rate for those that have expressed interest in the position of police officer is about three times the normal rate," she said. "Of course, current events are certain to play a part in this, but maintaining the competitive salary is one area that we can influence."
Supervisors asked for more information about the public safety pay scale market comparisons.
All of the School Board members said increasing the teacher pay scale is a priority.
In terms of teacher pay, Charlottesville is 3.5% higher than Albemarle for the initial level of pay, 5.6% higher at 15 years of experience and 8% higher at 30 years of experience.
Louisa County also pays teachers higher at 30 years of experience.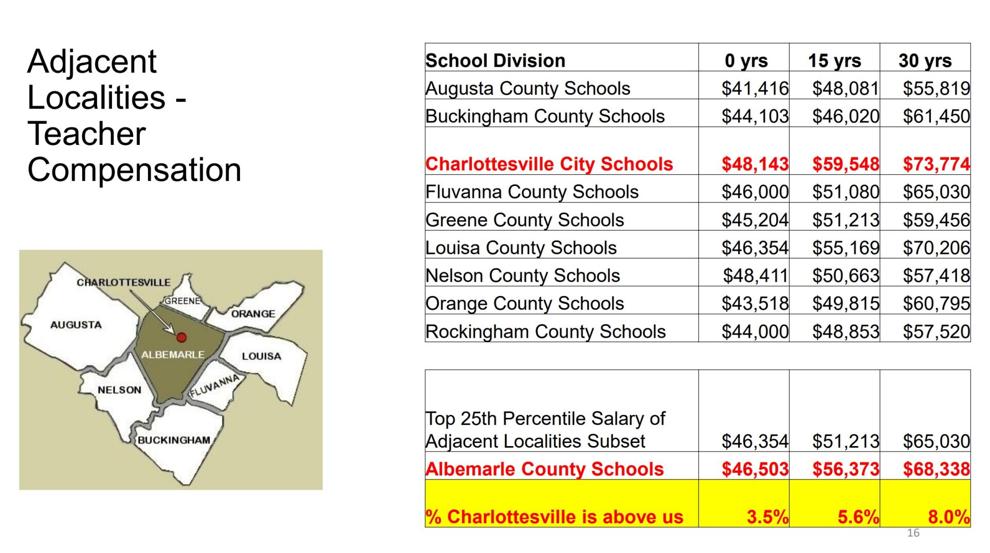 "I continue to be concerned that we consistently lag behind Charlottesville, which I think is our best comparison in this market basket, and we don't even look that good compared with Louisa, at the beginning or at the end," School Board member Kate Acuff said.
She said she is also still concerned that the division will never catch up in terms of funding teachers without a strategic plan.
"I think we need a broader strategy for teacher compensation. Whether it's a five-year or 10-year or whatever plan, I think we need to be looking at more than an annual couple percent," Acuff said.