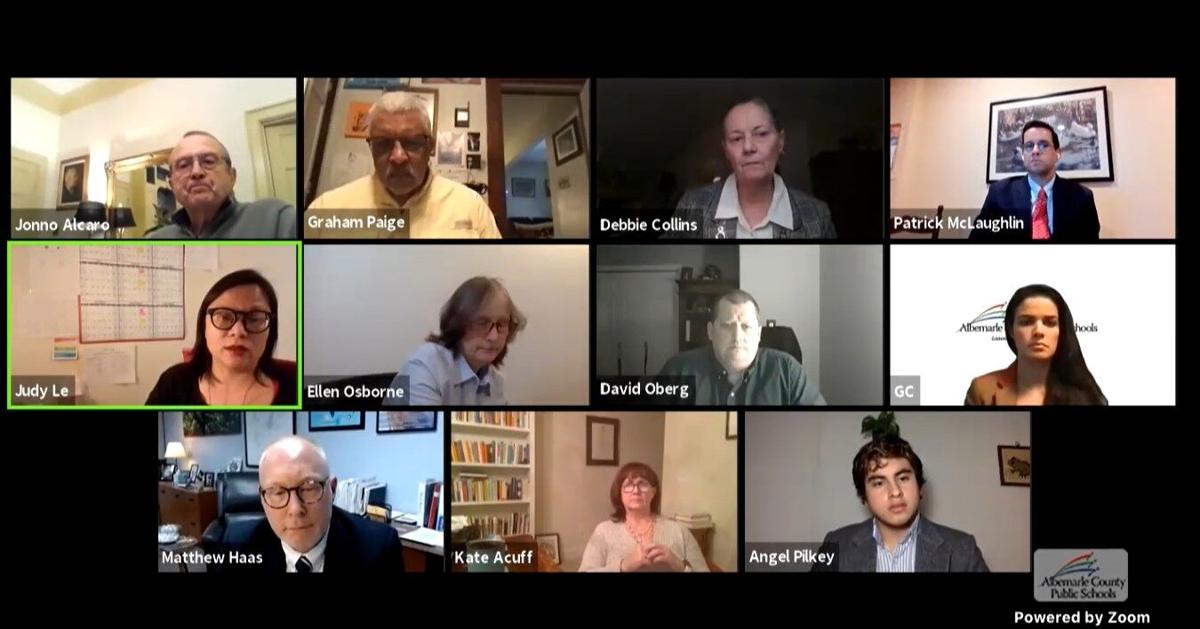 After nearly a year of remote learning, Charlottesville students will head back to school buildings next month after the Charlottesville School Board on Thursday reaffirmed its decision last month to push the start of in-person classes to March.
Meanwhile, in Albemarle County, schools Superintendent Matt Haas recommended that the division move to the fourth stage of its reopening plan, which would give all students the option to attend in-person classes at least twice a week, with preschoolers through third-graders going to school four days a week.
Haas made his recommendation to the School Board during a special meeting Thursday, citing recent guidance from the Virginia Department of Education. The board will vote on the plan Feb. 11, and in-person classes could start by March 1.
Both divisions are working to vaccinate their staff quickly, though that's not a requirement for reopening, which mirrors recent guidance from the Centers of Disease Control and Prevention.
Charlottesville City Schools' plan opens classes to preschoolers through second-graders while providing targeted assistance to other students in need, such as those in special education and English-language learners.
Schools Superintendent Rosa Atkins said the current plan, which carries a March 8 date, starts the process of bringing back more students. The model doesn't outline how or when to open up in-person classes or services to more students.
City principals and teachers are working on a list of students who have struggled with virtual learning. The board's motion gives principals latitude to expand in-person classes to more students without coming back to the School Board with proper notice and if things are going smoothly.
"Understanding smoothly is not something that you can measure, but they will know after a certain period of time" board member Juandiego Wade said.
Board members Jennifer McKeever and LaShundra Bryson-Morsberger objected to the plan for different reasons. Bryson-Morsberger opposed the measure because not all staff members have been fully vaccinated yet, while McKeever wanted more students back in the buildings.
After the vote, chairwoman Lisa Larson-Torres thanked school staff and the community for their work and support thus far.
"Even with the date, I'm asking the community to try to understand that this entire change will be trying; it will be emotional," she said. "As much as I know our teachers are excited to be with their students, I know that with this change will come some apprehension, fear [and] anxiety. Yes, it's face-to-face, but it is nowhere near a return to the normality or the normalcy of a year ago."
Larson-Torres added that even though she supports the plan, she still has "ongoing and significant concerns and worries."
"It is time to get the kids back into the building," she said. "We as a board are committed to doing whatever we can to offer necessary supports as we move to this new part of this journey."
Gov. Ralph Northam and the Virginia Department of Education have recently pushed local school divisions to reopen, citing the lack of widespread outbreaks in schools that resumed in-person classes. Northam is expected to announce plans to extend the school year into the summer during a press conference Friday.
Currently in Albemarle County, some students have had the option for in-person classes since early November as part of the third stage of the division's reopening plan.
The division has said it's operationally prepared to move to Stage Four and has the necessary staff; however, specific data about accommodations requests from staff members were not provided.
During Thursday's special meeting, county school board members asked about vaccinations for staff members, employees' accommodations requests and virtual learning.
In a change from his previous recommendation in October, Haas did not speak with members of the media prior to the board meeting.
He didn't delve deep into why he was making that recommendation, though division leadership have previously said that they believe in-person learning is much more beneficial to students.
During the presentation, the division highlighted statistics and demographics of vulnerable students, who make up about 43% of the student body.
"Moving to Stage Four of our return plan will provide the opportunity for increased face-to-face learning for all of those students," said Patrick McLaughlin, the chief of strategic planning for the division.
The presentation did not include data about how many of those students will be attending in-person.
About 61.7% of elementary school families picked hybrid instruction, while 54.7% of middle and high school families did so, and participation rates vary across the schools, according to results from a division survey in December. Schools with a greater percentage of families choosing the hybrid option tend to be in the division's western feeder pattern.
Much of the division's racial, ethnic and socioeconomic diversity is concentrated in the northern and southern feeder patterns, according to the school system's 2018 equity report.
Students who want to change their learning model preference should contact their principal. The division is planning for more students to switch to hybrid instruction.
In Charlottesville, the demographics of those choosing in-person classes mirror the division's overall enrollment, according to survey results about a previous reopening plan.
Neither school division has presented data about how students have fared during virtual learning aside from anecdotal comments that online classes don't work for all students.
CITY SCHOOLS
In Charlottesville, division leadership and the board have pushed back the start date for in-person classes several times and drafted several different plans.
The board has previously supported planning efforts for in-person classes, but Thursday's vote was the most concrete decision on the start date, reflecting board members' increasing comfort level with the idea of having students in schools amid the pandemic.
"I believe that we are ready for this, and I feel really good about the work that we have done to prepare our buildings," board member Sherry Kraft said. "I feel like we have supported and protected our staff and I do believe that the vaccination process will fit pretty well with that time table."
Kraft added that she thinks there's enough data available nationally showing that schools are a relatively safe space during the pandemic.
Like Kraft, other board members said March 8 was a good starting point for getting students back into school.
However, the board's discussion Thursday night showed members frustrated and at-odds with one another over the best course as they went back and forth over the exact language of the motion.
At one point, McKeever said that Wade's motion didn't reflect his intention to allow principals to bring back third and fourth-graders.
"I think that you are trying to muddy things up, dear colleague," Wade said. "I think that it's been moved and properly seconded."
Several parents were concerned about the division's plan to only offer in-person classes for younger elementary students.
"I simply don't understand the decision not to bring back third and fourth grade," parent John Wells said.
Jennifer Grover, a parent of two Burnley-Moran Elementary students, said the current plan would have one of her students learning in-person while the other would say at home.
"And it is the upper grade [student] that is struggling," she said. " … I feel that it's imperative that all of the elementary students get back as soon as possible."
McKeever echoed that concern and said the separation of the elementary grades didn't make sense. She objected to the reopening plan because she wanted to give division leadership more flexibility to bring back more students.
"I do not want to tie the hands of our principals, or you, Dr. Atkins, in getting as many students back as possible and that's what I feel like option A does," McKeever, echoing a concern she raised at the board's meeting last month.
McKeever made a motion to expand that Option A to include in-person classes for third- and fourth-graders. Her motion was not seconded.
McKeever wants to give schools and the community more clarity about when more students could go back.
"I need as a parent to plan, and, as a teacher, you need to plan, and as a teacher who's probably also a parent, you need to plan," she said.
Since the summer, McKeever has previously pushed for remote learning, but she said Thursday that the federal government's new approach to the pandemic and the roll-out of vaccines helped to change her mind.
"I feel like there is data on both sides and have been for the past 10 months, and you can pretty much point to any study to say the opposite of what you were saying at any given moment, so the vaccine really is the game changer here," McKeever said.