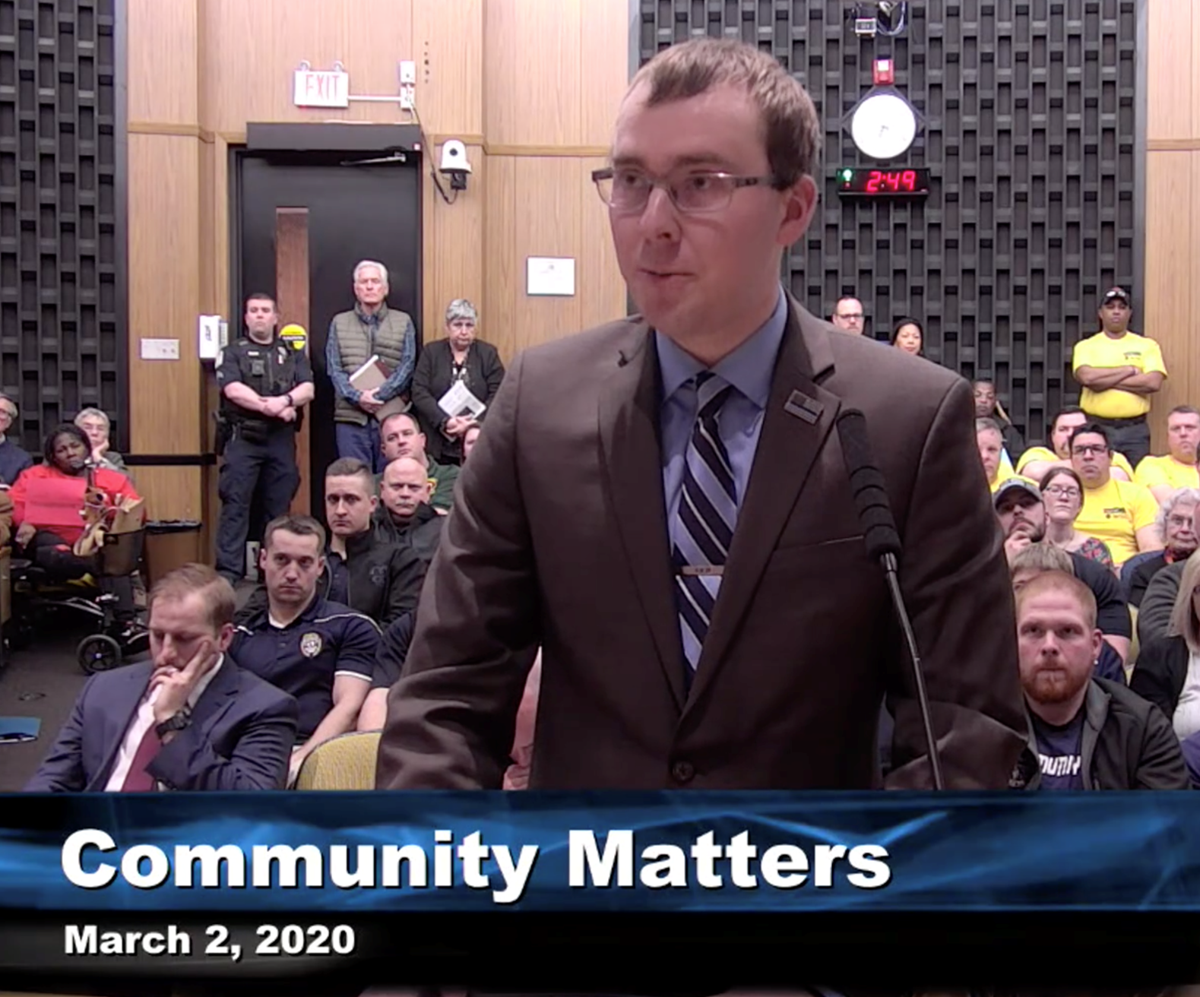 A white Charlottesville police officer has been charged with assault and battery in the March 3 arrest of a Black man.
A magistrate issued a warrant charging officer Jeffrey Jaeger with misdemeanor assault and battery on Tuesday, according to a news release.
Jaeger and two other officers, who were not named, responded to a disorder at 762 Prospect Ave. on March 3, the release says.
Two city residents, who were not named in the release, were arrested at the scene. One was charged with drunk in public and obstruction of justice and the other person was arrested on an unspecified warrant from another jurisdiction.
According to arrest records, Dyron McFarlane was charged with drunk in public and obstruction of justice at the same address on the same day. Andre Henderson was arrested on a warrant service and failure to appear for a misdemeanor charge. Records indicate both men are Black.
McFarlane was found not guilty in Charlottesville General District Court on July 24, according to the press release.
Shortly after the verdict, a complaint was filed with the Charlottesville Police Department about the actions of the three officers based on "observations of the body camera footage played in court," the release said. The complaint alleged that one of the officers assaulted one of the arrestees.
Because the initial complaint involved criminal allegations, the matter was referred to Commonwealth's Attorney Joe Platania. After reviewing it, Platania asked for a full criminal investigation, which was turned over on Aug. 25, according to the release.
Platania determined there was probable cause for assault and battery charges and authorized CPD to seek a warrant from the magistrate.
CPD spokesman Tyler Hawn declined to say if Jaeger is on administrative leave or if the warrant has been served. The other two officers are going through the department's disciplinary procedures, according to the release.
Jaeger's initial court appearance is set for Sept. 14.
The city's website lists Jaeger as a liaison to the University of Virginia student community. Jaeger's biography says that he is a graduate of Michigan State University and has been with the city since July 2016.
"Officer Jaeger has expanded his volunteer efforts to include the UVa IFC and Pan-Hellenic organizations, where he conducts alcohol, hazing, and sexual assault prevention education sessions," his bio says. "His goal is to work with the UVa community to ensure that every student living in or visiting Charlottesville has a safe, educational, and exciting experience, so that they can graduate ready for their careers and successful futures."
The night before the alleged assault, Jaeger spoke before Charlottesville City Council. He said he was a patrol officer, field training officer and a forensic technician. He called for investment in renovations to CPD's building.
"This is a place where we have to bring crime victims to on the worst days of their lives," he said. "These people deserve our very best and first impressions leave lasting impressions. They deserve the impression of confidence that we can deliver the most up to date technology and resources to bring their victimizers to justice."
Sign up for our Crime & Courts newsletter
Get the latest in local public safety news with this weekly email.