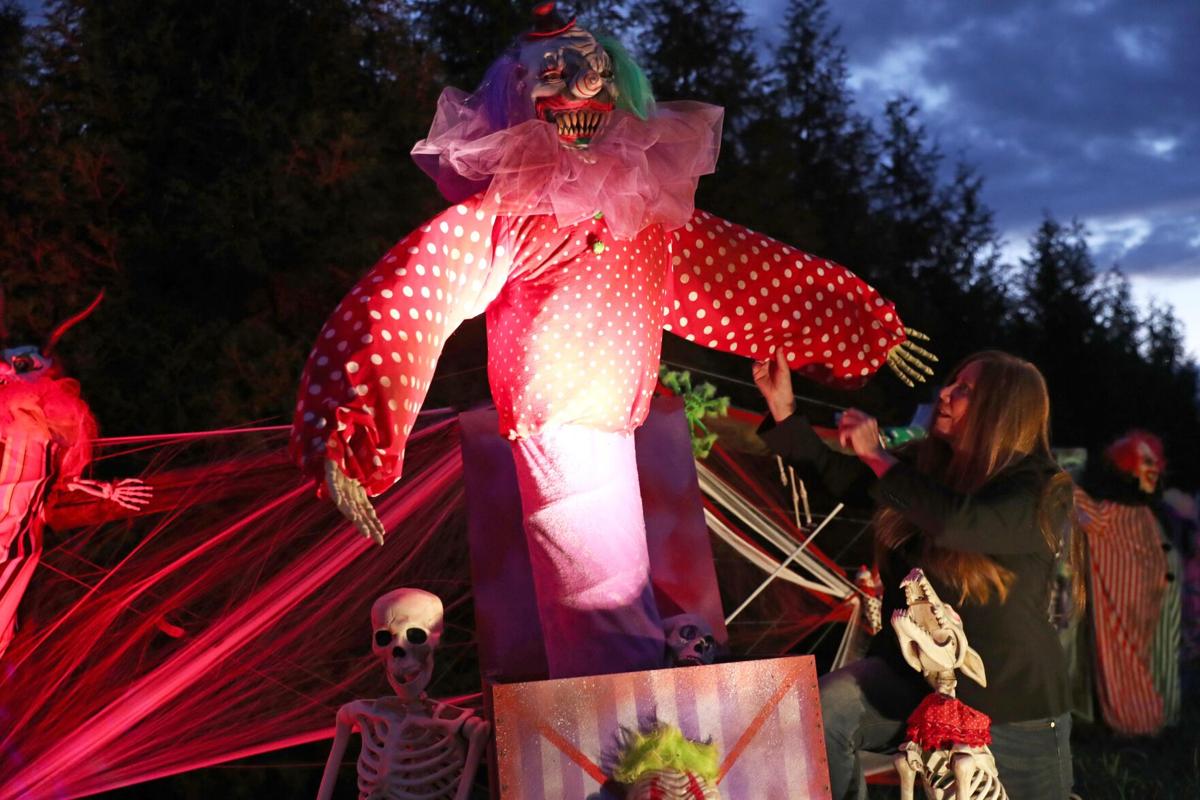 With noodles from pools and masks off eBay; Lowe's saw horses and wire of landscape; clothes freshly sewn and pipes once plumbed, something wicked to Albemarle County comes.
Evil clowns – a redundancy for those with coulrophobia – stand in the front yard of a Free Union home, manning what appears to be Hades' own ticket booth selling admission to the Cirque du Sauron while skeletal demon dogs cavort about.
The scene, part of the Schultheis family's annual life-sized neighborhood diorama, is the brainchild of Cheryl Schultheis, who developed, designed and fashioned it from scavenged materials.
The display took three months to create — it takes a long time to make something so hideous.
"I started making the bodies back in July but I had bought the clown masks off eBay about four or five years ago. It was around the time that there were all of those sightings of creepy clowns in the woods and in neighborhoods going on across the country," Schultheis recalled.
The clown masks have been in storage since. This year, Schultheis brought them into the daylight.
"I've wanted to do the clown thing for several years but my girlfriends said it was too scary," she said. "But this is 2020 and, to be honest, I can't think of anything that would be more scary than this year has already been, so I went with it."
The Schultheis family has lived at the corner of Millington Road and Free Union Road for seven years. Each year they have decorated big. Each year the display has been different. They have played Halloween host to werewolves, witches, skeletons, jack-o-lanterns, ghouls, the Angel of Darkness and his friends and, now, the pierrots of purgatory.
"I used tree cages for the legs and plastic pipes where they needed strength and pool noodles in the arms where they needed flexibility," Schultheis explained. "I used bubble wrap and packing material to stuff them, and the body of the animal is two saw horses I got from Lowe's."
The family helps out a bit. Schultheis' mother helps to sew the clothes and the kids and husband help to put the display together. And they all accept a few months of being startled witless by whatever apparition is under construction and temporarily crammed into corners and crannies.
"I must say that my husband wasn't too happy when I had about six clown bodies stashed in the bedroom while I worked on them. They have to go somewhere, though," Schultheis laughed. "The year that I made werewolves, I found an old mannequin and built that up and put football shoulder pads on it to make it bigger. When I got it close to finished, you'd walk by and turn the corner in the house and see it and you couldn't help but jump."
Schultheis' affection for decoration is apparently genetic, on her maternal side.
"I've been like this my whole life. I love Halloween and Christmas. My mom and I would go down to [Washington, D.C.] when I worked in marketing and decorate the office every year," she said. "My boss would say, 'Cheryl, no bodies, please,' but there would always be bodies. They really put up with me."
The bodies are gone now. There are no gruesome reenactments of crimes or killers or spilled blood or severed limbs.
"This is a great neighborhood and there are a lot of kids, and little kids don't need to see all of that," she said. "It's OK to be scary. I want people to go by and say, 'that's cool.' I'm just not sure there needs to be a lot of gore."
The yard's scene is seasonal and bound to change. When the clowns are gone and Santa Claus approaches, Schultheis said her yard will reflect the season.
"I love fall. I love winter. I love the change of the seasons and the cold weather and the falling leaves. I go all-out for Halloween and again for Christmas," she said. "I guess I'm a closet designer. I love decorating. It's just something I love to do."