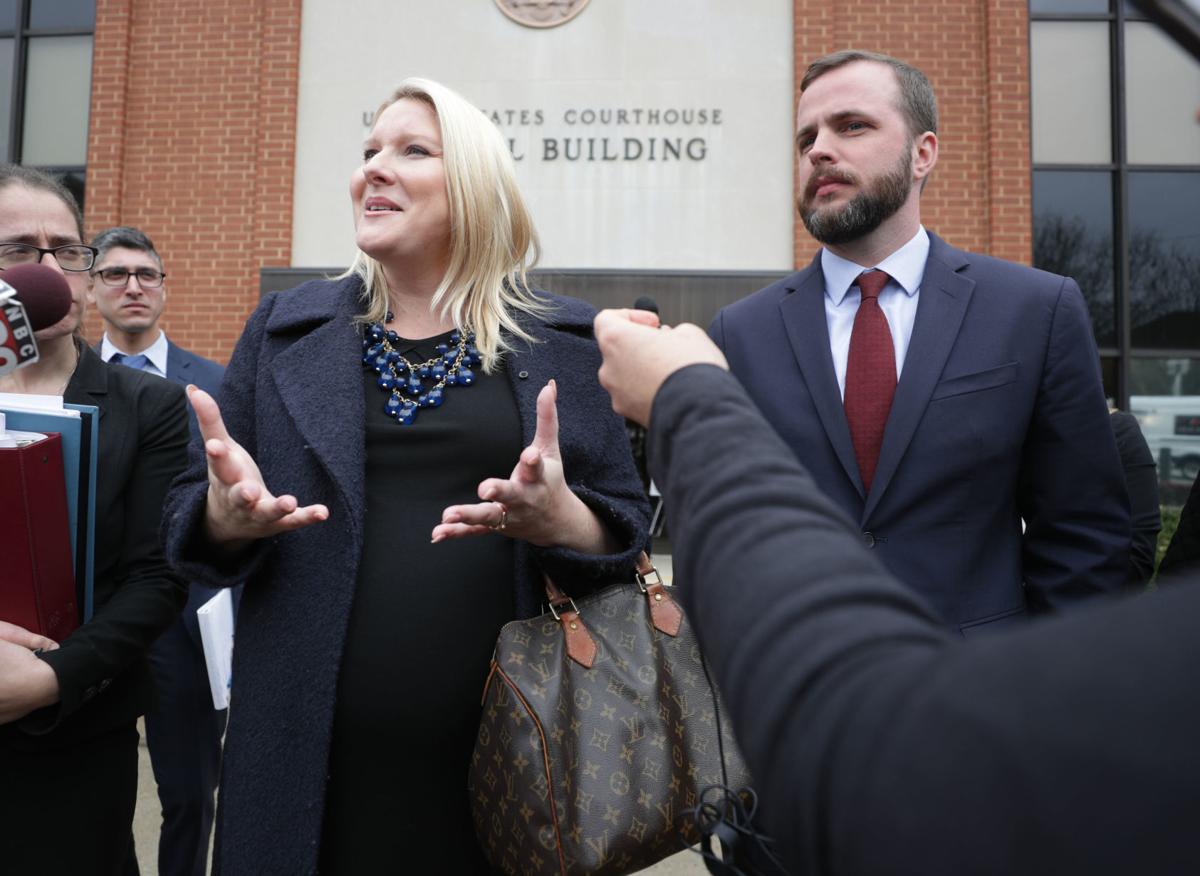 A federal judge in Charlottesville will reconsider an earlier decision allowing a defamation suit to proceed against InfoWars and other far-right entities.
Brennan Gilmore, an activist and former Foreign Service officer, sued Alex Jones, InfoWars and several others in March 2018 for defamation.
After Gilmore witnessed and filmed the Aug. 12, 2017, car attack that killed counter-protester Heather Heyer, the defendants started spreading conspiracies about him, leading to death threats against him and his family, according to the suit.
In addition to Jones and InfoWars, the complaint names Free Speech Systems LLC, Lee Stranahan, Lee Ann McAdoo, Scott Creighton, James Hoft, Derrick Wilburn and former Rep. Allen B. West, R-Ga., as defendants. West was later dismissed from the suit.
U.S. District Judge Norman K. Moon issued an opinion in March denying motions to dismiss the suit.
"Gilmore adequately pleads defamation under Virginia law against all remaining defendants, and his defamation claims will therefore survive," Moon wrote.
This decision was soon met with motions for reconsideration from the defendants, who argued the court did not have jurisdiction. While this topic was addressed in Moon's ruling, the defendants argue the suit insufficiently establishes that they targeted a Virginia-specific audience.
"As shown in the accompanying memorandum, the Court's March 29 Order conflicts with governing authority because the legal standard it applied permits jurisdiction over non-forum state defendants who have merely discussed forum-state events, without manifesting an intent to target an audience in the forum state," a May motion for reconsideration from some of the defendants reads. "In this respect, the Court's Order conflicts with Supreme Court and Fourth Circuit precedent that limits jurisdiction in these circumstances to defendants who have 'expressly aimed' allegedly wrongful acts at the forum state."
The defendants have asked for an interlocutory appeal — an appeal of a ruling made before the trial itself has concluded — which was granted by the court. A hearing is now scheduled for September.
Prior to the court's decision to hear the defendants' motions, attorneys for Gilmore filed a response, highlighting reasons why they argue Moon's earlier decision should stand.
According to Gilmore's attorneys, there are three major reasons to allow a motion to reconsider: an intervening change in the law; new evidence not previously available; and correction of a clear error of law. None of these three criteria have been adequately met, according to a May response.
"Defendants do not even attempt to show an intervening change in law or new evidence, which means reconsideration would be appropriate only if Defendants could establish a clear error of law or the need to prevent manifest injustice," the response reads. "They cannot — and do not — make that showing."
Despite the plaintiff's argument, the court approved a new hearing for the motion to reconsider. In June, Gilmore gave a notice to the court, again laying out the argument that a motion to reconsider is unnecessary given the court's earlier decision allowing the suit to proceed."
"... Defendants have simply rehashed the same arguments they made in their motions to dismiss regarding why the Court lacks personal jurisdiction over them, arguments which this Court rejected in its well-reasoned opinion," the notice reads. "For that reason, it would unnecessarily waste this Court's time and tax this Court's resources to hold a hearing on motions that restate the same arguments this Court heard at the November 13, 2018 hearing on Defendants' motions to dismiss."
A hearing has been scheduled for Sept. 5.
Be the first to know
Get local news delivered to your inbox!