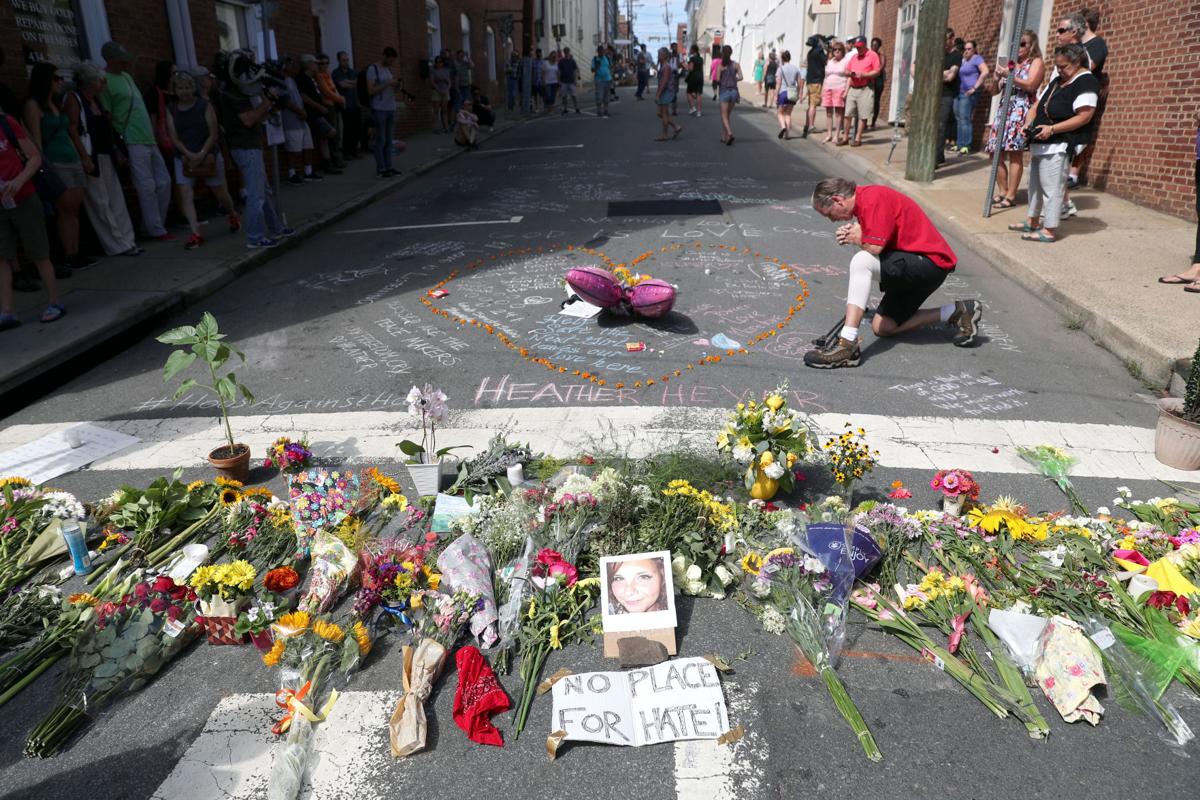 An Albemarle County emergency management employee warned Charlottesville's City Council in April that the Downtown Mall's vehicle crossovers posed an immediate danger to public safety.
Months before a car plowed into a group of anti-racist demonstrators, killing one and injuring 19 others, the county employee penned a letter to the city imploring officials to install collapsible traffic bollards at certain access points on the Downtown Mall. He noted that driving a large vehicle into pedestrian groups at tourist destinations had become the "new terrorist trend," and he warned that the Downtown Mall "could be an immediate threat."
The sole response to the employee's April 10 missive was a four-sentence email from Councilor Bob Fenwick that did not address the crossovers, the Downtown Mall or any substantive portion of the original email.
"Thank you for the email. Many of us are working on how to best protect our families, friends and neighbors, not just in the outside areas but the inside areas as well. This is a real challenge when we live in an open society but we will address it as appropriately as possible. I would not want to publicize our efforts for obvious reasons," reads Fenwick's response in its entirety.
The concerned employee, who told The Daily Progress his letter represented his own views and was not sent on behalf of Albemarle County or his department, asked to remain anonymous.
Chief Al Thomas said the violence was initiated by "mutually engaged combatants" at an "alt-right rally" that was met with large numbers of counter-protesters.
The employee wrote that there are "hundreds of types of traffic bollards on the market that are relatively cheap," and that certain types still would permit access to the mall for emergency personnel when necessary.
"I know that these access points exist for public safety vehicles to enter the mall for emergency situations, therefore a collapsible type that can be quickly unlocked when needed would be best to explore," he wrote.
James Alex Fields Jr., 20, a security guard from Maumee, Ohio, is charged with second-degree murder in Heyer's death.
When reached by email, Fenwick recalled reading the email and said that past efforts to install traffic bollards "never had enough support."
"If I remember correctly the last time this came up, the fire department and first responders were very concerned about possible delays in immediately locating a key or a passcode, and to address this concern, I noticed more frequent training drills in moving the large safety vehicles around and down the mall," Fenwick wrote. "Perhaps this time that will change."
He added that in the wake of the tragedy, the city would take renewed looks at security improvements.
When asked, Mayor Mike Signer was unclear about whether he'd seen the email.
"I mean, we get thousands of emails," Signer said. "The city manager receives all the emails that are sent to council … I think the question would be what really could stop somebody determined to use a car as a weapon?"
"I think it's something we should look at with our professional staff who received that email," Signer continued. "My initial inclination is we should keep striking a balance between public safety in our civic spaces with an eye toward having an open society rather than a closed one."
Both the ACLU of Virginia and the Rutherford Institute received blame from some for the turn of events Saturday because of their representation.
City Manager Maurice Jones said he had seen the email in question, and that it had sparked a discussion about safety in Charlottesville.
"I shared those concerns especially after the incidents in Berlin, Nice and Stockholm," Jones wrote in an email. "We have been discussing these types of bollards as part of a more comprehensive look at safety."
In his original email, the county employee warned that there were four locations on the mall that could be targeted for a vehicular attack, including the Fourth Street crossover where James Alex Fields Jr. is accused of driving his gray Dodge Challenger into a crowd of people during Saturday's white nationalist rally. Fields faces a second-degree murder charge, among others.
This roundup of news and developments nationwide related to the Unite the Right rally will be updated continuously.
During a news conference Monday, Charlottesville Police Chief Al Thomas said that, like other streets crossing the Downtown Mall, Fourth Street was not supposed to be open to traffic during the rally, which saw thousands of white nationalist demonstrators and anti-racist protesters inundating the heart of the city.
When asked why Fields' vehicle and two other cars were able to access Fourth Street, Thomas replied, "I'm not sure."
A city official later confirmed that Fourth Street was supposed to be closed as part of the event's traffic plan, and that authorities still were investigating how Fields' vehicle and two others were able to access the street.
White nationalist leader Matthew Heimbach drew a crowd outside the court-house but was shouted down.
More than a decade ago, the Fourth Street crossing was a hot-button issue for the City Council. After the crossing at Second Street was opened in 1994 despite widespread public opposition, the idea of opening another crossover was floated to the council by downtown business owners.
Those owners claimed the then-recent closures of Sixth and Seventh streets for the construction of what is now known as the Sprint Pavilion had impacted their sales, and that a new crossover could ease traffic congestion and parking difficulties.
The notion faced adamant opposition from pedestrians and city residents "who want[ed] the mall to remain as car-free as possible," according to a 2006 Daily Progress report, and the Charlottesville Planning Commission voted against the crossover earlier that year, though the council was not bound to the recommendation.
In April 2006, the council voted to open the Fourth Street crossing for a one-year trial run, which started on May 1, 2006. The following year, the city voted to make the crossover permanent, saying it had made it easier for drivers to navigate around downtown and access shops without burdening pedestrians.
"A majority of the councilors concluded that the one-year trial of the Fourth Street East crossing, which ended last month, had benefited the business community and should become an enduring fixture on the commercial strip," reads a 2007 Daily Progress article.
Dean Seal is a reporter for The Daily Progress. Contact him at (434) 978-7268, dseal@dailyprogress.com or @JDeanSeal on Twitter. Daily Progress staff writer Chris Suarez contributed to this story.