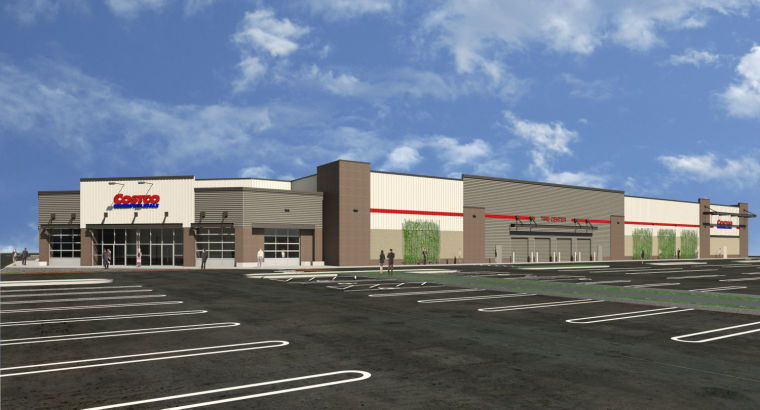 Although Costco likely will reshape the Charlottesville area's retail horizon, the store's impact on traffic and future development in Albemarle County is unclear for now.
By next summer, the Issaquah, Washington-based, members-only warehouse club plans to open a 148,000-square-foot building and a 16-pump gas station at the Shops at Stonefield, Costco spokesman Jeff Rudder recently confirmed. The store will employ about 200 people.
"We located in [Charlottesville] because of the high education and high income level, and the Stonefield development was a great location in that market," Rudder said. "We bring a good value to the consumer, and we'll bring people into Charlottesville."
Rudder said studies conducted by developer Edens indicate that the store's traffic impact should be manageable. Part of the reason, Rudder explained, is Costco's operating hours. Although the Stonefield store's hours are not yet set, in general, Rudder said, Costco does not open before 9:30 a.m. and closes by 8:30 p.m.
"It's not a 24-hour operation," Rudder said.
However, Albemarle County Supervisor Brad Sheffield, who represents the Rio District, said the big-box store is "out of place" for Stonefield's character, which was designed with a focus on walkability and density.
"As for traffic, there is some logic to the argument that there will be minimal, if any, additional traffic impacts beyond what the master plan demonstrated," Sheffield said in an email. "The argument is ratio of store size to traffic generation," Sheffield said.
The logic behind that argument is that Costco will employ and attract customers at the same ratio to size as if the store's square footage were divided among a dozen smaller retailers. However, Sheffield said, the difference is that Costco likely will attract mostly car-driving customers.
Sheffield, who took office after the project was approved, said he would have asked for a comparison of how traffic may have differed if more, smaller stores were built instead of one large store.
"In terms of the end result, I feel there will additional traffic impacts, and I do not feel the current traffic design is prepared to handle that level of traffic flow," Sheffield said. "We have already seen a dysfunction of traffic along Hydraulic (the elimination of left turns out of Stonefield, heading west on Hydraulic)," Sheffield said. "I expect the county or the state will need to spend millions more to correct those issues."
Sheffield also said the developer should be held financially responsible for addressing any traffic issues. Through a spokeswoman, Edens representatives declined to comment for this story.
Environmental issues are also a factor in the project's development. The U.S. Environmental Protection Agency is planning to require the installation of a vapor mitigation system to address soil and groundwater contamination in the area.
The 14.7-acre Costco parcel was created in 1999 when Sperry Marine subdivided 82 acres of property. The future Costco site was not used in manufacturing and the contamination likely dates to the 1970s, when spent solvents were used for weed control on the property, according to an April report by the EPA.
Donna Heron, a spokeswoman for the EPA's Mid-Atlantic region, said vapor mitigation systems are a common mitigation strategy and are similar to radon control systems. In the case of the Costco project, Heron said the system's exact specifications and cost have not been determined.
Costco's products and services include typical grocery store offerings, such as fresh produce, meat and dairy; clothing, household goods and furniture; and automotive and pharmacy services.
"We have found that Costco is a fairly large draw wherever they operate," said Terri Maloney, a spokeswoman for Food World, a Maryland-based publication that follows the grocery industry in the Mid-Atlantic region. "Their food offering — fresh and dry — is very good. Their meat program is particularly strong. Also, their gas program, with discounted prices available only to Costco members, helps drive sales, as well," Maloney said. The company's approach is to sell fewer items in bulk quantities.
Although they may not be a primary destination for most shoppers, Maloney said Costco's entrance in the Charlottesville-area market will further stiffen the competition for local grocery customers.
"So, one Costco unit probably won't take a big chunk out of Charlottesville's overall grocery business. But it does add to the trend in the supermarket business of 'death (or decline in business) by a thousand cuts,'" Maloney said.
In addition to the retail market, Costco also is likely to positively reshape the employment market, said Joe Harder, an adjunct associate professor who teaches and studies organizational behavior and leadership at the Darden Graduate School of Business Administration at the University of Virginia.
"They offer far fewer items in terms of [stock keeping units] than a typical retailer would, and they rotate frequently," Harder said. "There's only one brand of ketchup, so you're not deluged with a lot of options, but it seems to work."
Harder said Costco's employment approach is to promote from within and to offer health insurance to more employees than comparable companies.
"From an individual consumer standpoint, having more options is better than having fewer," Harder said. And from a business perspective, "I think they are a good employer. I think they take seriously the concept of putting people first."