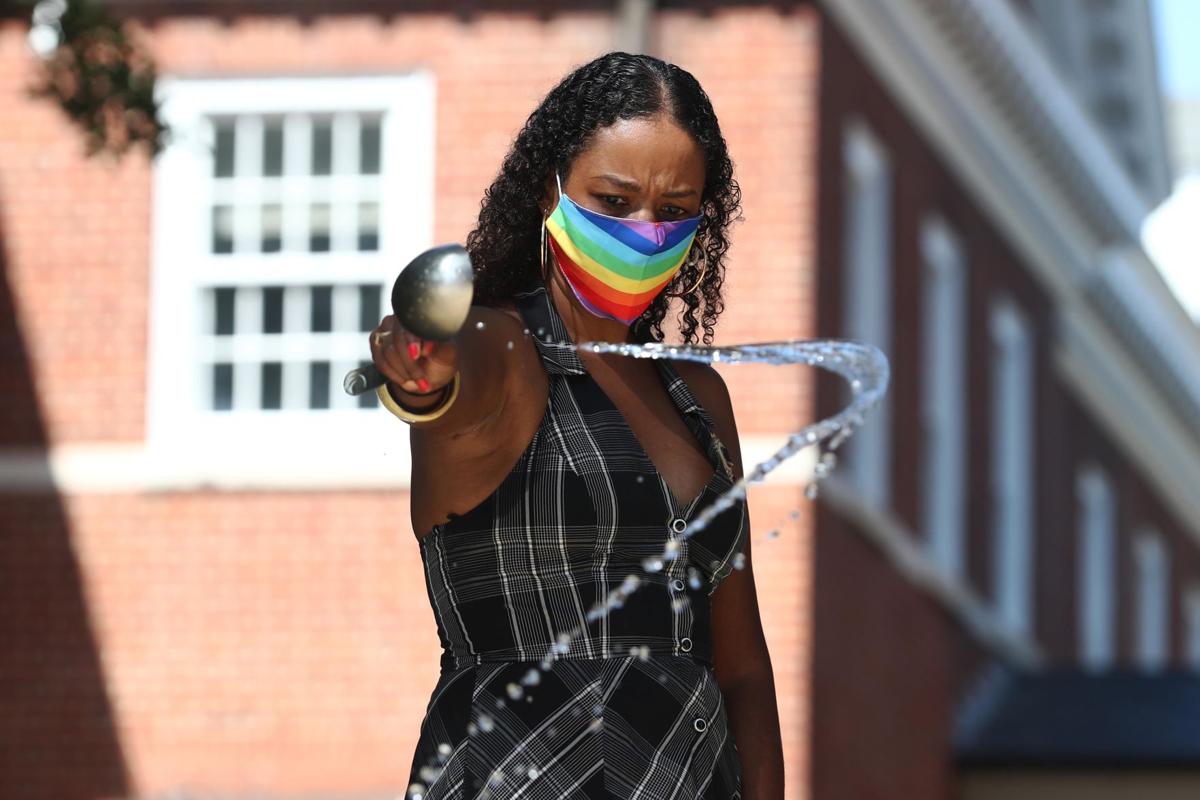 A day after the removal of the "At Ready" statue, community members returned to the Albemarle County Circuit Court grounds Sunday afternoon to cleanse the site.
"This truly is a glorious moment," said Don Gathers, a deacon and local activist who worked with the Rev. Carolyn Dillard to organize the ceremony. "... So many have worked hard to bring us to this moment."
Gathers said the purification and reclaiming ceremony was a way to rid the grounds of demons and impurities.
"Johnny Reb has rested on his perch here since 1909, bringing pause to Black and brown people as they attempted to enter this courthouse seeking justice, and really looking down and over the entire community," he said.
Jalane Schmidt, a local activist and University of Virginia professor, burned a bundle of sage around the site, which was covered in hay after crews finished their work.
Following the sage burning, attendees took turns pouring water on the site, offering thoughts on the removal and prayers for Winchester, where the statue and its accessories will be installed on a battlefield by the Shenandoah Valley Battlefields Foundation.
"Our work is not done," said Larycia Hawkins, a UVa professor. "... The forces of destruction who didn't want him to go are alive and well and in our midst."
The "At Ready" statue was the first in the area to be taken down since Virginia lawmakers changed the state code to allow localities to remove war monuments. Charlottesville's Confederate statues are tied up in a pending lawsuit.
Siri Russell, director of equity and inclusion for Albemarle County, credited those who reached out to the county over the years pushing for the removal. She said the local government was fortunate that they were in a position to carry the baton forward and remove the statute.
"I hope this isn't the only baton we pick up," she said. "... This isn't the only space that we have to clear — literally and figuratively."
The Rev. Phil Woodson, from First United Methodist Church, said there was still a heaviness in the air outside the courthouse, echoing other speakers who said the work for racial justice continues.
"This particular memorial to the Lost Cause was dismantled and carried away, but the lasting effects of its legacy — the legacy of slavery and white supremacy — still remains as we do the visible and the outward work of deconstructing and removing our idols to white supremacy," Woodson said.
"May today be the day where we also recommit ourselves to the difficult but necessary, invisible but internal work of deconstructing our own thoughts and prejudice, a reckoning with our past abuses acknowledging our complacency, complicity or outright participation in maintaining and perpetuating systems of inequality and injustice."