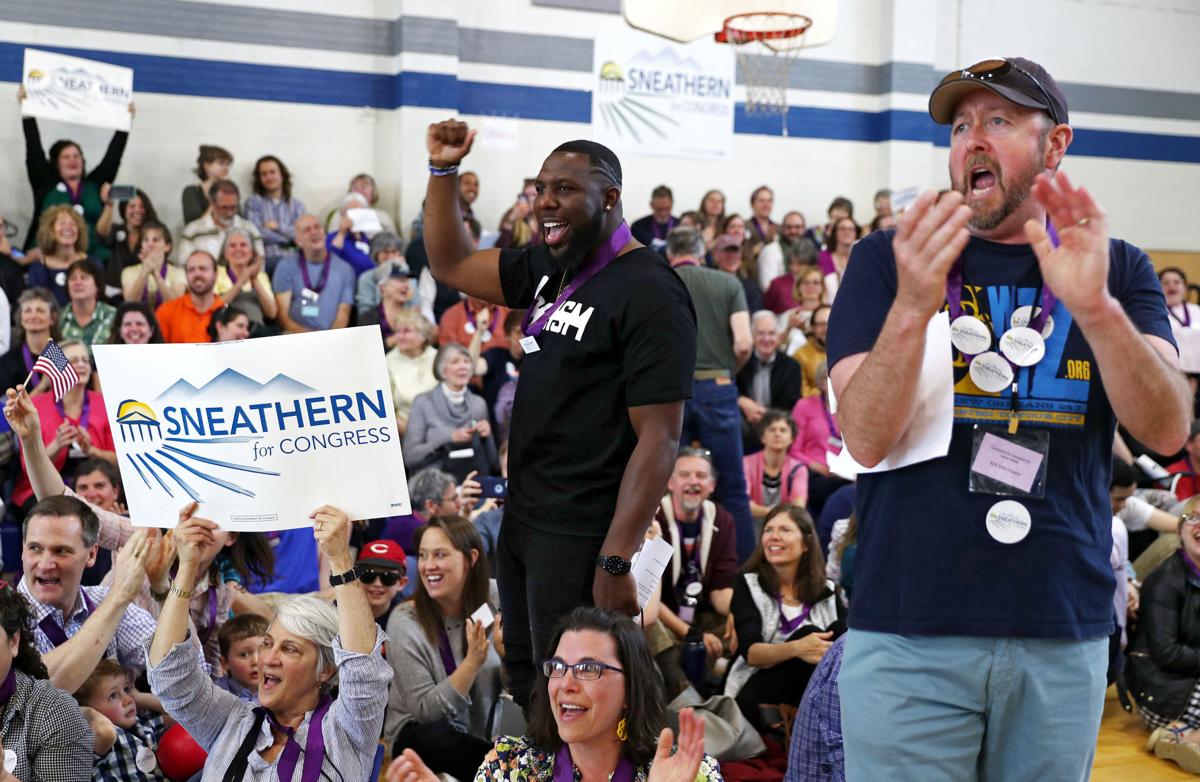 With 5th Congressional District Democratic caucuses wrapping up Saturday, candidate Leslie Cockburn received the most convention delegates, and enough to make her the nominee, according to unofficial results.
Unofficial results from the 5th District Democratic Committee show Cockburn leading with 134 delegates, followed by Andrew Sneathern with 54 and R.D. Huffstetler with 43. Ben Cullop ended his campaign Tuesday.
As of press time Saturday, Mecklenburg, which has 10 delegates, and Brunswick, which has eight delegates, had not submitted caucus results to the committee. Caucus chairs have up to five days after a caucus to submit an official report.
The number of delegates needed at the convention to receive the Democratic nomination is 126, which is half the total number of delegates plus one for a majority. The convention will be held May 5 in Farmville.
On Saturday, Cockburn said she was excited to see how many people were coming out across the district. The approach her campaign took of building a strong field campaign is what works, she said.
"Our campaign decided at the very beginning that we wanted to follow that model of community organizing where everyone takes leadership at the county level," she said. "This is why so many people are coming out."
In Albemarle County, which caucused Monday, Cockburn received 18 delegates, followed by Sneathern with 13 and Huffstetler with eight.
Charlottesville caucused on Saturday, with Sneathern receiving nine delegates, Cockburn seven and Huffstetler three.
During a caucus, in simplest terms, voters gather to hear the candidates, or a representative, speak. The supporters then assemble in groups by candidate for a final count to determine the number of delegates and alternates for each candidate to go to the convention. The delegates are expected to maintain support of their candidate in the first round of voting at the convention.
Residents in both Charlottesville and Albemarle expressed concerns, and some excitement, about caucusing.
The decision to elect a candidate via caucus/convention versus the more common primary method had been a point of contention within the 5th District Democratic Committee, which voted in October to hold a convention. The idea was later floated to switch to a primary, but at a February meeting, a motion to rescind the decision to hold a convention failed.
Charlottesville voter Lena Malcolm, who caucused Saturday, said she thought the more time-consuming caucus system disenfranchises a lot of people, whether it's people who have to work or parents with young children.
"Normally, my husband and I would both vote in a primary, and we had to choose because we have a toddler and it's in the middle of nap time," she said. "I would urge that we change it back to a primary system because I feel like it's much more inclusive of people with different work schedules and phases of life."
Michael Manto, another Charlottesville voter, said he enjoyed his first time caucusing.
"In general, I thought it was pretty exciting, actually, to see two of the three candidates and see about 900 of my neighbors and friends here," he said.
"I'm really hopeful for the Democrats in the 5th District," Manto said.
Charlottesville caucus officials said 752 people officially participated.
Richard Brewer, chairman of the Albemarle County Democratic Committee, said there were almost twice the expected number of attendees Monday and that they were ecstatic about the turnout.
"While parking was difficult, the line moved quickly and everyone who stood in line was seated within 30 minutes of doors closing," he said in an email Saturday.
Brewer said the historic turnout at the Albemarle caucus — about 1,300 participants — is a good sign for 2018
"We prefer primaries over caucuses because they are more inclusive, but there are advantages to both," he said. "The nominee will come out of the caucuses a month earlier and with a volunteer base in each of the 23 cities and counties."
The Democratic nominee will face incumbent GOP Rep. Tom Garrett, as well as potential independent and third-party candidates, in November.