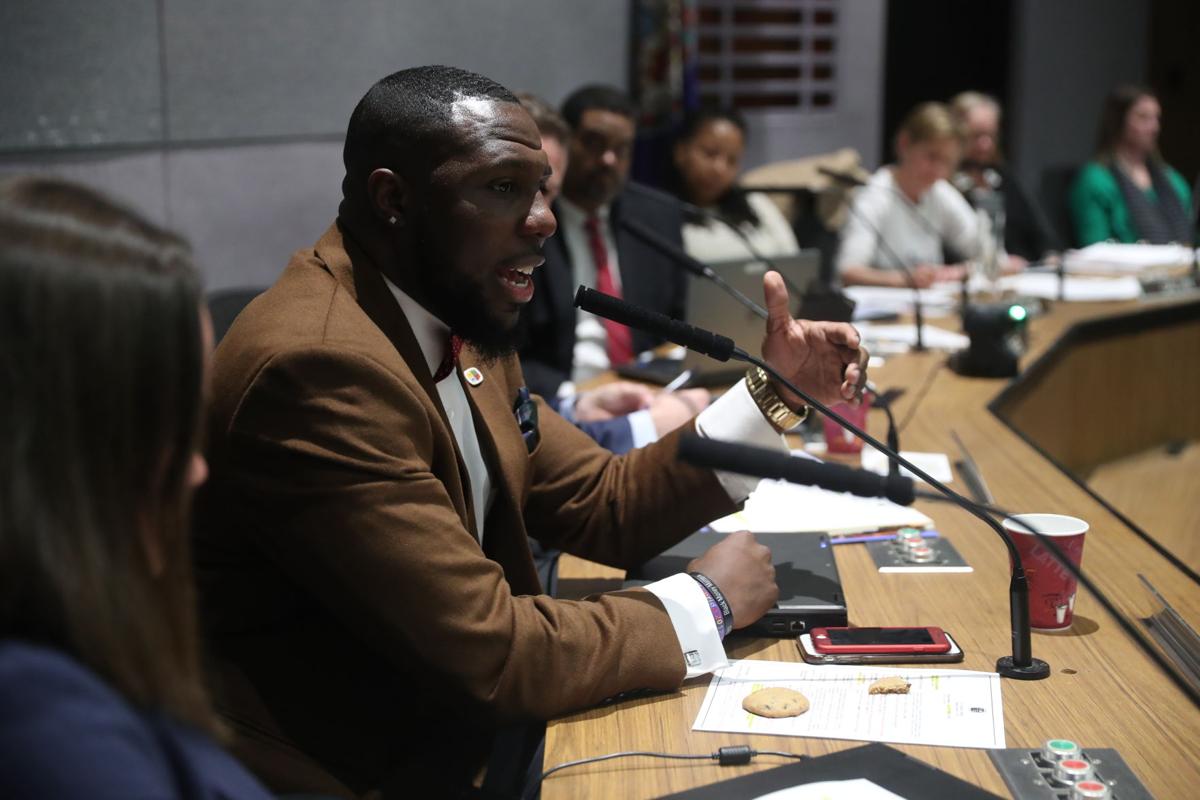 In the past 17 months, Charlottesville city councilors have put $26,784 of taxpayer money on city credit cards for expenses ranging from flights and hotels to meals at Hooters.
Details about the credit card expenditures come from information obtained through the Virginia Freedom of Information Act, councilor conflict of interest statements and social media accounts.
All five councilors have a city credit card in their name. Four of the five cards have a $20,000 monthly credit limit. Councilor Mike Signer's limit is $5,000. Councilor Heather Hill had not used her card as of Nov. 8.
Councilor Wes Bellamy led all spenders in the statements submitted, racking up $15,116 between Sept. 6, 2017, and Oct. 29, 2018.
Mayor Nikuyah Walker spent $6,849 from March 8 to Nov. 1. Councilor Kathy Galvin spent $2,580 from Aug. 24, 2017, to Oct. 30, 2018. Signer spent $2,239 between June 26, 2017, and Nov. 5, 2018.
Sarah Brazelton, assistant clerk of council; Matthew Murphy, community outreach coordinator; and Paige Rice, former clerk of council, also have accounts in their name. Those bills totaled $59,563 since June 29, 2017.
The city has a credit card use policy that was created in 2008 and revised in 2015 by then-City Manager Maurice Jones. The single-item purchase limit is $5,000.
The policy reads "THE CREDIT CARD IS TO BE USED ONLY FOR CITY PURCHASES AND TRAVEL EXPENSES THAT MEET A PUBLIC PURPOSE."
For meals, which cover many of the expenses, the charges must be "directly related to a business matter." The policy further defines the parameters by saying the meal "takes place in a clear business setting and is for business or work."
Each person issued a card signed an acknowledgement of the policy, which states that violation could lead to criminal charges for embezzlement.
City spokesman Brian Wheeler said Signer was the first councilor to receive a card in 2016. Galvin and Bellamy got cards in 2017 and Walker and Hill got one this year, when they took office. Former Councilors Bob Fenwick and Kristin Szakos didn't have cards, Wheeler said.
Wheeler said the bills are paid via the general fund through money set aside for the council in the budget cycle.
Bellamy said his statement is likely higher because he used to book trips and flights through Rice, but began doing it himself when her workload increased.
Many of Rice's expenditures were for flights or hotels.
According to Bellamy's conflict of interest statement, the borough of Highland Park, New Jersey, paid him $250 to attend its 9/11 celebration in 2017. On Sept. 12, 2017, Bellamy spent $388 on his city card at a Hyatt hotel in nearby New Brunswick, New Jersey.
In October 2017, Bellamy was an invited speaker at Clayton State University in Atlanta. He was paid $2,500 by the school. He purchased a few meals during the trip on his city card and spent $127.85 on a rental car.
Bellamy took a trip to Charlotte, North Carolina, in November 2017 for a policy conference held by the National League of Cities.
Rice put the rooms on her credit card, spending $1,418 across two payments at the Le Meridian hotel in Charlotte that month.
Bellamy was in Columbia, South Carolina, during that conference to get a meal at Kiki's Chicken and Waffles. He spent more than $400 on rental cars during the trip.
Bellamy posted on Instagram on Feb. 8 that he was at a 50th anniversary lecture at his alma mater, South Carolina State University, about the Orangeburg Massacre, in which three African-Americans were fatally shot during a protest at the university.
During that time, he spent $242 on a rental car and $15.52 at Kiki's Chicken and Waffles.
He spent $248 in the next three days in Jacksonville, Florida, and said he was looking at affordable-housing models. He spent $840 on a hotel in Arlington in June, again looking at affordable housing, and attended similar housing summits in Pittsburgh and New York City in October.
"If you really want to do the job and you want to do the job well, you have to pull from ideas that are not just local," he said.
Bellamy spent $722 at the Hyatt Regency in Washington, D.C., in September 2017 for a meeting with the Congressional Black Caucus.
From July 15 to July 17, Bellamy was in Minnesota for a conference hosted by the Center for Popular Democracy and spent more than $300 on a hotel.
Later in July, he took several Uber trips during a conference in Seattle for young elected officials.
Bellamy took another trip to Kiki's on the same day he posted on Instagram that he was at South Carolina State's homecoming in October.
Walker and Bellamy were on a pilgrimage to Montgomery, Alabama, in July, taking soil from the property of a lynching in Albemarle County to a lynching memorial.
The six-day journey included a stop in Greensboro, North Carolina. During that stop, Bellamy spent $23.77 at Hooters.
Walker and Bellamy made purchases at Wendy's and Kroger on that day, as well. Walker didn't make purchases at any other restaurants on her city card the day Bellamy went to Hooters.
Most of Walker's purchases during the trip were at African-American museums or on meals costing less than $10. She spent $113.21 on the city credit card during the trip while Bellamy spent $255.
Bellamy spent $17.40 at a Hooters in Atlanta later in the month. He paid the Democratic National Committee $350 to attend an African-American Leadership summit at the time.
"When I meet with people, even if I'm out of town and we're just having a meeting during a conference, I buy my own [food]," Bellamy said.
Galvin spent $706 at a Hyatt hotel in Arlington during a two-day Form-Based Code Institute Forum in Washington in October 2017. She wrote in an email that it focused on best practices and policies in form-based codes.
She spent $681 for a hotel at the Congress for the New Urbanism conference in Savannah, Georgia, in May. Galvin wrote that the city's Strategic Investment Area had received the CNU Charter Award and she was there to accept the award on behalf of the city.
Galvin also joined Walker and Bellamy at the end of the pilgrimage to Alabama and spent $185.10 at a Hampton Inn and Suites.
In March, Signer spent more than $1,000 on a hotel for the SXSW Cities Conference in Austin, Texas, where he spoke on a panel called "Local Leadership in the Wake of Terror."
He spent $782.50 on flights on Feb. 27 ahead of the conference.
On top of the hotel room, Signer spent $307.19 on the card in Austin, mostly for meals and Lyft rides, many of which were at midnight or later.
Walker spent $101.09 at Ragged Mountain Running Shop in Charlottesville on June 14. She held an event called "Get Healthy with the Mayor" at the University of Virginia in August.
In July, she made several purchases in Florida, including hotels, flights, Lyft rides and meals. It's unclear why she was in Florida at the time. Walker didn't return a request for clarification on her expenses.
The majority of her statement covers a trip to Europe for several conferences and visits to sister cities in September.
When Walker returned, she spent $132.22 at Beer Run on Oct. 3.
Rice's statement included $95 to the Counseling Alliance of Virginia and $500 to the Piedmont Virginia Community College Foundation. She also paid a $4.99 Apple iTunes bill.
Murphy and Brazelton made several catering purchases costing more than $1,000 each.