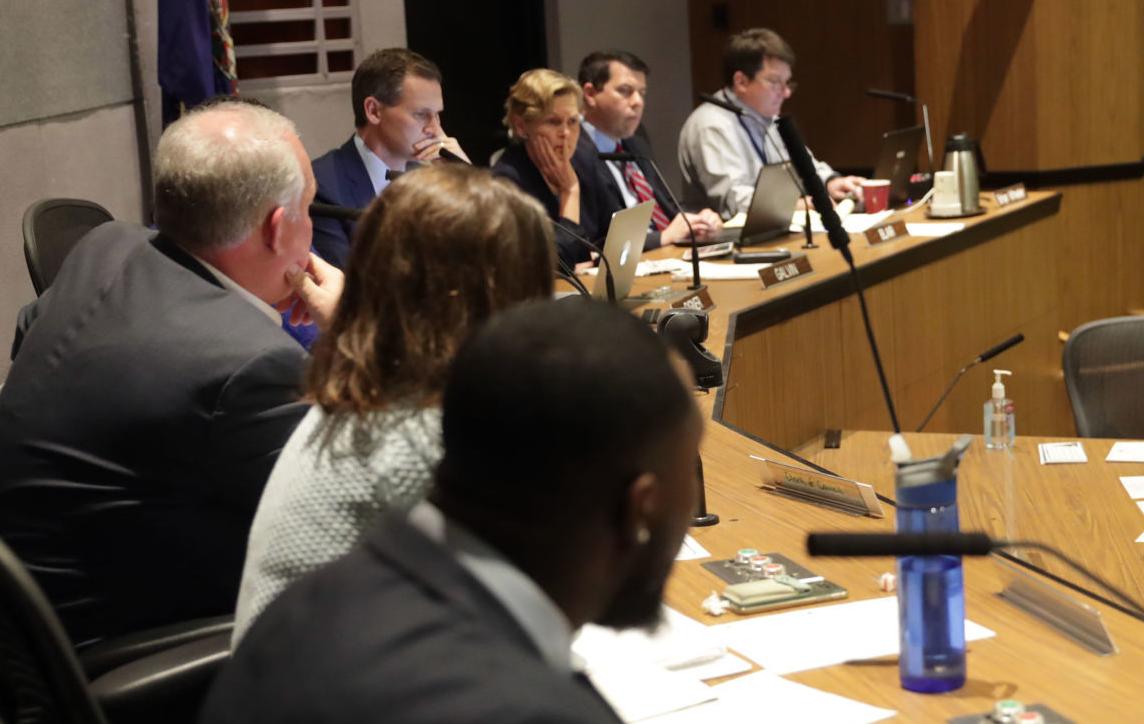 Charlottesville officials have charged at least $20,616 to city credit cards in the first half of 2019 and $136,000 in the past two years.
This year's charges are for expenses including dry cleaning, books, gift cards and meals with residents.
The information is based on credit card statements for cards registered to specific city employees, not entire departments, obtained by The Daily Progress under the Virginia Freedom of Information Act.
The Progress obtained statements for department heads from Jan. 1, 2018, through June 27, 2019. For the City Council and council staff, the newspaper has statements from June 28, 2017, through June 27, 2019.
Elected officials only spent about a quarter of the money charged to the cards in 2019, racking up a total of $4,215. Mayor Nikuyah Walker, Councilors Wes Bellamy, Kathy Galvin and Mike Signer, Sheriff James Brown and Treasurer Jason Vandever have city-issued cards.
Councilor Heather Hill had a card, but the account was closed in December. She had not used it during her tenure.
Vandever and City Manager Tarron Richardson, who started in May, did not make any charges in the first half of 2019.
Walker spent the most among elected officials, with $2,234.25 in charges in the first six months.
Many of her charges were for meals and interviews related to the search for a city manager.
In January, Walker spent $125 in one purchase of five Kroger gift cards for members of the Second Chance City planning group and for the Planning Commission. It's unclear who received the cards and for what purpose.
She spent $80 on several books listed as potential selections for a book club on policies related to increasing stabilizing wealth for minorities in the city.
Walker's card also has a $149.99 charge for a cellphone for a city administrative assistant.
Walker also spent $834.69 in April on lodging, travel and other expenses to attend the African-American Mayors Association conference in Houston.
On May 30, Walker spent $2.49 to buy water for someone on the mall without "resources to pay for water."
Brown's card had the second-highest spending among elected officials, with $1,394.04. However, his card was switched out of his name to a general Sheriff's Office card in April.
His biggest expense was $516.96 paid to Harbor Freight for courthouse security in January. Most of his other charges were for the National Sheriffs Association Conference in February.
Bellamy was third among elected officials, with $1,455.86, mostly for expenses related to meetings with residents and housing officials.
In February, he met with a Petersburg city councilor to discuss lodging taxes. He also met with health department officials about a needle exchange program. He charged meals for both meetings.
In April, Bellamy stayed at a Marriott in Washington, D.C., for a meeting of the National Housing Trust and the Washington/Alexandria Housing Authority to discuss methods to plan for affordable housing.
Bellamy also placed several expenses on his card when he was a speaker at the Broccoli City Conference in Washington, D.C., in April. The conference focuses on urban community building.
He also attended the Black Millennial Convention in California in June.
Signer spent only $9 in 2019 for a meal with a resident. Galvin spent $15 on parking in January to lobby for legislation at the General Assembly.
Police Chief RaShall Brackney spent the most among city officials during the first half of 2019, at $5,064.09.
The money was mostly charged for travel expenses to attend several out-of-state conferences, including $1,373 for a hotel at a conference in New Orleans in March.
Former Voter Registrar Rosanna Bencoach, who stepped down on July 1, was second among appointed employees, with $3,653.73 in credit card charges. Her account was closed on June 12.
Most of Bencoach's charges were for employee training.
Bencoach booked a stay at the Omni Homestead Resort in January, but it's unclear why she went there.
She spent $10 to have a department-owned moving blanket professionally cleaned in Richmond in March.
Bencoach spent $45 to renew her notary public certification in April, about two months before her final day.
Matt Murphy, outreach coordinator for the City Council, spent $3,403.80, placing him third. Most of his expenses have been for catering for city meetings.
He spent $1,081 for food for Police Civilian Review Board meetings, making a total of $1,753 during that panel's existence. He also spent $1,548 on catering for Walker's department meetings and has charged a total of $4,626 for those meetings.
Alex Ikefuna, director of the city's Department of Neighborhood Development Services, was fourth, with $1,437.86 in the first half of the year.
Ikefuna's expenditures were for several conferences, workshops and trainings.
Economic Development Director Chris Engel spent $1,172.24, almost entirely on expenses to attend the Economic Future Forum in Salt Lake City in June.
Former Human Resources Director Galloway Beck spent $349 to register for a training conference put on by the Equal Employment Opportunity Commission. The conference was held June 21, shortly before his last day on July 1. His account was closed on June 18.
Fire Chief Andrew Baxter had two charges totaling $285, almost entirely for registration for the Virginia Fire Chiefs Association conference in January. Assistant City Manager Mike Murphy spent $142.74 on meetings with city residents.
In all statements obtained by The Progress, former Clerk of Council Paige Rice spent the most on a city-issued credit card, at $40,846.
Rice, who resigned over salary disputes, faces felony embezzlement charges for not returning an iPhone and Apple Watch she received as a city employee.
Bellamy is second, at $18,021, followed by former Assistant Clerk of Council Sarah Brazelton, at $17,376.
Rounding out the other officials: Brackney, $11,950; Bencoach, $10,543; Walker, $9,733; Brown, $7,577; Engel, $5,420; Galvin, $2,595; Signer, $2,383; Matt Murphy, $2,194; spokesman Brian Wheeler, $1,829; Mike Murphy, $1,773; Ikefuna, $1,729; Beck, $1,358; and Baxter, $285.
Closed accounts saw $382 in charges. In addition to Hill, Richardson and Vandever have not used their credit cards.