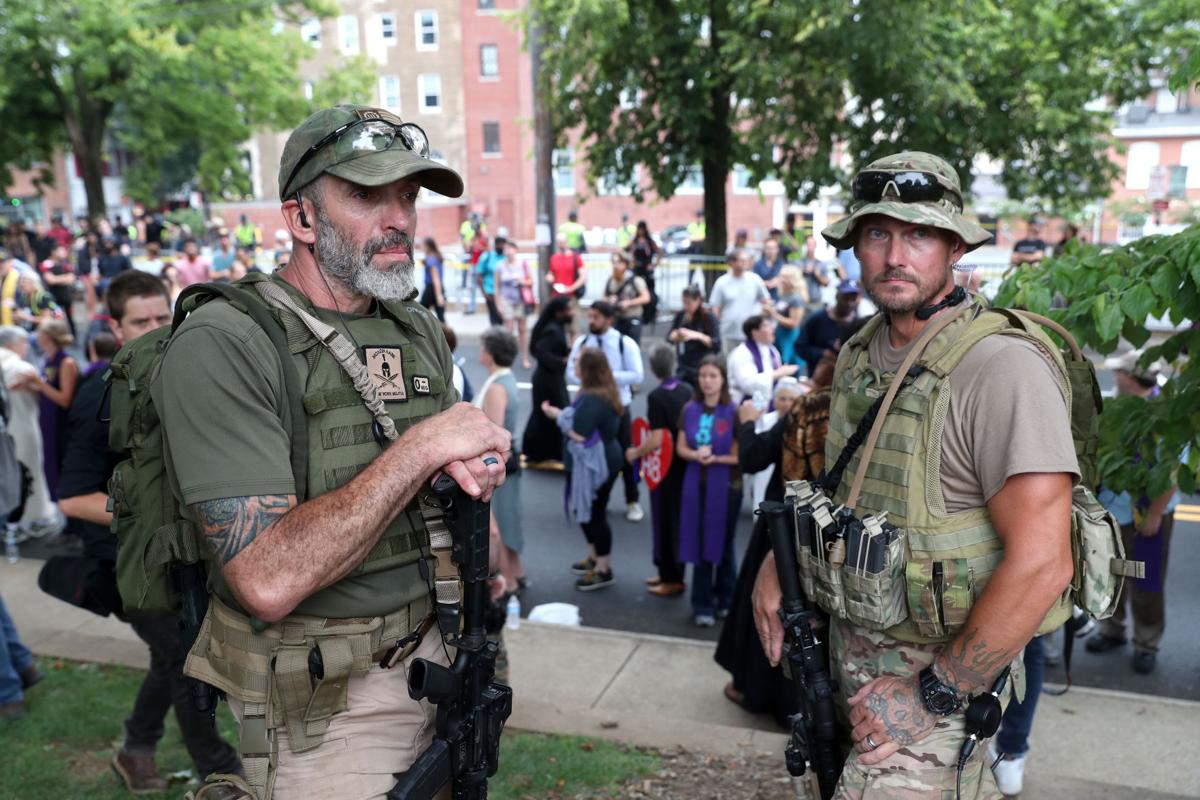 The Charlottesville city government, business owners, neighborhood associations and about a dozen residents will be represented in two new lawsuits against the organizers of the Aug. 12 Unite the Right rally.
One lawsuit — filed Thursday morning by Georgetown University Law Center's Institute for Constitutional Advocacy and Protection after the City Council held a special meeting to vote on becoming a plaintiff ­ ­­— cites provisions of Virginia law that regulate militia forces and seeks to prevent the mobilization of private militia groups and paramilitary operations in Virginia.
The ICAP attorneys are representing the city, the Woolen Mills, Little High and Belmont-Carlton neighborhood associations and several local businesses, including Champion Brewing, Escafe, Mas Tapas and Rapture.
The other lawsuit, which was filed Wednesday by a legal team with the nonprofit Integrity First for America, asks for monetary damages for an alleged conspiracy to violate peoples' civil rights.
The IFA attorneys are representing 11 local residents, including University of Virginia employee Tyler Magill, local clergy leader Seth Wispelwey, and Marcus Martin, who was injured in the violent car crash at Fourth Street that killed one person and injured dozens of people. Several UVa students who protested the Aug. 11 torch rally and the Aug. 12 rally in Emancipation Park, two of whom had their legs broken when the car hit the crowd the second day, are plaintiffs in the case as well .
The complaint against the various militia groups, some of whom took a neutral stance and attempted to maintain peace on Aug. 12, names rally organizers Jason Kessler and Eli Mosely as defendants. Several white nationalist groups, such as the League of the South, Vanguard America, the Traditionalist Worker Party and the National Socialist Movement, are included in the complaint for allegedly conducting paramilitary operations that involved organized shield lines and directed attacks against counter-protesters.
Two far-left militia groups, Redneck Revolt and the Socialist Rifle Association, also are named in the complaint.
"On its own, the mere act of staging a public gathering enjoys constitutional protection," the complaint says. "But just as Unite the Right participants carried out repeated, coordinated violent encounters, future rallies orchestrated by white-nationalist leaders will almost certainly attract alt-right warriors ­— including paramilitary organizations ­— prepared to inflict serious and irreparable harm."
Among the pieces of evidence presented in the complaint is an Aug. 12 post on the neo-Nazi website The Daily Stormer, which exclaimed: "We have an army! – this is the beginning of a war!" (Robert "Azzmador" Ray, a features writer for the website, is one of the defendants in the civil rights complaint filed this week.)
Mary McCord, a senior litigator for the Georgetown Law institute, said the lawsuit is a culmination of an extensive investigation that reviewed video footage, photographs, social media posts and interviews with people who attended the rally.
The militia forces and alleged paramilitary operations, according to the complaint, violated the Virginia Constitution because they were not sanctioned by government officials. The complaint alleges that the rally organizers used online chat platform Discord to "plan and direct illegal acts."
"In addition to documenting the highly coordinated military maneuvering of the paramilitary groups, the investigation uncovered overwhelming evidence … of planning by alt-right groups to engage in the very type of militaristic violence that resulted," McCord said.
During the council meeting Thursday morning, Mayor Mike Signer, reading from a prepared statement, said the nation's forbearers "believed that the state must have a monopoly on the legitimate use of force"
"I support [the complaint] as a stand against the disintegration of our democracy, and as a call for us to put a firm close to this horrible chapter in our democracy where people think it's OK to parade in military outfits in public, to openly threaten violence against other people, to fire weapons into crowds, to beat people in public, and to use a car as a weapon," Signer said. "This violence is all of a piece, and it can be stopped with the legal relief we are asking for under Virginia's Constitution and our laws."
The civil rights lawsuit filed by the IFA nonprofit names about a dozen white nationalist activists, including Kessler, Mosley, Richard Spencer, Nathan Damigo, Matthew Heimbach, Mike Enoch and several organizations, including two Ku Klux Klan chapters, the Fraternal Order of the Alt-Knights and some of the groups named as defendants in the ICAP lawsuit.
James Alex Fields Jr., the man facing second-degree murder and several other charges for allegedly driving his car into a crowd of counter-protesters with the intent to kill, is also a defendant in the case.
"The whole point of this lawsuit is to make it clear that this kind of conduct — inciting and then engaging in violence based on racism, sexism and anti-Semitism — has no place in our country. We are a nation of laws, dedicated to the principle that all people are created equal," said attorney Roberta A. Kaplan. "On behalf of our very brave clients, we are using those laws to prevent these defendants and others like them from being able to repeat what happened in Charlottesville ever again."
The complaint alleges violations of the Ku Klux Klan Act of 1871, the Civil Rights Act of 1866 and several other statutes.
"It is hard to believe that laws like the Klan Act passed during Reconstruction are the basis of a lawsuit in 2017 — but this is exactly why these laws were passed; so that people like these 11 brave plaintiffs can live their lives in peace without violence, threats or intimidation," said Karen Dunn, a co-lead attorney in the case.
Dunn is a partner of the national law firm Boles Schiller Flexner, which specializes in high-profile litigation. Prior to the Aug. 12 rally, the city of Charlottesville hired the law firm for $30,000. The firm was retained to advise city officials on whether they could make Kessler relocate his rally to a larger city park, per public safety concerns. The move was thwarted after the American Civil Liberties Union of Virginia and the Rutherford Institute sued on Kessler's behalf, leading to a federal court order to permit the rally in Emancipation Park despite the city's objections.
In an interview Thursday afternoon, Hunter Wallace, a spokesman for the League of the South, said the alleged paramilitary operations were necessary because law enforcement failed to protect the groups gathering in Emancipation Park.
"People were getting beat up and maced," Wallace said, explaining why members of the pro-secessionist group commanded men with shields and makeshift weapons into crowds of counter-protesters that day. "We had to go down there into the crowd and rescue people being beaten by an anarchist mob."
"The police were clearly not doing their job," he said. "That's something both sides agree on."
In August, the Verona-based Nexus Caridades Attorneys filed a lawsuit against the city government, the city police and the state police for failing to protect citizens that day. Their client, Robert Sanchez Turner, says he was injured in front of law enforcement officers while protesting the rally.
Mosley, who recently became leader of the white nationalist group Identity Europa, welcomed the lawsuits, saying they would only lead to more effective fundraising to support their legal defense and operations. "We're going to end up winning and getting money out of this," he said.
We are not a private army," Mosley said of Identity Europa, which was one of the groups that participated in the Aug. 12 rally. "If we are, then Black Lives Matter is also a private army…We're an activist organization."
Mosley and Wallace said they had nothing to do with the militia groups that maintained their neutrality. C.J. Ross, an Amherst resident who is a member of a loosely organized militia group, said his colleagues and the Redneck Revolt, which provided security for counter-protesters in Justice Park, were the only organizations at the Aug. 12 rally that did not have a member participate in some form of violence.
"The unorganized militia is a part of the Virginia constitution," he said. "We were the only non-violent [groups at the rally in] Charlottesville on Aug. 12 … I would ask these people to note one example of one of our guys who was arrested or fired a single shot. They can't."
Mosley and Wallace said they are continuing to coordinate a lawsuit against the city for not doing more to protect rally-goers. Though Mosley's relationship with Kessler has been strained in recent weeks — with their feud amplified by barbed Twitter exchanges – Mosley and Wallace said they're planning to work with Kessler to build their case against the city.
Mosley said Kessler messaged him Thursday morning saying they needed to work together.
Later in the day, Kessler said on Twitter that he thinks it's "reprehensible" for the city to allegedly violate free speech and gun rights.
"Charlottesville police failed to follow through on agreed upon safety measures that would have protected both sides," he tweeted. "The city government inhibited them from doing their jobs and are now trying to retroactively change laws to fit their narrative."
Prior to this week, Kessler, Fields, Spencer and other defendants in the two cases already were facing a lawsuit seeking $3 million in damages. The plaintiffs in that lawsuit are two sisters whose car was rammed from behind when Fields' vehicle plowed through the crowd of counter-protesters.