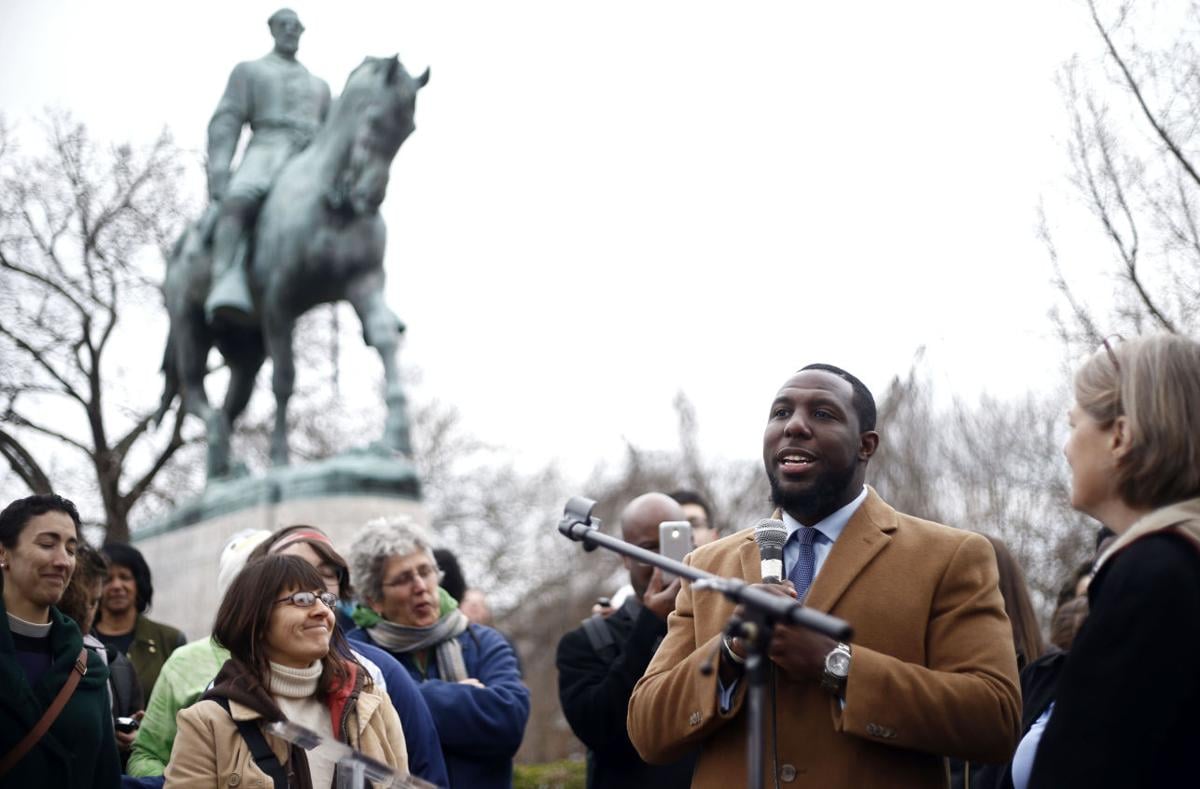 The fate of Gen. Robert E. Lee's likeness in Charlottesville will be decided this year.
On Monday, the Charlottesville City Council unanimously approved the creation of a blue ribbon commission that will, among several other objectives, recommend whether the city should remove its Confederate memorials, including the statue of Lee in Lee Park.
Commissioners will be responsible for conducting several community forums and public hearings and will work with the city attorney for any necessary legal reviews; identify and communicate with any other similar commissions or groups, be it on the local or state level; and provide the council a full written report by Nov. 30.
Ultimately, according to the resolution, the Blue Ribbon Commission on Race, Memorials and Public Spaces will work to "tell the full story of Charlottesville's history of race" through a variety of potential measures.
The content of the commission's report, and what it will recommend, may delve into numerous projects and proposals. In addition to making judgments regarding the city's Confederate monuments, the commission is tasked with preparing plans on how to fund a potential relocation of the statues.
The plan could shirk that proposal altogether, and instead provide a fundraising plan to build a new monument that will contrast Lee and the legacy of the Civil War and Jim Crow-era segregation.
The commission also will investigate how to restore or improve several other historical sites, such as the slave auction block at Court Square, Vinegar Hill and the Tonsler House.
Councilor Kathy Galvin suggested that more time may be needed to develop comprehensive plans and recommendations. She attempted Monday to include language in the resolution that would deem some aspects of the commission's work as "preliminary" reports.
 "The last thing any of us wants to see is this commission getting down into a rabbit hole, trying to figure out very particular details about a cost estimate when we're not getting the big picture," Galvin said.
"We really have given this commission a big task."
No such amendments were added to the final draft resolution, which was crafted at a work session last week.
Discussing the merit of whether to give the commission more flexibility and autonomy, Mayor Mike Signer suggested the commission be allowed to request more time to develop the report.
"I'm worried about watering down the advice we get," Signer said. "We're calling this a blue ribbon commission for intentional reasons. We want it to be a super-charged mission."
That idea was shot down quickly by Councilor Kristin Szakos and Galvin.
Szakos agreed to the notion of flexibility for the commission, but ultimately decided with the rest of the council to not alter the resolution that was presented Monday.
Specifically regarding the possibility of erecting new monuments, she said, "if they have a preliminary plan, that's enough for me to say, 'thank you, job well done.' And then we can work from there."
Councilor Bob Fenwick also expressed support for giving the commission flexibility.
"If we do our job right, we're going to have nine very good people doing this," he said. "At this point, we don't know what direction they're going to go in … I'd let them have their head in this."
Frustrated by suggestions that the commission needs more time to come to a conclusion on its myriad charges, Councilor Wes Bellamy alluded to perceptions that the city has a reputation for hesitating on tough decisions.
"Those things have happened for far too long," Bellamy said. "Let's just allow the commission to come back to us with whatever they find — whatever their recommendation is — and then we go forward from there."
"They will have a ton of different resources. Staff and experts will be there. They'll have a budget and six months," he said.
Responding to a quip from Fenwick, Bellamy said the commission has flexibility within the adopted resolution and its timeline.
Galvin said her reservations stemmed from a message to the council. She said that among the hundreds of emails the city has received about the commission, a respected community member with experience in public fundraising and serving on community commissions said six months is not enough time.
Signer also alluded to the messages, saying the publically unidentified person estimated the commission might have to meet at least 18 times during the six months.
"We're commissioning a group of people to do something extremely difficult," Galvin said. "I want to make sure we're not, in our zeal to get this done by a certain date, hampering the effectiveness of this group to give us the real answer this community needs."
"I just wanted to make sure we had this one last conversation and make sure we're all confident that this is all feasible," she said.
Szakos attempted to allay those concerns.
"I'm assuming staff will give the commission what we talked about tonight, as far as our intent [on flexibility] goes," Szakos said.
Bellamy brushed off the suggestion that more time might be needed. He said allowing one concern to potentially change the proposed resolution right before a deciding vote sets a "dangerous precedent."
Applications to participate in the commission are now available online. Six people will serve at-large along with one representative each from the city's PLACE Design task force, Human Rights Commission and Historic Resources Committee.
The council is seeking anyone with a "strong affiliation" with the Charlottesville or Albemarle area who is open-minded, respected in their area of expertise and collegial.
The commission will have a budget of $10,000. The money will come from the council's discretionary fund. All expenditures must be approved by the city manager and reported to the council regularly.
The council expects to consider appointments in a closed session June 6.
According to Clerk of Council Paige Rice, the council likely will announce those appointments during its regular meeting the same evening.