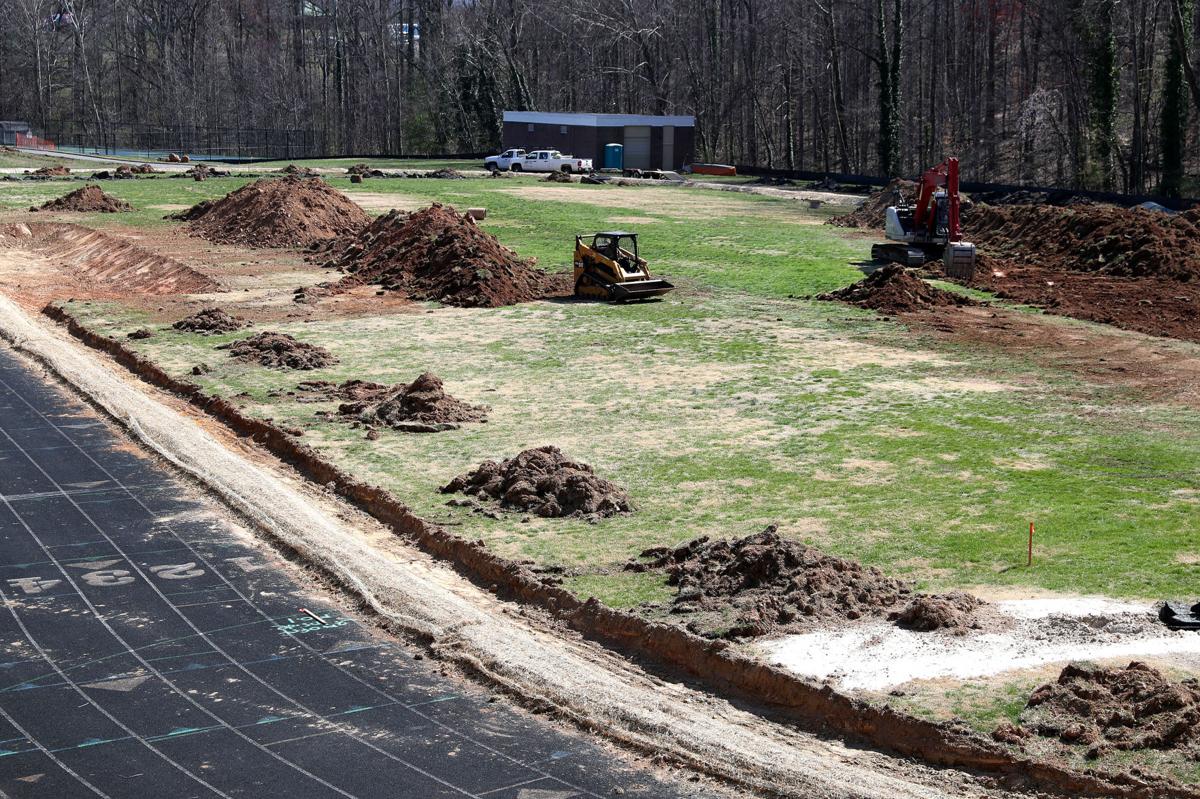 After years of waiting, the renovation of Charlottesville High School's track facilities is well underway.
The $2.05 million project will allow the school to once again host meets by expanding the track from six lanes to eight. New bleachers and restrooms also are being installed.
Ron Green, the Black Knights' head track coach, said he hopes the new track will inspire more students to participate in track.
"The track team was really good in the '90s," he said. "But it's hard to get students to participate in something when they aren't able to compete in front of their peers and community."
The school hasn't hosted a track meet since 2010, according to Charlottesville Tomorrow.
Green said he and his colleagues have been asking for a new track for years. The track has been in place since the school was built in 1974, he said, and because of its age, the markings had faded and it suffered drainage problems.
The city requested contracting proposals for the new track project in April 2017, but the project was delayed when no submissions were received.
The city sought bids again in last fall, but all of the proposals exceeded the $1.67 million budget.
In February, the City Council allocated an additional $425,000 from the city's capital improvement plan contingency fund and Schools Capital Project Lump Sum account. Later that month, the city awarded the contract to Jamerson-Lewis Construction, a Lynchburg-based firm.
According to Mike Mollica, the city's capital projects coordinator, the difficulty in finding a contractor stemmed from a busy market.
"The local bidding climate has been scorching hot and summer is generally very busy," he said.
Mollica said the track hasn't been updated since it was first installed and has been due for refurbishment for a while.
"We're excited and elated that this project is moving ahead after all this time," he said. "Now, we just need to make ends meet."
Even though the project cost surpassed the initial budget, some features were cut, including lights alongside the track. However, according to Beth Cheuk, spokeswoman for the city school division, the design of the new track will allow for installation of the lights later.
Kim Powell, assistant superintendent for finance and operations for the division, attributed the higher cost of the track to the resurging economy — and natural disasters.
"Construction costs are high — and rising — due to a strong economy and natural disasters in areas such as Houston that increase demand for construction materials," she said.
The track, which closed March 20, is expected to reopen at the end of August, according to Mike Schneider, project manager for Jamerson-Lewis.
Tyler Hammel is a reporter for The Daily Progress. Contact him at (434) 978-7268, thammel@dailyprogress.com or @TylerHammelVA on Twitter.