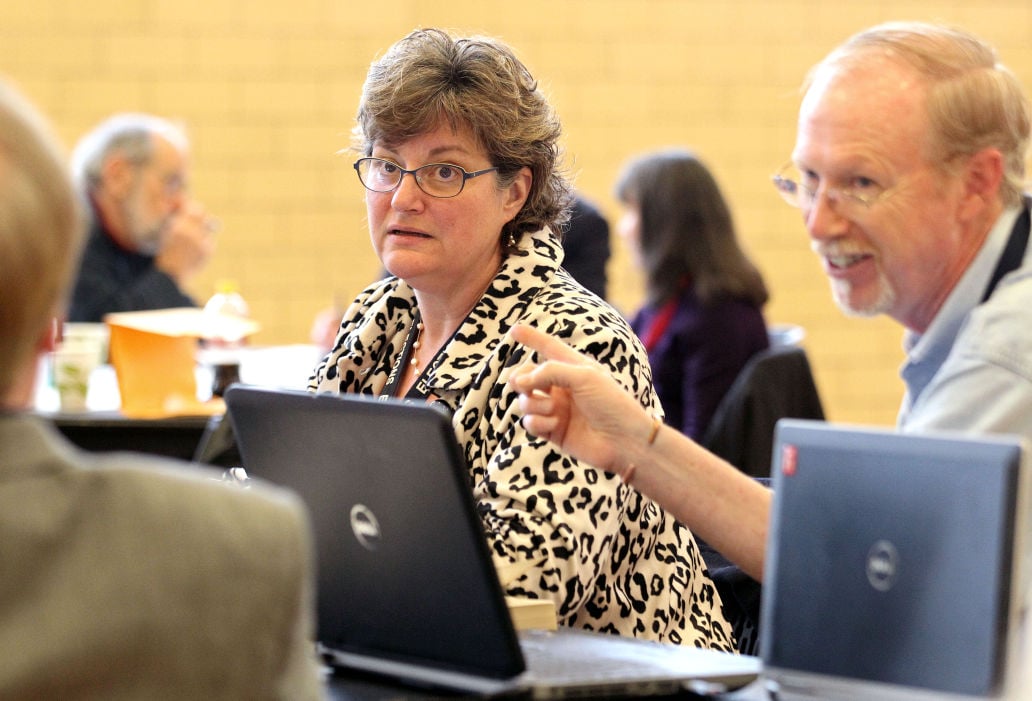 Charlottesville police are investigating the use of city money to pay a former electoral board member's cellphone bill for more than three years after she left office, officials said Friday.
The chairwoman of the city's three-member electoral board handed over a copy of last month's bill to city prosecutors Friday, more than four months after she said staff told Charlottesville City Manager Maurice Jones about the issue.
"In hindsight, I probably should have delved a little deeper into the phone records at that point," Jones wrote in response to a question asking why he did not approach Charlottesville Registrar Sheri Iachetta about the payments until the electoral board raised the issue this month.
Jones told the board he conducted an initial investigation and found that former board member Stephanie Commander was not authorized to have a city phone, said current board Chairwoman Joan Schatzman.
Commander's use of the phone has cost the city about $2,530 since she left office, said Deputy Registrar Dianne Gilliland. Commander has agreed to repay that amount, Gilliland said. Gilliland said she approached Jones about the problem in late March.
"What the hell was he doing?" Schatzman said. "He said he thought she had only had it for a few months, but what's the difference? It's still taxpayer money."
The phone was given to Commander, a local defense attorney, ahead of the 2008 presidential election, Iachetta said. She did not say why she did not cancel the line when Commander's term ended in March 2011.
 "It wasn't anything we were trying to hide," Iachetta said of the continued payments. "She was my boss for 15 years. She was a board member."
The July bill shows 514 minutes of talk time, 836 texts and 60,457 kilobytes of data use on Commander's line, which cost city taxpayers $64.10 last month. Iachetta said Commander returned the phone last week. A call to the number listed for her went to voicemail.
When a reporter showed up at Commander's law office Friday on Third Street Northeast, Commander declined to discuss the phone.
"This is a total surprise," Commander said. "At this point, I'm not ready to make a statement."
Commander's name tops a list of four others on the office's Verizon bill. Another name on this list: Pat Owen, Iachetta's husband. She has written a monthly check out to the city of Charlottesville in the exact amount of his bill since 2009, when he first received the phone, Iachetta said.
Iachetta said she could not immediately provide receipts of those payments, but is checking back through her records to ensure she never missed one. She removed him from the office plan this month, she said.
The department head and a department reviewer sign off on cellphone bills before forwarding them to the city finance department for processing, Jones said.
Gilliland said she has been aware of the situation since it began. "I didn't know what to do," she said. Gilliland said she did not want the issue brought to the public's attention.
"I'm sorry, but I think this is going to destroy this department," Gilliland said. "We have a federal election coming up and it's going to distract. It's already distracting us from preparing for it."
Schatzman said Gilliland disclosed the issue to her Aug. 1, when she dropped by the office to discuss election matters.
"I asked where [Iachetta] was and it was like I'd opened a dam," Schatzman said.
Gilliland told Schatzman about the phone and raised concerns about Iachetta taking too much personal time, which she also discussed with Jones in March, Schatzman said.
Iachetta contested the claim Friday about her time and offered to show a reporter a daybook where she records her hours.
"When the concern was first brought to my attention in the spring, I checked into whether Ms. Iachetta had been recording her time properly and in accordance with our time-off policy," Jones said. "From all indications, she has been recording her time properly."
The board asked Gilliland this month to track Iachetta's hours independently and check her observations against Iachetta's records, Schatzman said.
Gilliland on Friday said all of the problems had been resolved.
"It's been dealt with," she said.
The board, which is charged with overseeing elections and the locality's general registrar, met three days after Gilliland brought her concerns to Schatzman to conduct Iachetta's annual performance review, Schatzman said.
"I, frankly, wanted to ask for her resignation," Schatzman said.
The board did not ask her to resign, Iachetta said. Her four-year term is up next spring and she said she hopes to continue on.
"I am sorry that this happened on my watch," Iachetta said. "I would like to stay on for a number of reasons; there's so much great work to be done."
Electoral board members Rick Sincere and Jim Nix both declined to comment on what they characterized as a private conversation.
"It would be inappropriate and unethical for me to discuss something from executive session," Nix said. "I was shocked to find that one of the other members of the board would … go to the press on this. That's not right."
Nix does not have a city-issued cellphone, nor was one offered to him, he said.
"It's not something I'd accept," Nix said. "I'd be too afraid I'd lose or break it, and I already have a phone."
Sincere said that he received a city-owned BlackBerry eight years ago for his work as an electoral board member but he returned it six to eight months later.
"I gave it back because I never used it," he said.
Schatzman and Nix each make $2,064 annually as board chairwoman and vice-chairman, respectively, and Sincere receives a $4,129 stipend for his role as board secretary, according to the state Department of Elections.
That Charlottesville offered its electoral board members cellphones at all is unusual, said William Bell, president of the Virginia Electoral Board Association, a voluntary organization of the 133 electoral boards across the state.
"Maybe they do [offer phones] in Falls Church and some of the larger places," Bell said. "I don't understand why they would even need them, but that's just my opinion."
Bell cautioned against a rush to judgment in Iachetta's case. Electoral boards have fired registrars, he said, but the reasons usually involve an inability to perform core duties of the office.
Charlottesville Commonwealth's Attorney Dave Chapman did not return a request for comment by press time.
Schatzman applauded Iachetta's track record as registrar, a position for which officials said she is paid $69,864 annually.
"She and the staff run efficient elections; I have no problem with her performance," Schatzman said. "This — all of it — just doesn't make sense."