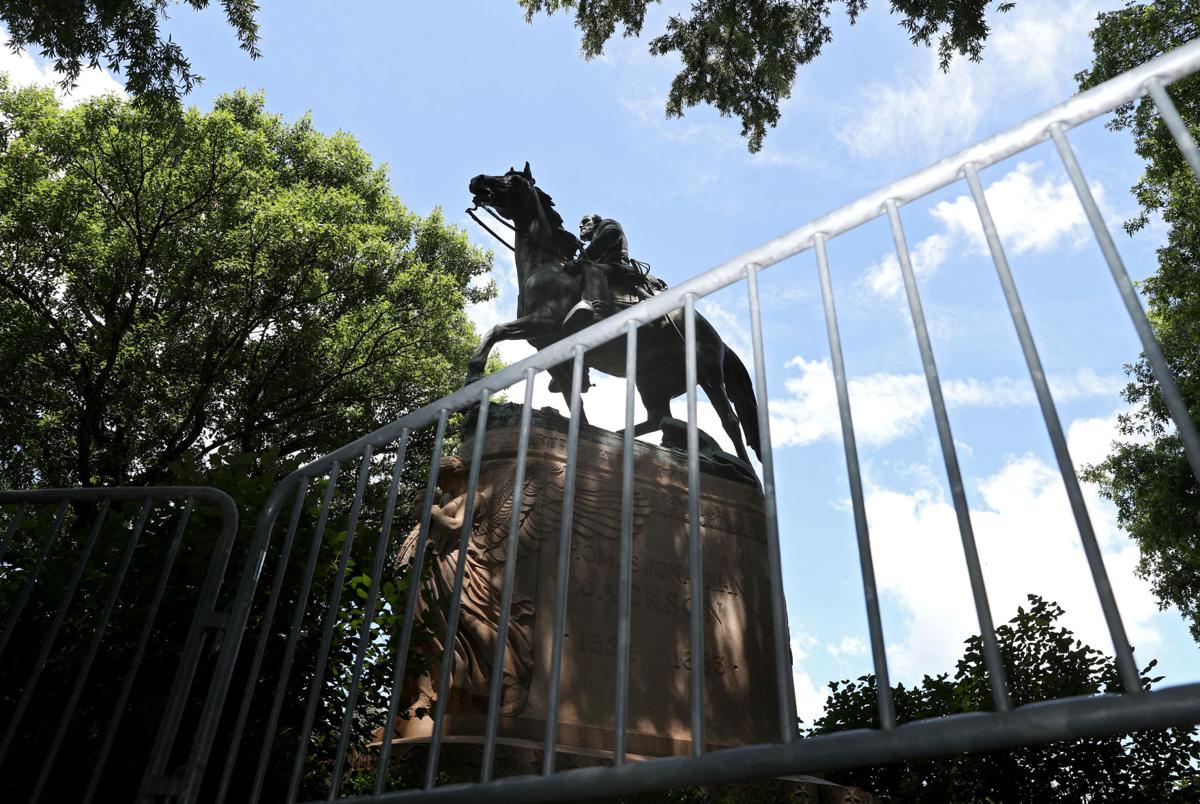 Tensions are slowly boiling ahead of the scheduled Ku Klux Klan rally in Charlottesville on Saturday, and police barriers and security cameras already have been set up around Justice Park in anticipation of the 80 to 100 Klan members expected to be at the event, and according to The Washington Post, they will be armed.
Civic leaders are planning events to bring the community elsewhere Saturday, but leftist activists are planning a direct protest at the Klan rally. In the weeks leading up to Saturday's events, the city has been on edge, worrying about the possibility of violence between the Klan members and protesters.
Reached by The Washington Post, James Moore, a member of the Loyal White Knights of the Ku Klux Klan, which is headquartered in Pelham, North Carolina, said that if members are attacked, they will defend themselves.
"It's an open-carry state, so our members will be armed," he said.
Meanwhile, some are looking at Saturday's event as a dress rehearsal for the "Unite the Right" rally next month in Emancipation Park.
One of the issues at hand is the repeated admonition from some members of the community that we stay away from the upcoming gathering of the Ku Klux Klan and others of its ilk. This would be profoundly unethical — for many reasons. 
On Aug. 12, a rally that will be attended by far-right and extremist groups that promote racist, white nationalist and anti-Semitic sentiments is expected to draw about 400 participants.
The two rallies are being organized as a protest against the city's efforts to remove its statue of Confederate Gen. Robert E. Lee. Organizers for the two events see the possible removal of the Lee statue as an affront to White-European and Southern culture.
"July 8 in Virginia, we will make a stand for our Southern history," says a statement on the website for the Loyal White Knights. "They are trying to erase whites and our great culture right out of the history books."
Earlier this week, Jason Kessler, the pro-white activist and right-wing blogger organizing the August rally, wrote on Twitter: "Unite the Right opposes the demonization of white people and their history. We oppose the globalist plan to replace us with 3rd world immigration."
On Thursday morning, the city removed signage in front of the Lee statue. It is expected to be replaced soon by a new sign that features a new narrative on it, but the statue could remain for many more years despite the City Council's 3-2 vote to remove it.
Mayor Mike Signer and Councilor Kathy Galvin opposed removing the statue from the park. Councilor Bob Fenwick, who at first abstained from voting for the idea, later became the third vote for its removal, suffered a loss in the June Democratic Primary election by a margin of about 1,800 votes.  
In early May, several days before right-wing protesters held a torch-bearing rally at the statue later that month, a circuit court judge, per a lawsuit filed against the city by a group of Confederate heritage supporters, issued a temporary injunction that has prevented the city from moving the statue.
A hearing in that case is scheduled for late August.
Surveillance cameras were installed near Emancipation and Justice parks within the last couple of weeks, according to Capt. Wendy Lewis.
In a news release, activists with Showing Up For Racial Justice Charlottesville said they will present a list of the demands to the city Saturday at the "BlocKKK Party," a "festive protest" that they and other activist groups are organizing to challenge the KKK rally.
The demands include a revocation of the permit for the Aug. 12 event and the immediate removal of the Lee and Thomas "Stonewall" Jackson statues.
"The choice to confront these groups, including the Klan, is a strategy based on historical fact: ignoring the Klan is precisely what allowed them to terrorize and murder at their height in the 1920s," the release said.
"Ignoring new white supremacist groups in our present day has contributed to their gain in political power and to waves of harassment and violence nationwide."
Despite the insistence by the rally organizers, city officials have said they cannot revoke the permits as it could be a potential violation of the organizers' constitutional rights.
The robes were donated in 1993 by a local resident who found them in a wooden crate in a shed in an eastern part of the city.
Champion Brewing Company owner Hunter Smith is helping to organize some of the other events happening away from Justice Park on Saturday.
"It's frustrating that Charlottesville's attempts to right the narrative on history have made us a target in an otherwise beautiful, safe and united community," he said. "This is what the Unity C'ville events will demonstrate — not meeting hate with hate, but showing far and away how united our community can be in the face of hatred."
Smith said he felt compelled to help organize bands, artists and other groups for those events, which is being organized in part with city officials, the Albemarle-Charlottesville NAACP, civic leaders and a coalition of local clergy.
A full list of the events, which will take place from 9 a.m. to late in the evening Saturday, can be found at cvilleunity.com
In May, Smith was thrust into the narrative of growing white nationalist and right-wing activist activity in the city after he kicked Kessler and some of his colleagues out of Champion Brewery one evening. Later that night, Kessler and his colleagues gathered on the Downtown Mall and were surrounded by left-wing activists chanting "Nazis, go home."
Similar incidents have occurred downtown and elsewhere in the community since then but have been infrequent.
The most recent downtown gathering Kessler coordinated with a "pro-Western fraternal organization" known as the "Proud Boys" failed to bring out the same leftist protesters who verbally assailed him before. Regardless, the event still drew a significant amount of attention from police and people on the mall that evening.
"Jason Kessler assaulted a regular customer and contractor of the brewery, and he is a known irritant to members of the community, and I'm not interested in having that disrupt or threaten our positive environment," Smith said about kicking him out of his brewery in May.
Earlier this year, Kessler pleaded guilty to assault after he was charged with punching a man on the Downtown Mall. The incident happened while Kessler was gathering signatures for a petition to remove Charlottesville City Councilor Wes Bellamy from office.
Kessler sought the African-American councilor's removal from office for "anti-white" and offensive tweets he had written several years before he was elected to office. The revelation of the tweets last fall cost Bellamy his teaching job with the Albemarle County Public School system and an appointment to the Virginia State Board of Education.
Kessler has previously alleged that Bellamy is a "black supremacist" for seeking the removal of the Lee statue. Bellamy supporters and others countered that Kessler was engaged in a racially motivated harassment campaign.
Alluding to the so-called "alt-right," a loose collection of far-right ideologies that Kessler has associated himself with, Smith said he finds the KKK and Kessler's upcoming rally "equally despicable."
Many of the alt-right figures and organizations that assembled with Kessler for the torch-lit protest in May, such as Richard Spencer, Mike Enoch, Vanguard America and the Traditionalist Worker Party, will return to Charlottesville next month.
 "I'm extremely disappointed to know that the KKK has any semblance of organization in 2017, and I certainly don't want to see them in Charlottesville," Smith said. "My hope is that all of these hate groups are met with indifference and that they preach their sad and dated thoughts to the birds and the trees."
With Saturday's Ku Klux Klan rally at Justice Park approaching, former KKK Imperial Wizard D…
According to the Anti-Defamation League, the nonprofit has seen an increase in activity by Klan organizations in recent years.
Doron Ezickson, a Washington-based regional director for the group, said the ADL has identified more than 40 KKK groups in 33 states. He said more than half of them have formed in the last three years.
"Their activity is mostly limited to distributing hate literature and, occasionally, rallies like the one in Charlottesville," he said. "We believe that the nature of political discourse in recent months has emboldened folks to speak out."
"We believe in right of free speech and free practice of religion and association," he added. "We do believe, however, that hate speech, whether it's from right or left, has to be responded to… we want to respond to extremist or absolutist views meant to alienate or delegitimize other groups."
While city political leaders were quick to condemn the Klan, other Virginia politicians have stated their displeasure with the scheduled Klan rally, as well.
In Charlottesville on Thursday for an unrelated event, Gov. Terry McAuliffe addressed questions about the rally Saturday.
"To me, any discrimination breeds hatred, and hatred is bad for any community or any state who wants to grow and build," he said. "I'm all for free speech, but the hate speech that you now see in America today, it has taken our nation backwards."
Lt. Gov. Ralph S. Northam, the Democratic candidate for governor, said the type of fear the Klan evokes "goes beyond partisan politics."
"When the values of our commonwealth are under attack, we are called to speak out," Northam said in a statement Friday. "This weekend, the Ku Klux Klan is rallying in Charlottesville to share an ideology of hatred and bigotry, which conflict with Virginia's values of openness, diversity and inclusion."
Despite calls from the Northam campaign and the Democratic Party of Virginia, representatives for Ed Gillespie, the Republican candidate for governor, had yet to reply to requests for comment by Friday evening.
Rep. Tom Garrett, R-5th, did not issue a new statement. On social media, however, he re-shared a column he wrote in May as a response to the torch-wielding protesters in Charlottesville.
"Racism is an abhorrent institution, period. No one who believes they are better, worse or unequal based on the color of their skin has a place in the district I represent or the America I defend," the column says.
"I embrace an ideology rooted in protecting the ultimate minority — the individual. Collectivization based on race or any other distinguishing trait has no home in republican principles."