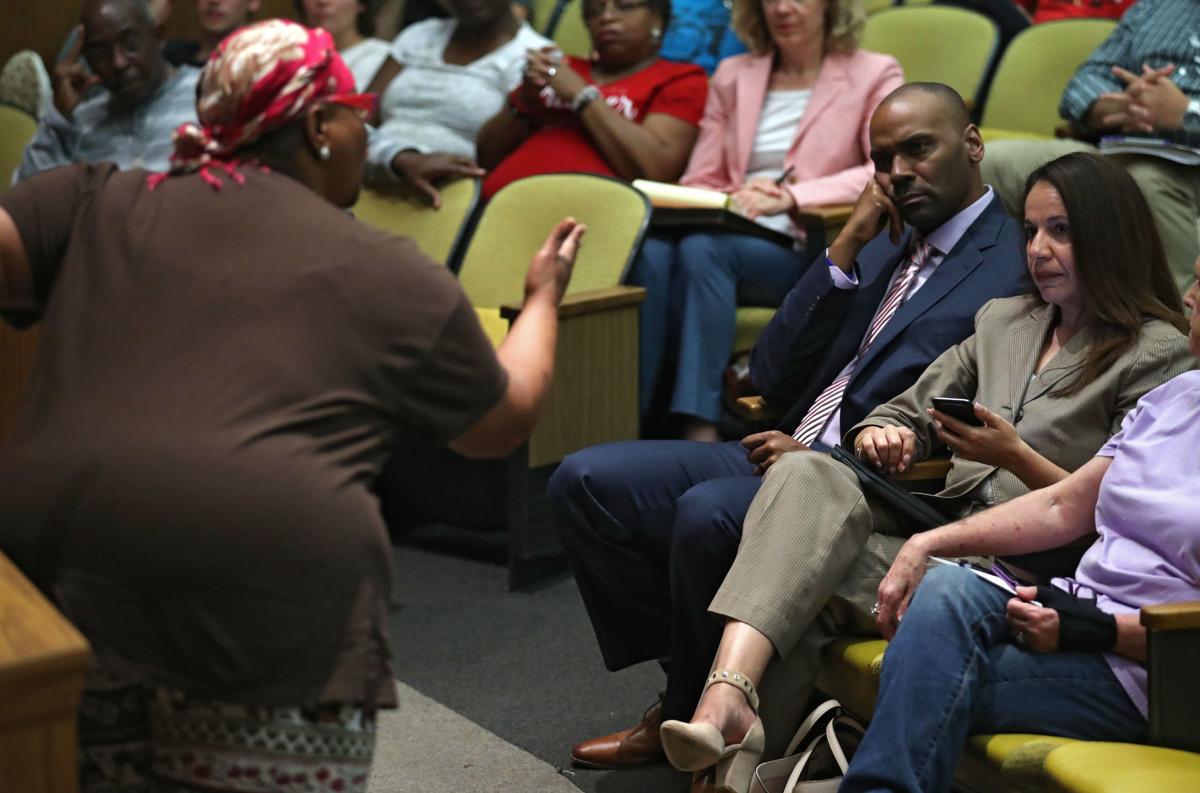 RaShall M. Brackney, the city's incoming police chief, received a mixed reception Monday before the Charlottesville City Council approved a resolution blessing the city manager's decision to hire her.
Brackney will be the first African-American woman to serve as the city's police chief. She will succeed Al Thomas, the city's first African-American police chief.
After serving less than two years in the position, Thomas retired in December after the release of an investigation that described how local and state authorities failed to prevent the violence and tragic events following the failed white supremacist rally in Emancipation Park last August.
"I know Charlottesville has undergone a lot of trauma and turmoil, particularly in the last year. Know that I'm not here to add to your burden at all," Brackney said to the crowd at the start of Monday's meeting.
"If anything, I'm here to see if there's a way to move conversation forward, particularly around policing, policing equity and narrowing the gap between the communities we serve and represent," she said.
After her remarks, a few community members addressed Brackney, who sat in the front row of Council Chambers during the public comment period.
Star Peterson, who was injured in the deadly car crash near the Downtown Mall after the Aug. 12 rally, described her wounds and the extensive medical care they have required. Peterson was one of about three dozen people injured in the car attack, which killed 32-year-old Heather Heyer. Alex James Fields, of Ohio, is facing first-degree murder and other charges in the incident, and is set to go to trial in November.
"Please keep this in mind when you try to move forward. We want to move forward, but we can't," Peterson said.
At a rally outside City Hall before the council meeting, activists and supporters of the nascent civilian review board held a rally.
Several speakers commented on Brackney's appointment and their displeasure with city officials and police officers who were exposed in last year's investigation conducted by former Virginia Western District U.S. Attorney Tim Heaphy.
At both the rally and council meeting, Mark Heisey, an activist, alleged that Brackney last week said she does not plan to investigate the alleged police misconduct during the July 8 Ku Klux Klan rally and the weekend of the Unite the Right rally last August. 
During a break in the council meeting, Brackney denied making any such remarks. City spokesman Brian Wheeler said Brackney, responding to questions from the media during a press conference last week, said she does not want to pass judgment immediately and plans to implement recommendations from the Heaphy report.
"If they're not going to be held accountable now, when are they going to be held accountable? We still have a situation where our city manager insists he's in control and that's all we need to know," Heisey said.
Heisey and several people referenced a part of the investigative report which said Capt. Gary Pleasants disobeyed Thomas on July 8 by unilaterally ordering the use tear gas on protesting anti-racist activists. The report said Thomas told his commanders before the event that he would be the one to decide whether to use tear gas.
"[Pleasants] still has a position in the command staff, and all we've heard from the city manager — who is in charge of public safety — is that he's been in control." Heisey said. "We need a CRB that has real investigative powers that's going to be able to investigate police misconduct without depending on police to investigate that misconduct."
Following a series of discussions last fall, the City Council decided in December to create an independent civilian review board.
According to city officials, 25 people applied to join the board, and 12 are being considered for an appointment following five voluntary withdrawals and a round of whittling down candidates.
Seven people will be appointed at the council meeting scheduled for June 4. The appointees will serve a one-year term and will be charged with creating a mission for the board and drafting bylaws for it.
In a presentation at the start of Monday's meeting, City Manager Maurice Jones listed the creation of the civilian review board among a list of initiatives and changes the city has adopted following the series of white supremacist rallies last year.
In addition to a new event-permitting ordinance the council approved earlier this year and litigation against disparate groups that participated in the Aug. 12 rally, Jones said the city is working with local, state and regional officials and partners to create new safety committees and participate in training programs for police, emergency planning and implicit bias.
Though some activists at the Monday's rally advertised the event as a celebration of the civilian review board, activist attorney Jeff Fogel counseled his colleagues to be cautious.
"We haven't heard a commitment either from the city manager or the police department that they will fully cooperate with the board. We cannot tolerate anything less than full cooperation," he said.
In her brief remarks after she was introduced, Brackney asked the public to be patient during her transition to the police department, "and remember there are human beings behind each and every one of the statements we make toward and about each other."
Addressing the council before turning around and addressing Brackney directly, activist Rosia Parker said she no longer has any patience for police and city officials.
Speaking to Brackney, Parker said, "I appreciate you coming, but are you truly ready?"
Brackney's effective start date is June 18.