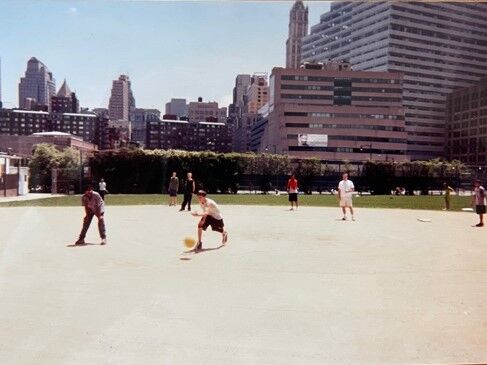 When terrorists flew airliners into New York City's World Trade Center 20 years ago, Amy Laufer was a 29-year-old middle school teacher holding class five blocks from the North Tower.
The day changed the lives of Americans and shattered notions of personal national security. Her life was no different.
"I actually thought at the time that I might stay in New York City," said the Albemarle County resident, former Charlottesville School Board member and a Democratic candidate for state Senate in 2019. "I was graduating from Columbia Teachers College and working full-time downtown and had just been accepted into a mentorship program for Columbia students."
She had no immediate family plans, as her then-boyfriend and now-husband Aaron, with whom she served in the Peace Corps, was still in graduate school at the University of Virginia. The idea of life in the Big Apple had appeal.
"I kind of liked the idea of having independent kids that took the subway to school. It was an idea that was warming on me. I think I would have stayed a little bit longer because Aaron was still at the Darden School, so nothing was really settled," Laufer recalled. "It's curious. I think 9/11 accelerated things that were already happening, kind of like COVID has done recently."
Laufer's Sept. 11 story starts in an Intermediate School 89 science classroom filled with students and a startling crash from outside. Her class continued, but stressed and anxious parents began showing up to gather their children from class.
When word got to them about the attacks, students and teachers walked hand in hand to another school that was farther from Ground Zero. An air-splitting crack told them the second tower had fallen.
Sept. 11 wasn't the end of the attacks. Exactly one week later, letters containing anthrax spores were mailed from a New Jersey post office to the headquarters of ABC News, CBS News, NBC News and the New York Post in New York City, as well as the National Enquirer, in Florida.
On Oct. 9, two more letters loaded with anthrax were sent to Democratic U.S. Sens. Tom Daschle and Patrick Leahy.
A total of 22 people developed anthrax infections from the letterbox attacks. Half of those suffered life-threatening inhalation anthrax and five died.
For months, nearly every stray backpack, box or bottle was suspicious. Immediate surroundings were cordoned off, buses and traffic rerouted, buildings evacuated and packages often destroyed in a bomb squad-controlled detonation.
"The continual disruption of daily life because of the fear of attacks and threats, like the anthrax threat, meant the subways were always shutting down, the buses were always delayed and it was getting hard to maneuver," Laufer recalled.
Laufer decided to look elsewhere for employment. She was invited to an interview in Washington, D.C.
"My train got delayed. Then it got canceled. I never did go. I couldn't make the interview," she said. "I felt it changed my trajectory. It felt like we had a bullseye on our back because there were so many daily reminders. Someone would leave a water bottle on a platform and they'd shut down the subway system. We became so hypervigilant that we lost some common sense."
As the country lost its sense of security, so did she.
"After [Sept. 11], I came to Charlottesville for a UVa soccer game and we were under the bleachers and everyone was cheering and it sounded like something was happening and l literally just started running," she recalled. "It left me with this sense that what I'm doing right now could be the last time I ever do it, and I need to enjoy it."
Although she has often talked about the events of that day, it wasn't always something she wanted to do.
"The first time I did want to talk about it was last year. It suddenly felt important to see first-hand accounts," she said. "The first couple of years, I was always, like, I really don't want to talk about this. It was so traumatic on a level that takes so long to process. It takes a long time for me to go through what really happened."
Laufer said she thinks the trauma on the personal and national level may have led to the divisiveness in American culture currently seen in both politics and responses to the COVID-19 pandemic.
"We allowed our government a certain level of autonomy that, in retrospect, I don't think was right," she said, noting the quick passage of The Patriot Act that legalized a variety of espionage forms on U.S. citizens, including secret phone taps and gathering of electronic data.
"We got off track. We even allowed the government to use torture in our name. There was a sense of ultra-patriotism after the attacks, and groups or people that questioned what the government was doing were seen as having ulterior motives," she said. "I don't know if it led us directly to this place we're at now, but that mistrust of each other is perhaps stronger now."
Laufer said she hopes to see a return to the days immediately after the terrorist attacks when people banded together.
"Our schools were getting help from all over the country. On that day, when we were escaping the school, there were so many people who were escaping work and they wanted to help with the students. I don't think the same camaraderie exists. There are people still willing to help, but it's much more divisive these days," she said.
"I'd like to see things change. I hope people will try and not see someone in their heads as 'the other.' Fight that urge. I've taught in foreign countries, in urban and rural areas, and people are pretty much the same. They want their kids to do well and they want to be accepted by their neighbors," she said.
Laufer, whose desire to help led her to teach, run for the School Board, City Council and the state Senate and work on behalf of women seeking elected office, said she stays active in the community and looks for ways to help.
"It can be in the smallest gesture of talking to your neighbor, getting involved at your child's school, your place of worship, delivering meals with Meals on Wheels, as a food bank volunteer, cleaning trails or just getting involved with your community," she said. "I think Sept. 11 left a legacy of fear, and a lot of fear can be dissipated by simply getting to know each other."