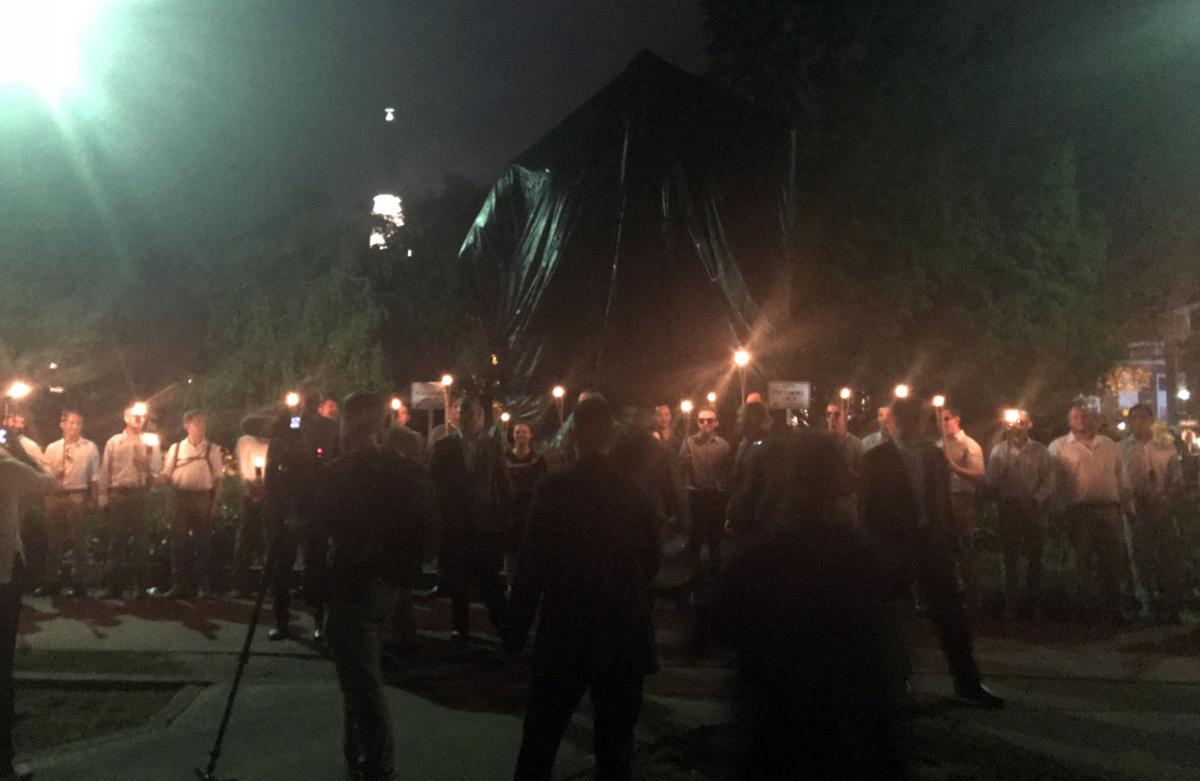 White nationalists, including "alt-right" leader Richard Spencer, assembled once again at the foot of Charlottesville's Robert E. Lee statue in Emancipation Park, armed with torches in what Spencer dubbed "Charlottesville 3.0."
Spencer, Unite the Right rally organizer Jason Kessler and members of white supremacist and neo-Nazi groups first gathered at the Lee statue on May 13. On Aug. 11, the day before a violent rally ended in the deaths of three people and numerous injuries, a torchlit march across University of Virginia Grounds concluded at the Rotunda. Spencer and Kessler are both graduates of UVa, which celebrated its bicentennial on Friday.
At about 7:40p.m. Saturday, about 40 to 50 ralliers chanted "we will be back," according to Daily Progress media partner NBC29. While Spencer led the rally, which lasted about five to 10 minutes, according to police, it was unknown if Kessler was participating.
Charlottesville police observed no disorders at the rally, and officers followed Spencer and his supporters as they left Emancipation Park in a tour bus to ensure that they were leaving the city.
On Twitter, Spencer called the rally "Charlottesville 3.0" and deemed it a "great success" that should be repeated by supporters.
An NBC29 reporter noted that police maintained a presence in and around the park but did not intervene. Demonstrations involving 50 or fewer people do not need a permit in Charlottesville, and the park is open to the public until 11 p.m.
"While we prefer protesters get permits like any other event," city spokeswoman Miriam Dicker said in an email, "such assemblies are protected by the First Amendment and we do not interfere unless we perceive a legal or safety issue."
In a tweet, Mayor Mike Signer called the rally "another despicable visit by neo-Nazi cowards," adding, "You're not welcome here! Go home! Meantime we're looking at all our legal options. Stay tuned."
City Councilor Wes Bellamy called for the ralliers to be prosecuted. He cited section 18.2-423.01 of the Virginia Code, which states that "any person who, with the intent of intimidating any person or group of persons, burns an object on a highway or other public place in a manner having a direct tendency to place another person in reasonable fear or apprehension of death or bodily injury is guilty of a Class 6 felony."
"When White Supremacists Make odes to White Power, and clearly use torches to send a message to our community that they are the superior race while trying to strike fear and intimidate others, they are breaking the law," Bellamy wrote on Facebook.
City police said in a statement that the department was conferring with local officials about possible legal action.
Dennis Mothersbaugh, 37, of North Vernon, Indiana, was booked into the Albemarle-Charlottesville Regional Jail on Friday, according to jail staff.
Upon learning about the rally, local residents jumped into action, as well, congregating at the UVa Rotunda, the Islamic Society of Central Virginia and Congregation Beth Israel to check on the safety of the sites.
At UVa, about 30 students and faculty stood outside UVa President Teresa A. Sullivan's residence, Carr's Hill, and chanted "blood is on your hands" and "all black lives matter." At the bicentennial celebration on Friday, three students were arrested on trespassing charges after allegedly holding a sign that read "200 years of white supremacy" in front of a screen.
Police declared an unlawful assembly at Carr's Hill at about 11:20 p.m.
Statues of Lee and Thomas "Stonewall" Jackson are currently concealed by black tarps. On Wednesday, a judge allowed the shrouds to remain but ruled that a lawsuit against the city's decision to remove the statues can move forward.
Gov. Terry McAuliffe said the state is "monitoring this situation as we continue to oppose these racists and their message of hate" in a tweet, but he did not elaborate.
In a statement, Lt. Gov. Ralph S. Northam, the Democratic nominee for governor, said that "there is no home, no place, and no safe harbor in the country I pledged to defend for the ugly hatred we saw in Charlottesville tonight. … There can be no ambiguity from any elected official: white supremacists are not welcome, and they will not win."