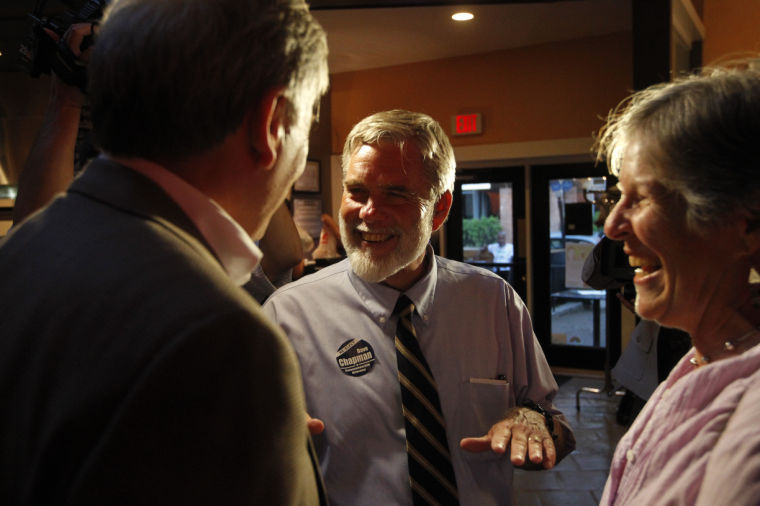 Charlottesville Democrats picked their party's candidates for constitutional offices in Tuesday's party primary, delivering a decisive victory to incumbent city prosecutor Dave Chapman and advancing Todd Divers to compete against two independent candidates for commissioner of the revenue in November's general election.
Chapman won his first contested election in 20 years Tuesday, defeating challenger Steve Deaton with 72 percent of the vote. No challengers had filed campaign paperwork for the office by Tuesday's 7 p.m. deadline.
Chapman squared off against then-incumbent Deaton for the seat in 1993. Deaton served one term as the city's top prosecutor after working for eight years as an assistant commonwealth's attorney for Charlottesville.
The two shook hands Tuesday evening at the Democratic Party's unified victory celebration at Escafe! downtown.
"I hope he does a good job in the next four years and I wish him well," Deaton said of Chapman. "[My] campaign was able to raise awareness about issues that I think are important and that's what matters."
Deaton and Chapman each had pledged to build the community's trust in the criminal justice system and strengthen sentencing alternatives to reduce the jail population. Deaton, 69, also advocated for a moratorium on the death penalty and said that, if elected, he would use prosecutorial discretion to reduce the number of felony convictions.
He also said he planned to offer defendants facing marijuana possession charges the option of pleading guilty to disorderly conduct, an option that Chapman, 59, said he has offered to defense attorneys in the past.
Chapman on Tuesday called the campaign a welcome opportunity to engage with citizens on substantive issues but said, "I'm very happy to have this behind me."
"I knocked on 1,900 doors during this campaign, people know me and they know the job we've done over the past 20 years," he said. "I ran on my record and I think the results reflect that."
Heading into Tuesday's primary, Chapman said he planned, if re-elected, to continue work on sentencing alternatives such as using electronic home monitoring devices and implementing a day labor program for people serving weekend jail sentences.
Todd Divers edged out Jonathan Stevens with about 52 percent of the vote Tuesday to succeed retiring Commissioner of the Revenue Lee Richards, who served as the city's chief tax assessor for 20 years.
The position oversees about a dozen employees and an annual budget of about $1.1 million. It manages personal property tax assessments, business, professional and occupational license fees and a host of other taxes, except for real estate taxes, which are determined by the city assessor's office.
"We're just tickled to death — over the moon," Divers said in a phone interview Tuesday. "We worked our tails off, as simple as that. We worked like dogs and just got out there with a consistent, positive message."
Divers, 41, said he wished his opponent well and credited him with running a strong campaign.
"I'll tell you one thing, I never want to run against Jonathan Stevens again," Divers said. "That guy knows how to get it done and he made [my campaign] better because of it."
Stevens, 37 and the co-founder of SU3 Media Group, a media and data consulting company, did not immediately return a phone call seeking comment.
Divers taught civics and economics in Greene County Public Schools before coming to work for Frontrunner Sign Studios in 2005. He said his experience interacting with local businesses has left him in tune with what people want and expect from their revenue commissioner.
"It's a customer service job and I have really good experience dealing with people," he said, heading into Tuesday's primary.
Divers will face competition in November's general election from two independent candidates who filed paperwork with the city registrar just ahead of Tuesday's deadline. 
Charlottesville native Taneia Dowell, 28, said she hopes to continue, in her opinion, Richards' strong customer service and open-door approach to managing the needs of city residents and businesses. Dowell credited her interest in public service and finance to childhood experiences shadowing her father, a small-business owner.
Dowell earned a bachelor's degree from Virginia State University in Ettrick and currently serves as executive manager of the Tenth Street Bed and Breakfast.
Independent John Gunter also filed to run for commissioner of the revenue on Tuesday. He was not immediately available for comment for this story.
Two other challenged Republican incumbents, Dels. Todd Gilbert and House Health, Welfare and Institutions Committee Chairman Bobby Orrock, survived conservative efforts to unseat them.