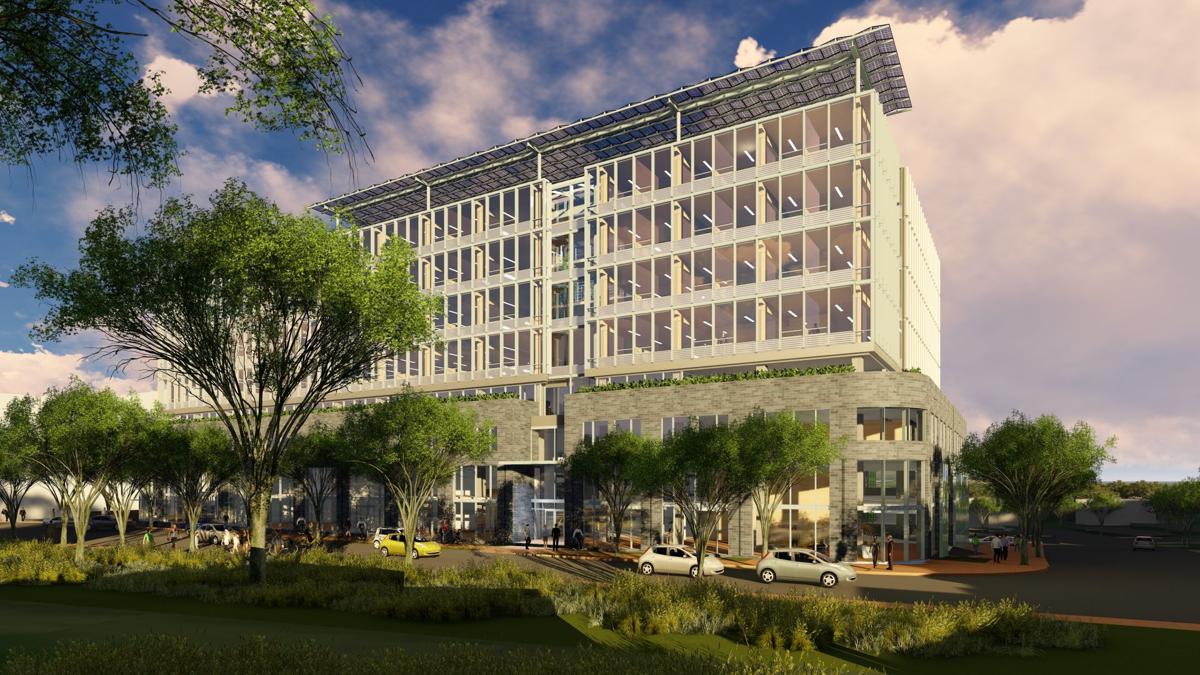 Thirty-two months, 90 new employees, three makeshift offices and seven short-term leases into Apex Clean Energy's search for a new home, the fast-growing Charlottesville company has decided to build from the ground up.
The company on Thursday will announce plans to construct a seven-story, 130,000-square-foot headquarters on top of the parking lot behind ACAC's downtown gym. Apex executives plan to share the news with their 220 employees at Thursday's quarterly meeting, which they had to hold off site, at the Paramount Theater, to accommodate the full staff.
"We worked on trying to figure out how to get under the same roof for [more than] two years," said Apex CEO Mark Goodwin. "It was key for us to keep the 'just off the Downtown Mall' culture and continue to be a Charlottesville company that way."
Apex managed to thread a tight needle to accomplish its goals, given the current downtown office market, which has a zero percent vacancy rate.
Riverbend Development — the company behind 5th St. Station, Whole Foods Market and the proposed Brookhill development — controls the site and will develop the project. Bill McDonough, a world-renowned architect and sustainability advocate, will lead the design team from William McDonough + Partners' Charlottesville office.
McDonough has designed environmentally conscious projects around the world, including the YouTube headquarters in San Bruno, California; NASA's "Sustainability Base" in Mountain View, California; and projects in the Netherlands, India and Colombia.
Despite the project's glossy veneer, the new long-term lease will not cost the company more — and could cost less — than its seven current short-term leases, according to Goodwin. In addition, the company will defray its real estate costs by holding a minority ownership interest in the building, alongside Riverbend and Legacy Management Group (which owns ACAC).
Apex expects to lease 60,000 square feet to itself and rent the rest out to other tenants, including 10,000 square feet of street-level retail space.
But the bulk of the savings will be achieved through a combination of energy-efficient and sustainable features, Goodwin said, including self-generated solar power, a (vegetated) green roof, non-toxic materials and framing harvested from fast-growth timber. The structure will be one of only a handful of tall timber-framed office buildings in the United States, McDonough said.
The sustainable features are a deliberate "values statement" by Apex, which has grown from fewer than 10 employees to 220 in just nine years by building and investing in renewable energy projects, primarily wind farms, across the country.
"You start with your values and work toward the Aristotelian numbers," McDonough said. "The great thing about renewable materials and energy is that they're cost-effective."
McDonough is known as much for his philosophical thinking and speaking on sustainability issues as he is for his architectural designs.
John Bahouth, the Apex administrative vice president who spearheaded the real estate search, studied under McDonough at the University of Virginia's Darden School of Business. He credits McDonough as "one of the top three people who expanded my mind in my 20s, 30s and 40s" — right up there with Lao Tzu, he said. "Bill basically creates these [sustainability] concepts from the top of his head."
In discussing Apex's environmental goals, McDonough segued into commentary on Thomas Jefferson's approach to architecture.
"Monticello is one of the most sophisticated solar-powered buildings I've ever seen," McDonough said, noting that the rooms were situated to follow the sunlight, and stairwells functioned as ducts to bring cool air up from the basement.
 McDonough is striving for that same sort of "fundamental groundedness and humility" with Apex's headquarters, which will use natural sunlight and fresh air and will have a view of Monticello.
"Modesty is what we're talking about here," he said. "It's really more about being elegant than opulent."
Apex chose the site with the help of Cushman & Wakefield-Thalhimer's John Pritzlaff. Part of the lot's appeal — besides the proximity to a fitness center — was the opportunity to build from the ground up without major historic, architectural or zoning restrictions.
Once completed, the building will provide parking for Apex employees, other tenants and ACAC patrons. The site plan has been approved and the project is expected to break ground this year, company officials said.
Other developers are expected to add another 320,000 square feet of downtown office space in the next two years, according to CB Richard Ellis market data.