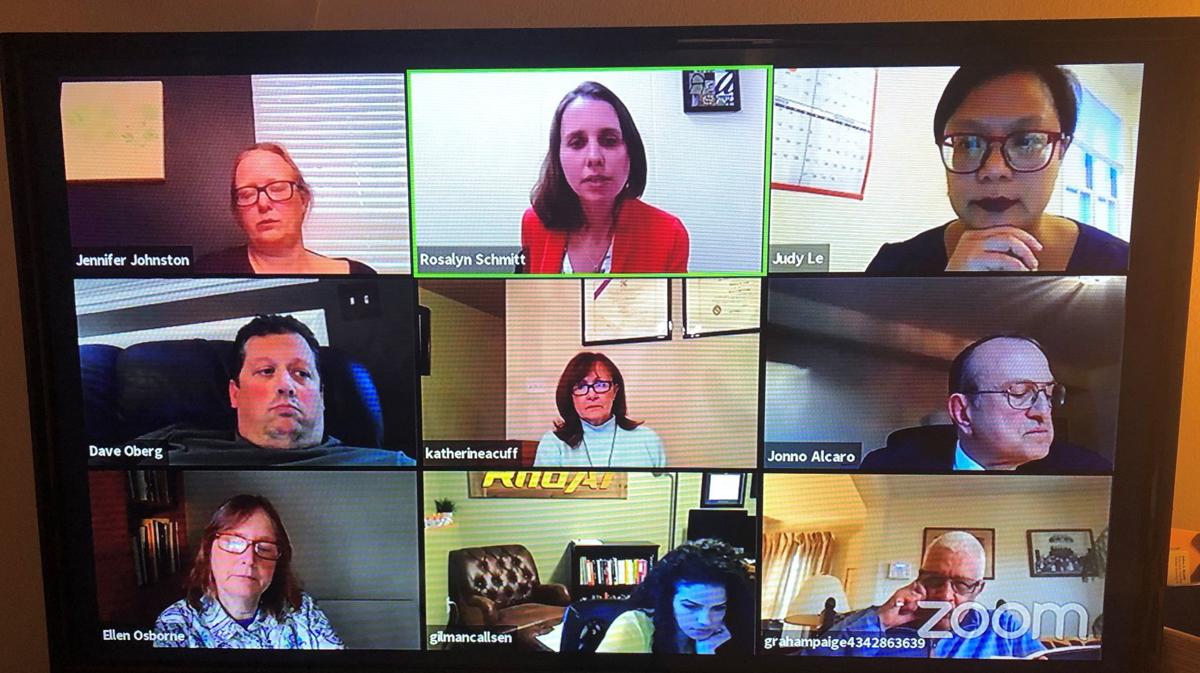 Albemarle County schools will roll out six weeks of new lesson plans starting April 13, after spring break.
The lessons will be conducted remotely as schools are closed for the rest of the academic year, and teachers are working to build them now. The lessons, which will be designed to be done by students at any time, will not be graded.
Officials did not discuss whether there would be additional weeks of lesson plans coming.
Division staff members briefed School Board members on their plans for instruction during the COVID-19 pandemic during a virtual meeting Thursday held over Zoom, a video conferencing app. The meeting was the first since schools were closed at the order of Gov. Ralph Northam and the pandemic took hold in Virginia.
How the crisis will affect the budget for the coming fiscal year still is uncertain, according to a presentation Thursday. The School Board adopted a $210 million spending plan in February and will formally vote on a budget May 14.
However, revenues could be in flux in May as localities and the state wrestle with the long-term impact of the pandemic. The state is expecting to lose $1 billion in revenue in each year of its pending two-year budget.
Maya Kumazawa, the Albemarle school division's director of planning and budget, said the board will have to build flexibility and contingencies into the budget and might need to use management tools such as a hiring freeze or delaying compensation strategies.
With school buildings closed, the division is saving money operationally.
"We started in a good position going into this pandemic, so we actually remain optimistic in the short-term," said Rosalyn Schmitt, the division's chief operating officer.
Thursday's meeting agenda was pared down to only items relating to the COVID-19 crisis or in need of immediate attention. The School Board next meets April 16, and board Chairman Jonno Alcaro is expecting the virtual meetings to be the norm for a while.
To assist with virtual learning, division staffers have handed out 1,400 laptops to students in third to fifth grade and are working on a plan to make sure students in kindergarten to second grade have devices as well. Internet access through the division is accessible in the parking lots of schools, as well as the Yancey Community Center.
The Virginia Department of Education said this week that high school seniors on track to graduate could do so and that decisions about holding students back a grade will be up to each district. Additionally, any learning during the extended closure should be accessible to all groups of student groups, including those with disabilities.
Divisions will be responsible for determining how the closure affects services for students with disabilities and English language learners.
"Your principal, teachers and staff throughout the school division are very much engaged in completing plans to support your learning between now and June," Haas said. "To all of our students, I want you to know that this school year is not over."
Haas said he's expecting principals and teachers to create a common elementary, middle and high school weekly schedule of activities for students and staff that can be monitored and adjusted throughout the spring.
"I want us to emphasize quality over quantity and to appreciate the concept of pace," Haas said. "We all must pace ourselves. Not everything has to be done at once, and it is more important to have a good learning system up and running than it is to do something quickly that is less effective."
Albemarle County is planning to lease a six-classroom trailer to address rising student enrollment at Baker-Butler Elementary. The trailer would have bathrooms inside and be located to the left of the building's front entrance.
The trailer would cost $434,500 to set up and $60,000 a year to lease.
The school's enrollment is over the building capacity by 75 students this school year, and the number is expected to grow over the next several years.
For next school year, the immediate need is two classrooms. All full-sized classrooms in the building were used by a grade-level class or self-contained special education class this school year.
The division's Long Range Planning Advisory Committee recommended in July that students at Baker-Butler be redistricted to Broadus-Wood Elementary, which has about 90 open spaces.
Schmitt said those extra seats wouldn't be enough to accommodate the projected growth at Baker-Butler.