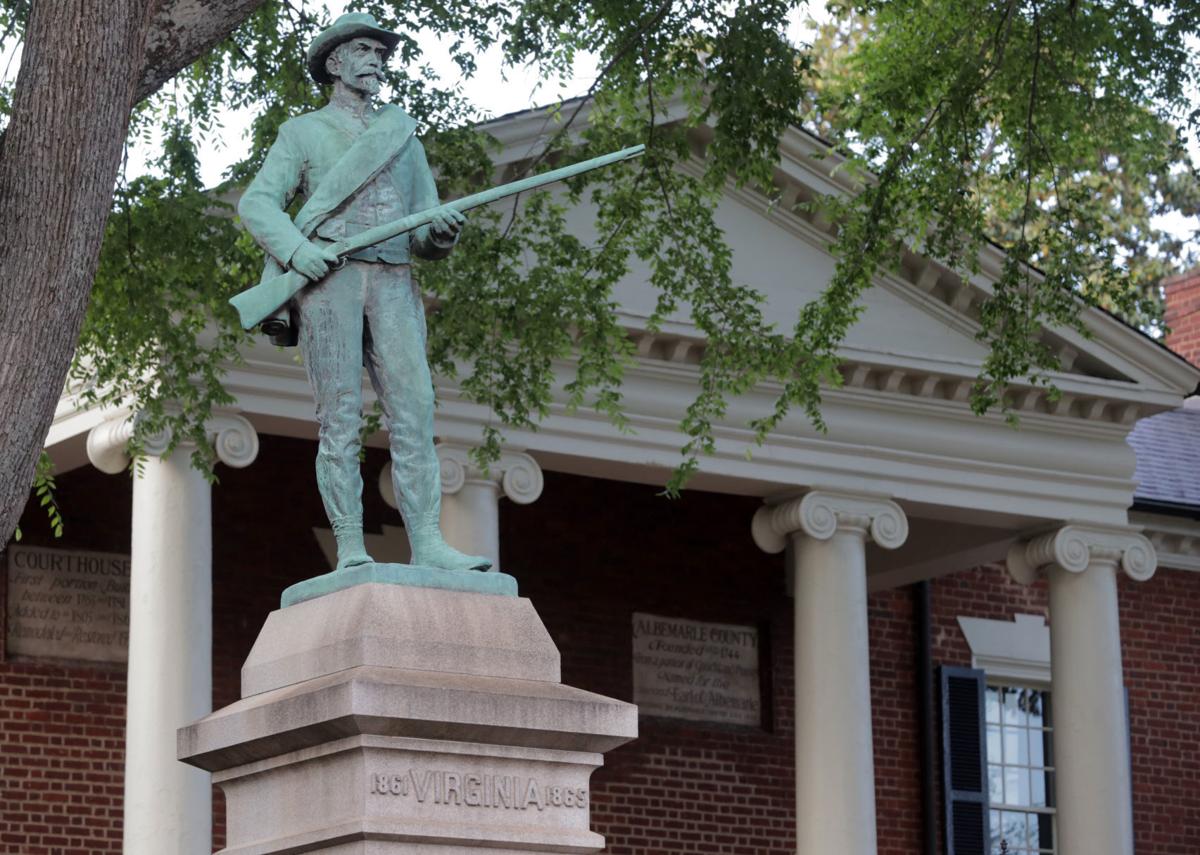 This story has been updated.
With a new state law concerning public statues about to take effect, Albemarle County officials are hoping residents will chime in through an online survey and virtual meetings on how the Court Square grounds in downtown Charlottesville should look.
The county launched a February Court Square Community Conversations project designed to give residents a voice in how the grounds could be redesigned as an inclusive public space. The project was to include public meetings and gatherings that were quickly quashed the next month amid COVID-19 restrictions.
"This important engagement process relied heavily on coming together to explore a more inclusive history and to develop a common understanding of Court Square as an important public space," officials wrote in a news release seeking public input.
A law going into effect July 1 will give local governments the power to remove, relocate or put monuments into perspective. Albemarle had outlined a six-month time frame during which county staffers were to lead community conversations around memorials, monuments and uses of public space; educational tours of the Albemarle County Courthouse Historic District; and public listening sessions.
The county's Office of Equity and Inclusion's equity work group, along with county staffers and members of Albemarle's Historic Preservation Committee, were to draft options for the future of the property for the Board of Supervisors to consider in June.
"The timing of COVID-19 and the restrictions on gathering resulted in many events being paused," officials wrote. "As a local government, many of our resources were diverted to our pandemic response."
Officials said the current courthouse grounds are a hodgepodge patchwork of memorials and monuments with no design or intended meaning.
"The property is home to several markers and monuments, including tributes to American presidents and Confederate soldiers, commemoration of exploration [and] a heroic ride, and memorialization of a local lynching," officials said on the county webpage addressing Court Square. "Each of these markers were placed under specific circumstances, but no cohesive vision or master plan for this public space has been articulated."
That, officials say, may be changed with the new law.
"The legislation granting local authority over monuments and memorials for war veterans by the General Assembly earlier this year presents an opportunity for the Albemarle County Board of Supervisors to establish a vision for the space," they wrote on the website.
"This important public space has not been curated to craft a narrative and to do so, we need your help," officials wrote. "Albemarle County has spent the past several weeks re-tooling the Court Square Community Conversation to invite the community to participate. As a community, we need to have conversations about what's important to us, what do we want this space to say about us, what do we want to project today and moving forward, and how do we do that at Court Square."
The county has planned a virtual discussion at 6:30 p.m. June 29 on how to present multiple stories in a public setting. The meeting will be led by Sara Bon-Harper, executive director of James Monroe's Highland; Louis Nelson of the University of Virginia; and Jennifer Stacy, a member of Highland's Descendant Advisory Panel.
Court Square will the topic of a virtual panel at 6 p.m. July 20 on the cultural landscape of the square and the historic significance and design of its current markers and monuments.
UVa's Elgin Cleckley; Justin Reid of Virginia Humanities; Kirt von Daacke, of UVa; and Betsy Baten will serve on the panel, and Andrea Douglas, of the Jefferson School, will moderate.
Two community conversations on memorials, public spaces and Court Square are scheduled for July, as well.
The first takes place at 6 p.m. July 8, while the second is scheduled for noon July 24. Links to join the virtual discussions will be posted at publicinput.com/courtsquare closer to the time of the events.
The county has opened a survey for local comment on the same site.