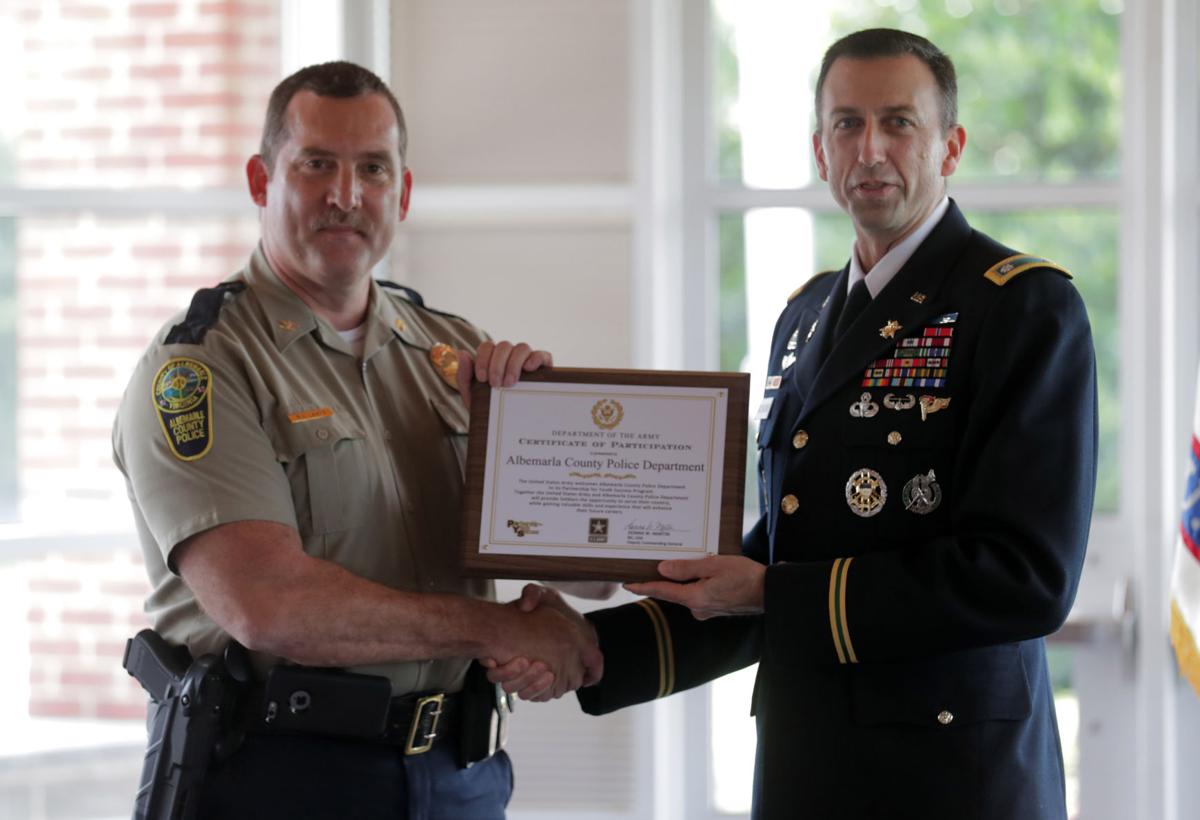 Albemarle County police and the U.S. Army Thursday signed a partnership agreement designed to help military veterans transfer back into the civilian workforce.
With nearly a quarter of their force made up of military veterans, the Albemarle County Police Department is familiar with hiring former soldiers.
Now, however, the department can better connect with young Army recruits who have a future interest in police work.
On Thursday, Chief Ron Lantz and Army Lt. Col. Travis McCrackine signed a memorandum of understanding that will help the Army connect soldiers with the police department for post-service employment. The MOU does not mean soldiers will automatically be hired at ACPD, but it will guarantee they will get an interview.
"It's a valuable resource for us to partner with so we can have a straight from the military to the police department way of recruitment," Lantz said.
The Partnership for Youth Success (PaYS) Program helps recently-enlisted soldiers prepare for a post-service career by connecting them with potential employers — such as police departments — who value the skills and discipline instilled by military service. The Army currently has 657 such partners across the country.
"Our PaYS partners benefit from gaining professional employees who have developed exceptional work ethics and have been held to the highest standards," McCrackine said.
At Thursday's signing ceremony, two young Virginians, including a 17-year-old Fluvanna County native, took the Army oath of enlistment. Both Joseph Cambria and 21-year-old Sarah Banks, of Cumberland County, will participate in the PaYS program to find employment after their military service.
Cambria, who eventually wants to join the Albemarle County Police Department, said he saw the Army and the PaYS program as a great opportunity for his future.
Likewise, Banks said she chose to go into the Army as a military police officer because it sounded like an interesting role. Eventually, though, she said she hopes to work at a Veterans Affairs hospital and possibly practice physical therapy.
"I wanted to get the experience of a soldier so I could understand them better," Banks said. "I'm excited. I'm looking forward to being challenged."
For the police department, being able to interview and hire military veterans for their own ranks offers some unique benefits, according to Lt. Todd Hopwood, who is a veteran of the armed forces.
Along with physical and firearms skills, veterans are more likely to be mature, better able to make good decisions under pressure and work well in a team setting, he said.
"They are problem solvers," Hopwood said. "They know how to work as a team to problem solve, because that's what the military has instilled in them."
"They've also shown the desire to help others by joining the military," he said. "They come back and want to serve their community. That's what cops get into the job for."
Hopwood entered the Army as a military police officer and served throughout the 1980s. But when he got out of the military and was looking for a post-service career, he said, there was no program like PaYS to help him.
Instead, he sought out the police department on his own. There are much better resources for military veterans today, he said.
"I know what it felt like to get out of the military and they didn't have all the things they have now," Hopwood said. "I was looking for camaraderie. I was looking for other ways to serve my community and have that fellowship that law enforcement and the military have — there's a bond."
"That's why this is important."