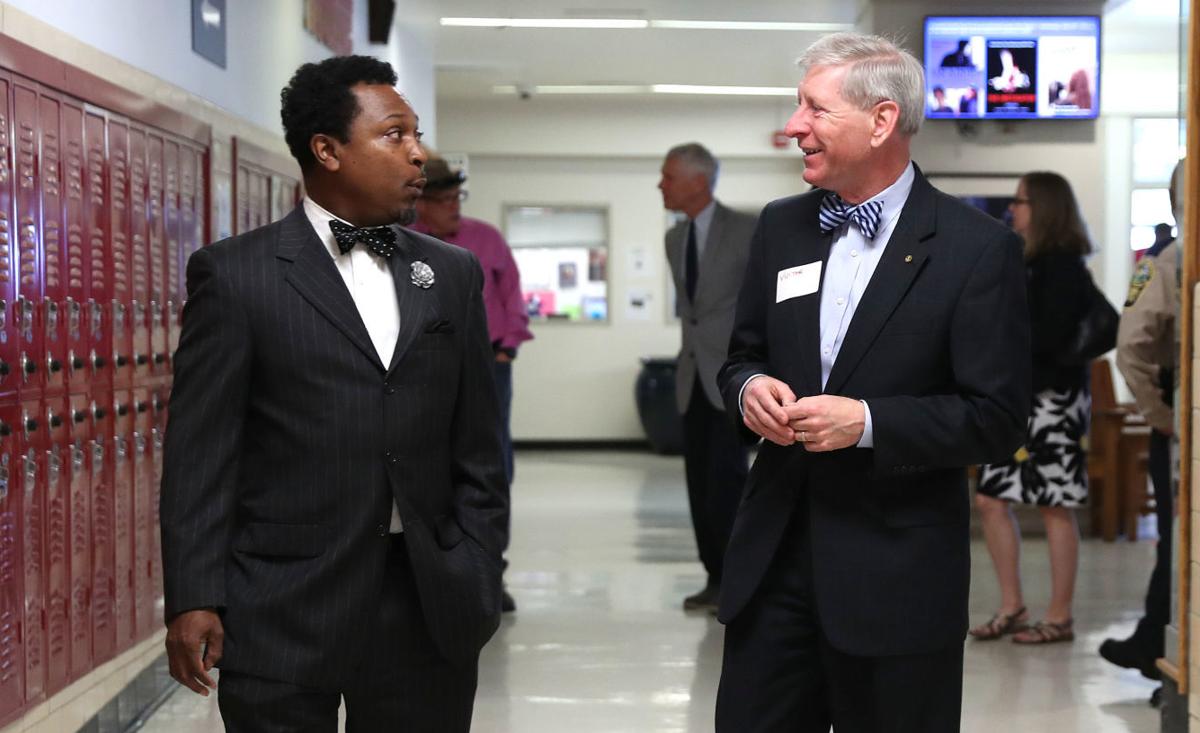 In a "difficult" and "deeply personal" decision, Jesse Turner has decided to leave Albemarle High School after two years as principal to lead Buford Middle School
Turner, a Charlottesville High School graduate, said he wants to help students in the community where he grew up be successful.
"I couldn't pass up the opportunity," he said, adding that he'll miss the students of Albemarle County. "I've been away for 21 years."
Turner started his teaching career in the city schools but spent the previous 13 years in Albemarle County Public Schools, serving in various administrative roles, including principal of Monticello High School.
"As a graduate of Charlottesville City Schools, Dr. Turner's enthusiasm on returning to his alma mater is contagious," Charlottesville Superintendent Rosa Atkins said in a news release. "We are excited to welcome his strong leadership at Buford."
Turner will start at Buford on July 1 after closing out Albemarle's school year. Turner said in a statement that leaving Albemarle is a difficult decision and that the community, staff, parents "are second to none in being able to work together, to set high standards and in outperforming expectations."
Turner said he is excited to go back home. He lives in Charlottesville and has two children who currently attend the city schools.
"It's not enough to say I have been concerned over some of the challenges the city has faced these past few years," he said. "If I can make a contribution to bringing our entire city together and to moving the quality of education forward, I need to turn feelings into action."
Charlottesville schools noted that Turner supported the county's redesign of the high school experience to focuses on engaging students' interests. The announcement also noted his support of maker education and non-traditional learning spaces at Monticello, as well as his success in increasing the school's on-time graduation rate.
In 2017 — Turner's fifth and final year at Monticello — 97.8 percent of the school's African-American students graduated on-time, according to state data. The graduation rate for all students that year was 91.4 percent.
Turner said his high school experience will help him better prepare Buford students for the next step.
"I know what they need to do," he said.
During his 26-year career, Turner said he's worked at most levels of education, including six years at a middle school.
Turner said he'll bring his trademark bow ties with him to Buford. He described himself as a child-first educator and said he's willing to collaborate.
"Every decision that I make is what's best for children," Turner said.
Currently, seventh- and eighth-graders attend Buford, a model that has been in place since 1988, when the city switched from two middle schools to one. Fifth- and sixth-graders currently attend Walker Upper Elementary.
Turner said that when he was a student, the city schools still had two middle schools and he attended Walker.
"I'm partial to the 6-8 model," he said. "I always thought [the current] model creates an unnecessary transition for children."
Turner said he's "extremely excited" to tackle the planning for bringing over the sixth grade, which could entail different spaces and learning environments.
The Charlottesville school division will receive $3 million in Fiscal year 2020 for design work on the reconfiguration. Funding for the overall project, which could cost anywhere from $55 million to $80 million, has not yet been provided.