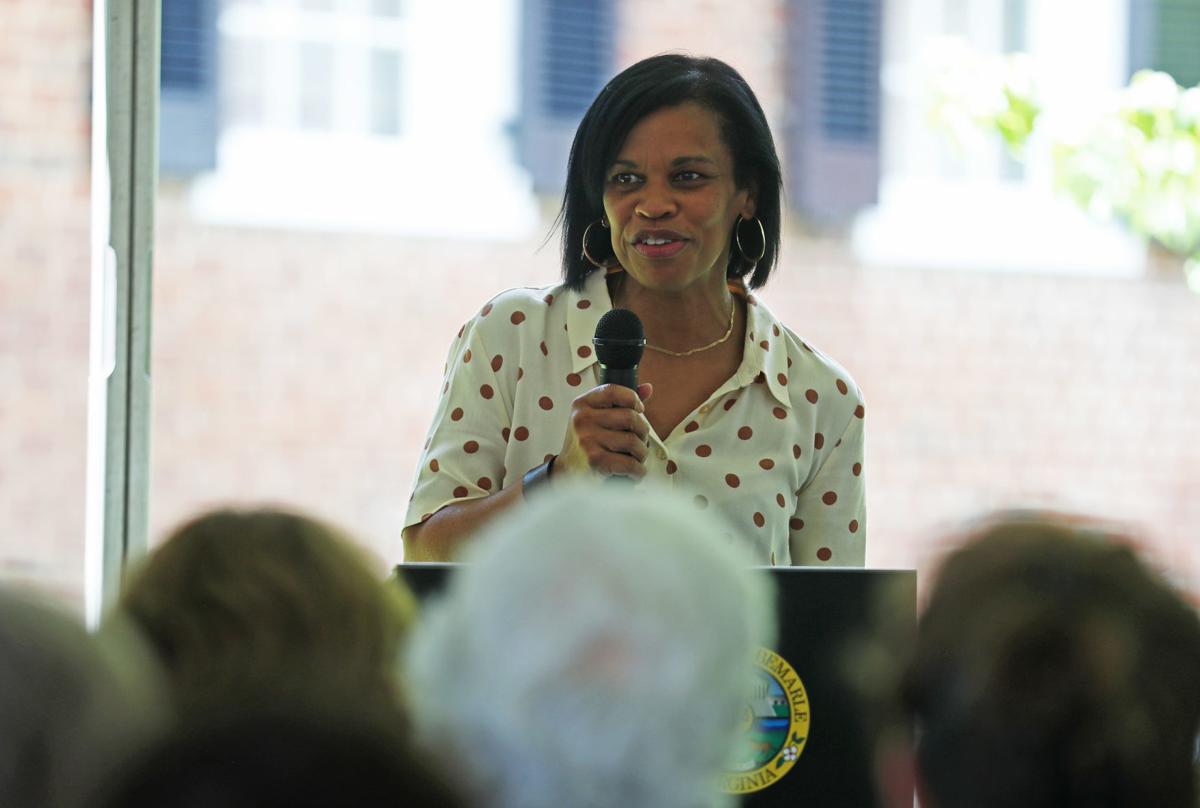 Albemarle County and Charlottesville schools are beginning the lengthy process to update their history curricula to include more diverse perspectives.
Both school systems kicked off that effort earlier this month with a workshop and tour of the University of Virginia's Memorial to Enslaved Laborers. Officials for both divisions say the first step is to prepare teachers for the work of updating the curriculum.
About 30 U.S. History teachers in the county volunteered to help and are receiving a stipend for their work. Charlottesville also has a cohort of teachers. The two divisions will partner up on certain sessions during the school year.
"Big picture, the end goal is telling history truthfully to include experiences of those who have been erased in the past," said Neeley Minton, coordinator of social studies and world languages for Charlottesville City Schools.
Albemarle's primary partner is Montpelier while Charlottesville has teamed up with the Jefferson School African American Heritage Center.
Participating teachers in the county will take students to Montpelier and attend workshops. They'll also try out strategies and lessons in the classroom and report back to the larger group. The division also plans to host community forums about the topic.
The recent September session included the visit to the memorial, which is still under construction and set to open next year. It also featured a discussion with descendants of enslaved people and a seminar on culturally responsive teaching.
John Hobson, the social studies lead coach for Albemarle County, said he wants teachers to reference how local historical sites are reframing their history as a basis for future lessons.
"Montpelier and Monticello are good models for us, because what we're endeavoring to do is to think about curriculum in that same way that people are reinterpreting spaces," he said. "It is taking the hard critical look at our curriculum and unearthing untold stories, untold narratives so that we get a more honest account."
Hobson said they use the inquiry-design model to rewrite the curriculum. The model encourages students to ask and find answers to their own questions with evidence from supporting sources.
Andrea Douglas, executive director of the Jefferson School, said it is time for students to learn a more nuanced history with more perspectives.
"It's clear that it's time," she said.
Douglas said there's a "deficit" in students' understanding of American history, a deficit that can be addressed by telling the truth.
The Jefferson School has extensive research and resources that cover local history. Next summer, it will offer a summer training focused on teaching local history, Douglas said.
On Monday, some Charlottesville teachers will attend a professional development session on the topic. The focus will be preparing schools to participate in Liberation Day ceremonies next year. Liberation Day, celebrated March 3, marks the beginning of emancipation in Albemarle County and Charlottesville.
"It's using Liberation Day as a vehicle for educating students more broadly about local history," Douglas said.
Minton said the Jefferson School was a key driver for the curriculum update in Charlottesville.
"What we are discovering is that in examining our standards, planning our lessons and figuring out our units, we were not always providing a full picture of history," Minton said.
"I think we're out in front of that," Hobson said.
Virginia will review the social studies standards of learning in 2022.
"Long term, we want to change the pedagogy, change the written curriculum, the talk curriculum, the hidden curriculum," Hobson said. "Truth has to proceed reconciliation. We have to have an honest accounting. We have to have students that are critical thinkers, because ultimately, this is about citizenship."
Minton said Monticello, Montpelier and the Jefferson School have shared resources with the teachers. Online articles and podcasts, such as the New York Times' 1619 project, which reframes the role of slavery in American History, are proving useful to their work, she said.
Hobson said he wants to find a systematic way for teachers to use the 1619 project.
"The system is not very top down, but yes, teachers are utilizing those resources," he said.
The curriculum update is just beginning. Officials in both divisions expecting the rewrite to start next summer.
"Even without this grant, teachers are doing amazing things," Hobson said. "They have done the personal work, and they're very knowledgeable and educated. I think what this is doing is, as a sort of system, we're collectively moving together. So that we're guaranteeing an experience for all students in this division and not just pockets of good work."