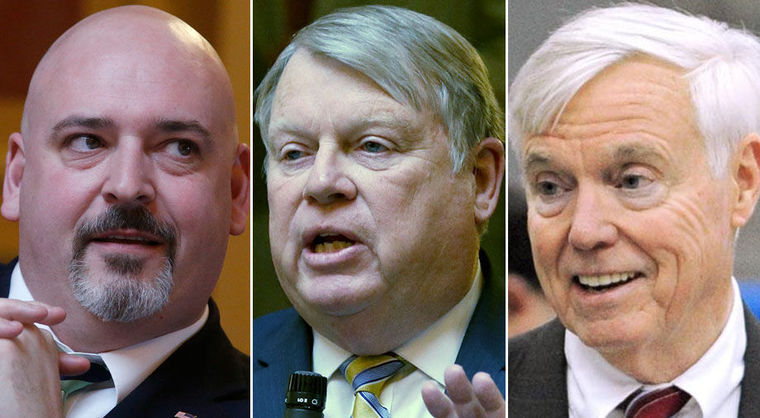 After the historic U.S. Supreme Court ruling on gay marriage, Republicans in the Virginia General Assembly are preparing to push back in what they call a culture war aimed at destroying religious freedoms.
Del. C. Todd Gilbert, R-Shenandoah, said protections of religious liberties are going to be the primary focus for House Republicans in the 2016 General Assembly session, which begins in January.
"My concern is that the ultimate goal of the far left is not to secure rights for gay individuals but to tear down religious institutions and the belief systems that support them," Gilbert said this week.
Asserting that this is the "next frontier for the far left," Gilbert said he believes it is "more important than ever that we ensure that people's deeply held convictions" are protected.
"If we are truly going to live in a world where everyone is afforded their rights to live their lives precisely as they please, then surely that has to include people of faith as well," he said.
While GOP leaders in both houses of the legislature have acknowledged they will abide by the high court ruling that made same-sex marriage the law of the land, House Speaker William J. Howell, R-Stafford, said the most pressing concern now is protecting religious liberty.
"We will need to carefully evaluate how this ruling will be applied and make sure we take steps to protect faith leaders, churches, nonprofits and individuals," Howell said in an email. "The House of Delegates will fight vigilantly to protect religious freedom."
Gilbert was tapped to take the lead in reviewing current law and what other states are doing to determine what actions Republicans may take during the 2016 session.
"It's very much a work in progress. Right now, we are looking at what other states have done and are trying to do, what advocacy groups are trying together. It's all in its formative stages," Gilbert said, adding that no proposals have been drafted yet.
"I can't tell you where this is headed other than we are looking at everything we can as an option to try and reinforce the rights of our citizens to hold their deep religious convictions and be respected in that regard. We will know surely before session in which direction we are going, and it will be in multiple parts," he said.
A.E. Dick Howard, a constitutional law professor at the University of Virginia and author of the modern Virginia Constitution, said lawmakers who will not accept same-sex marriage as a proposition must be gathering their forces now and thinking of ways to craft legislation aimed at preserving, and even expanding, religious liberties.
"If you can't defeat same-sex marriage as such at this point, then I think the next obvious step is to see how much protection can you give religious people," Howard said.
"I assume we will see bills not unlike the Religious Freedom Restoration Act that has carved out zones of protections for religious liberties."
In 1993, then-President Bill Clinton signed the Religious Freedom Restoration Act. The legislation mandates that religious liberty of individuals can be limited only by the "least restrictive means of furthering a compelling government interest."
Since the federal legislation took effect, 19 states have passed their own Religious Freedom Restoration acts, including Virginia.
In 2007, the General Assembly passed a proposal sponsored by Del. L. Scott Lingamfelter, R-Prince William, that essentially codified into state law the federal legislation that inspired it. An additional 11 states have religious freedom protections provided by state court decisions.
"We have other laws on the books already, one of them relating to adoptions and the rights of religious-based adoption agencies to continue to conduct those adoptions in accordance with their faith," Gilbert said.
"We probably have more protections than some states, but certainly we need to look at where we are in light of the recent court ruling."
In a year when all 140 seats in the assembly are up for election, some lawmakers in safe GOP districts remain loyal to opponents of same-sex marriage and advocates of religious freedom, believing that the Supreme Court ruling opens the door to discrimination against Christians who refuse to embrace marriages between same-sex couples.
"Given that the majority on the court refused to acknowledge that Americans have a constitutionally protected right to exercise our faith in the public square that's not limited to 'teaching' or 'believing' as Justice (Anthony) Kennedy implied, we are concerned that at the very least religiously based organizations that provide a host of services from health care to homeless shelters will be forced to give up their tax-exempt status," said Victoria Cobb, president of the Family Foundation of Virginia.
Cobb also said she is concerned that businesses that don't want to participate in same-sex unions will be punished, "like they have been in other states, even though they will provide their services to any individual, gay or straight."
Donald N. Blake, chairman and president of the conservative Virginia Christian Alliance, said that despite the decision by the high court, the issue of gay rights is not settled.
"I suspect there will be further litigation for decades, in both state and federal courts," Blake said. "The immorality movement in our nation, encouraged by government at every level, will continue to pursue its agenda. Look at Roe v. Wade, now some 42 years after the Supreme Court's decision."
James Parrish, executive director of the gay rights group Equality Virginia, said his organization will continue to work toward protecting gays and lesbians from discrimination by business owners who deny them service for religious reasons.
"We truly believe when you open your doors to the business to the public, you are serving the entire public," Parrish said. "We believe there is a social contract out there: When you open a public business, you are opening your business to the public."
But efforts to push anti-discrimination legislation ends at the church door, Parrish said. "Any faith leader can refuse to marry anyone for any reason. That is all protected," he said.
Rebecca Glenberg, legal director with the American Civil Liberties Union of Virginia, which supports same-sex marriage, said the federal gay marriage ruling will not affect how churches conduct marriages.
"This notion that some have put forward that churches will be forced to perform marriages that they don't approve of is not true, and it's never been true," Glenberg said.
"Right now a church can refuse to perform a marriage between two people of the same sex, of different religions, of different races. Churches can decide for themselves what religious rites they will partake in, and they will continue to be allowed to do so.
"No one is going to force a church to perform a marriage that is contrary to the church's beliefs."
This doesn't stop lawmakers such as Gilbert, who see organized religion, particularly Christianity, as being under attack.
"Maybe one person and one organization is willing to pay lip service to the fact that this is not what they are going to do, but I think that the vile hatred we see from the left against people of faith just reinforces my belief they will stop at nothing to tear down religious institutions and beliefs," Gilbert said.
Get local news delivered to your inbox!
Subscribe to our Daily Headlines newsletter.