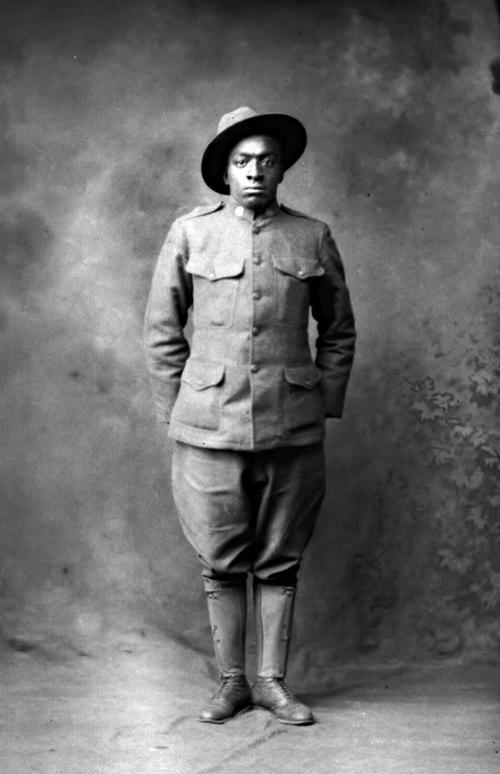 Throughout the United States, the summer of 1919 was marked by violence against African Americans and the lynching of several black World War I veterans.
Charlottesville, however, remained unmarked by the "Red Summer," and Thursday marks the 100th anniversary of the day black and white veterans marched together through the streets of Charlottesville to celebrate their homecoming and Independence Day. Though the soldiers were separated by race, the event occurred without controversy or bloodshed.
"When I saw that black veterans and white veterans marched from Downtown Charlottesville to UVa — separately and segregated, but still," said John Edwin Mason, an associate professor of history at the University of Virginia, "I said, 'Wow, this is unusual and radically different from what happened elsewhere.'"
Newspaper clippings about the event were sent to Mason by Jane Smith, a fellow member of the Blue Ribbon Commission that studied monuments and the eras of slavery and segregation in Charlottesville.
"The atmosphere in Charlottesville was not one of racial liberalism, and yet this happened," Mason said.
The Daily Progress announced a schedule of July 4 events matter-of-factly on July 2 and 3, 1919.
"'On to Lambeth Field' can be heard everywhere through the city by the colored citizens," George Buckner, executive director of the Urban League of St. Louis, wrote in an event notice. "It is expected that fully 2,000 will gather there, following the exercises on the north front of the Rotunda."
On July 5, the Progress reported that in fact about 1,500 African American residents did turn out to hear Buckner, Mayor Elbridge Haden and other city leaders. Buckner "recalled the part the negro had played in the growth of our country and urged the large audience to assist the returning soldier in getting readjusted to civil life," according to the Progress.
In Charlottesville, the years surrounding the parade saw several statues funded by Paul Goodloe McIntire commissioned and unveiled in segregated parks created out of African American neighborhoods. Across the South, public lynchings of African Americans occurred and the Ku Klux Klan re-formed.
Returning African American veterans were often targeted because their uniform was seen as an affront to Southern men, and because Southerns recognized that they had potential leadership qualities to mobilize other African Americans, according to an article by the Equal Justice Initiative.
"During this period, black veterans became widely associated in the minds of many white people with an attitude of defiant resistance that could prove deadly in a society where racial subordination was violently enforced," the report stated. "This perception put black veterans in jeopardy even years after the war, and many black veterans were killed as a result of being continuously targeted for racial violence."
Repercussions extended far beyond the Red Summer, Mason said, citing his own father's experience in the U.S. Army. Lt. Col. John E. Mason Sr. entered the Army when it was still segregated and served in both World War II and the Korean War.
"He fought for rights abroad that he did not enjoy," Mason said.
The photographs, which depicts a calm and proud man in a World War I uniform and the Charlottesville parade, among other things, should be remembered for their depiction of the soldiers as proud citizens who deserved equal rights, he said.
"They knew their country didn't treat them well and hadn't given them their constitutional rights, but they believed that, some day, America would honor its promise to their descendants," Mason said.