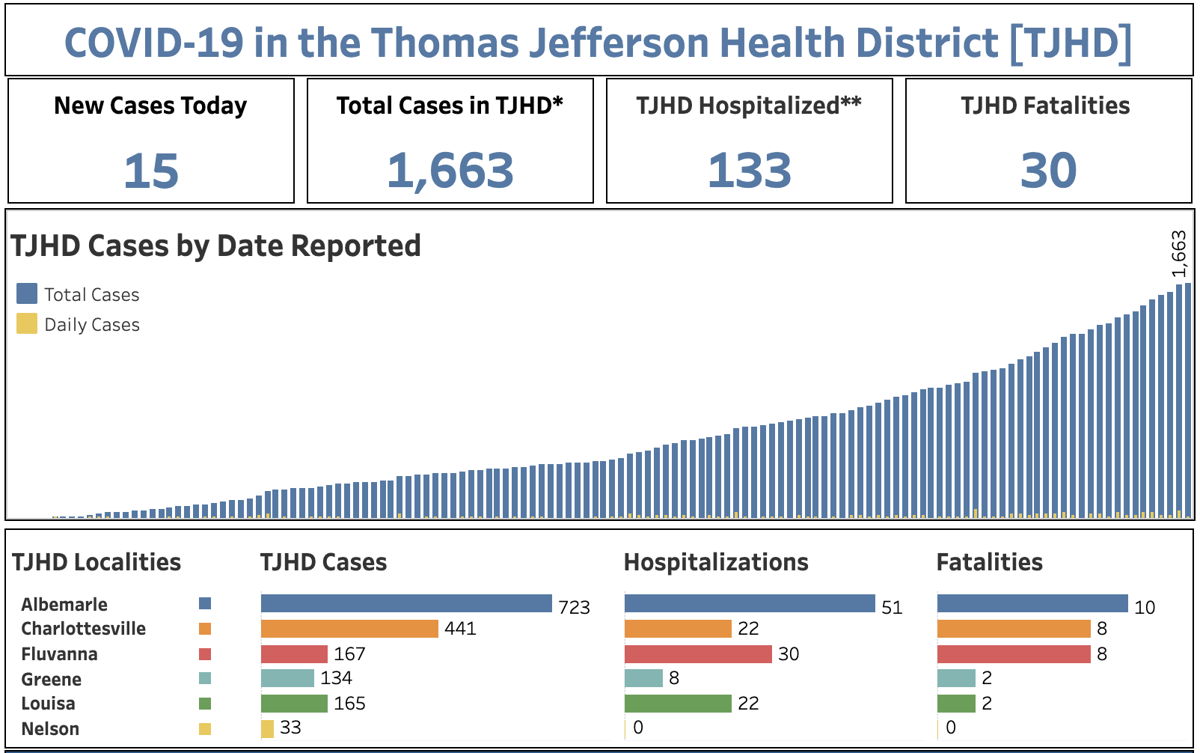 RICHMOND — The Virginia Department of Health reported Tuesday that the statewide total for COVID-19 cases is 86,994 — an increase of 922 from the 86,072 reported yesterday.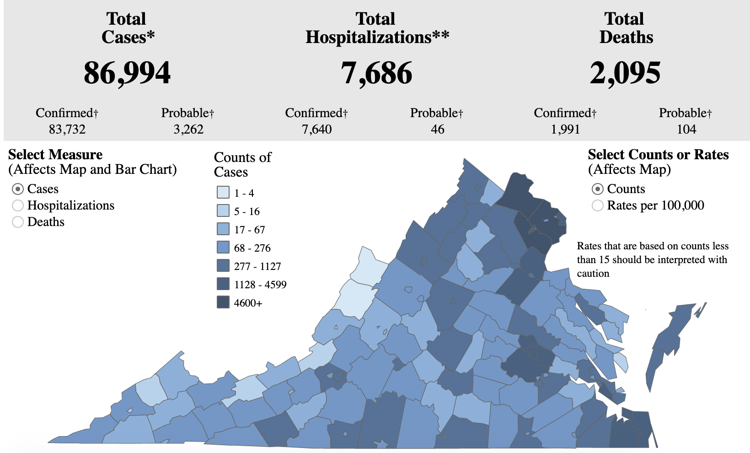 The 86,994 cases consist of 83,732 confirmed cases and 3,262 probable cases. There are 2,095 COVID-19 deaths in Virginia — 1,991 confirmed and 104 probable. That's an increase of 13 from the 2,082 reported Monday.
Locally, the Thomas Jefferson Health District reported 15 new cases on Tuesday, for a total of 1,663 cases in the health district.
In total, 133 hospitalizations have been reported, along with 30 fatalities.
Albemarle County continues to have the highest case counts in the entire TJHD. Today, 723 cases have been reported. 
Nelson County remains the only locality in the TJHD with the lowest case counts, and zero reported fatalities or hospitalizations. There have been 33 cases reported in Nelson.
Elsewhere across the district, Charlottesville has reported 441 cases; Fluvanna has reported 167 cases; Greene County has reported 134 cases and Louisa County has reported 165 cases.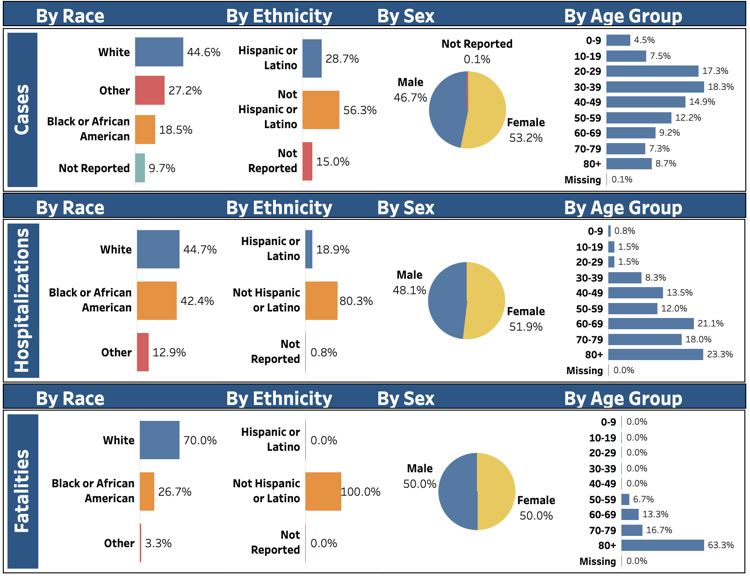 The majority of the region's cases have been found in people between the ages of 20-49. In those age groups, there have been a total of 740 cases reported; people between the ages of 30-39 make up 305 of those cases, while 287 cases are in people between the ages of 20-29.
There are now 200 reported cases in young people between the ages of 0-19; 75 cases have been detected in children between the ages of 0-9, while 125 cases have been detected in patients between the ages of 10-19.
A total of 621 cases have been detected in people between the ages of 50-80+. 
The VDH defines probable COVID-19 cases as people who are symptomatic with a known exposure to COVID-19, but whose cases have not been confirmed with a positive test.
As the overall number of positive COVID-19 test results in Virginia grows, data from the VDH coronavirus dashboard shows the percentage of positive results from testing is down. The seven-day average for percentage of positive test results was at 7.3% as of July 24, which is the most recent figure provided by the VDH. That's down from a peak of 20.8% on April 21.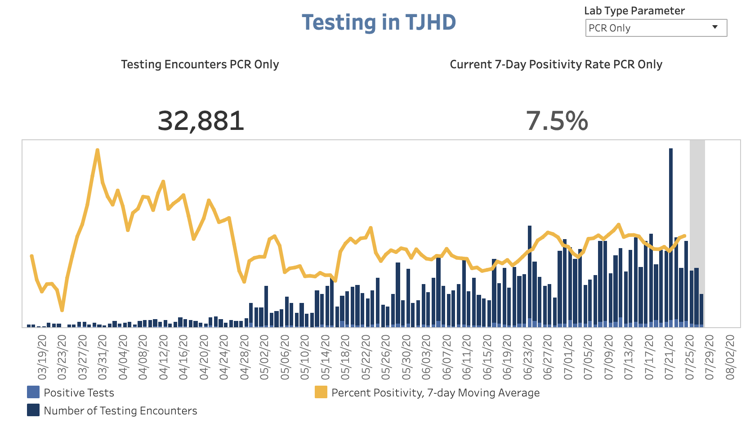 Locally, the region's current seven-day PCR positivity rate is at 7.5%. In total, 32,881 PCR testing encounters have been performed across the health district. 
When combined with antibody testing efforts, the TJHD has recorded 36,255 testing encounters. The seven-day positivity rate for all testing encounters across the health district is 7.5%.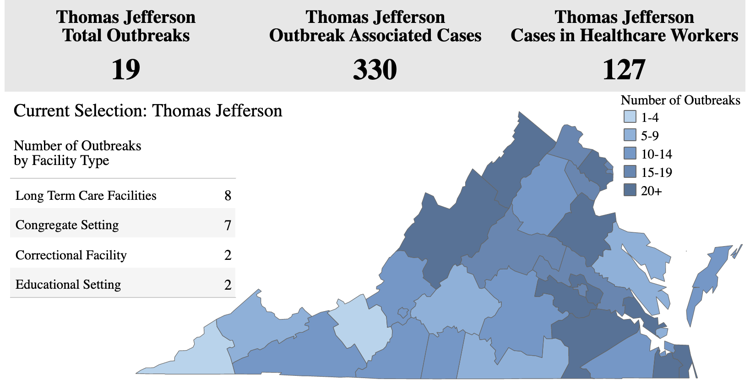 No new outbreaks have been reported in the TJHD. The total number of outbreaks reported in the health district is 19. 
Of the region's 19 outbreaks, 330 cases are outbreak-associated. 
There have been eight reported outbreaks in long-term care facilities, including the Cedars Healthcare Center in Charlottesville, which now has 85 reported cases. 
Seven outbreaks have been reported in congregate settings across the health district, while two outbreaks have each been reported in correctional facilities and educational settings.
There have been 127 cases detected in healthcare workers in the TJHD. 
In total, there have been 622 outbreaks reported across the commonwealth, with 13,990 outbreak-associated cases. To date, 5,048 cases have been detected in Virginia's healthcare workers.  
State health officials have said there's a lag in the reporting of statewide numbers on the VDH website. Figures on the website might not include cases or deaths reported by localities or local health districts.
Get local news delivered to your inbox!
Subscribe to our Daily Headlines newsletter.