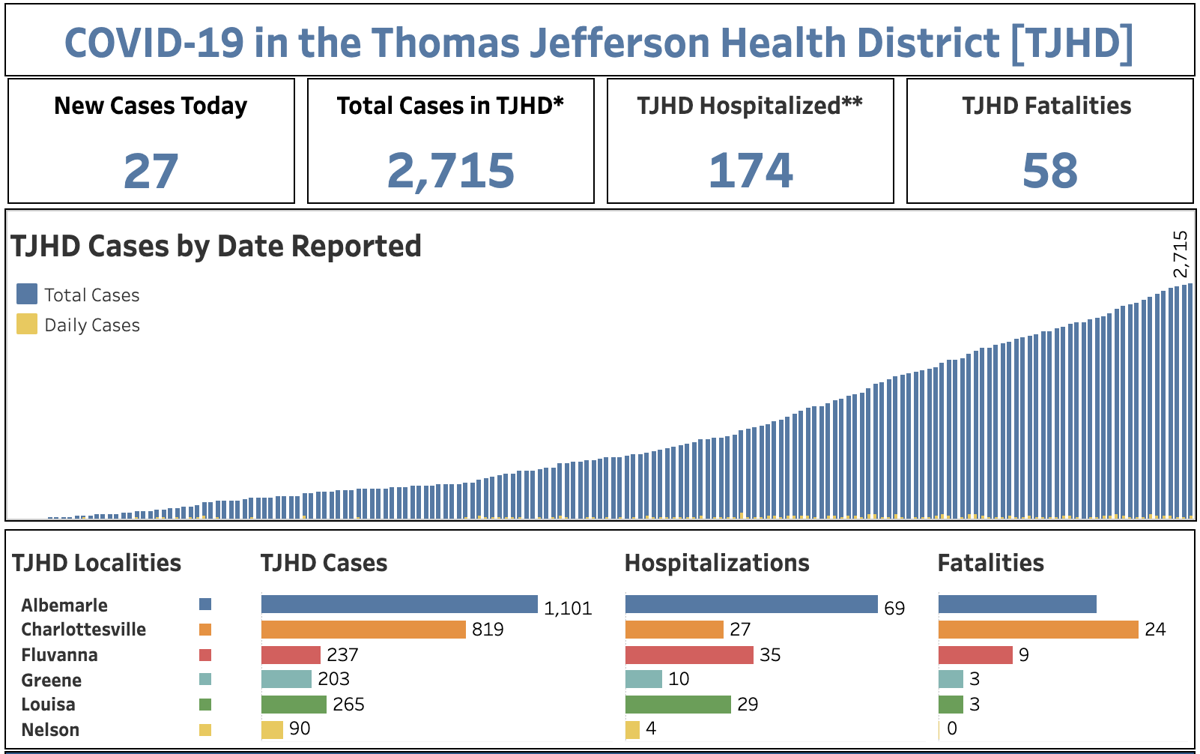 RICHMOND — The Virginia Department of Health reported Wednesday that the statewide total for COVID-19 cases is 129,289 — an increase of 882 from the 128,407 reported Tuesday.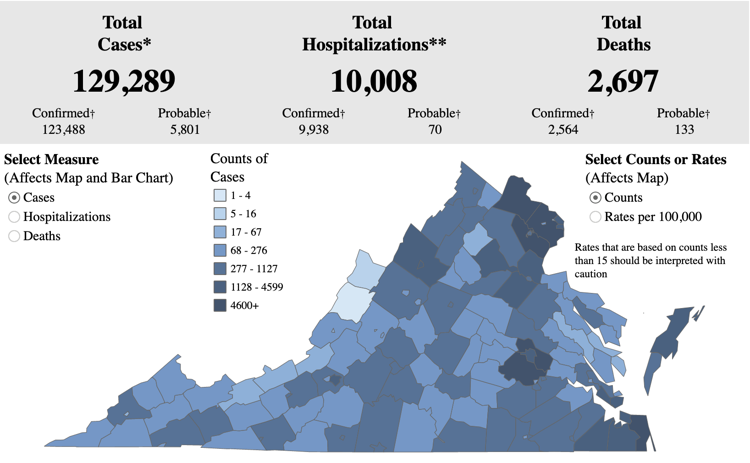 The 129,289 cases consist of 123,488 confirmed cases and 5,801 probable cases. There are 2,697 COVID-19 deaths in Virginia — 2,564 confirmed and 133 probable. That's an increase of 11 from the 2,686 reported Tuesday.
On Wednesday, the Thomas Jefferson Health District reported 27 new cases, for a total of 2,715 cases reported across the region since March. One new fatality was also reported. 
Albemarle County reported five new cases, bringing its total case count to 1,101 cases, 69 hospitalizations and 19 fatalities. 
There were 22 new cases reported in the city of Charlottesville, along with one new fatality — the 24th fatality in the city. To date, there have been 819 cases reported, along with 27 hospitalizations.
One new case was reported in Fluvanna County, which now has 237 cases, 35 hospitalizations and nine fatalities. 
Greene County's case count dropped by one, bringing it to 203 cases. To date, there have been 10 hospitalizations and three fatalities. 
No new cases, hospitalizations or fatalities were recorded in Louisa or Nelson Counties. Louisa has reported 265 cases to date, along with 29 hospitalizations and three fatalities. Nelson has 90 reported cases and four hospitalizations. There have been no reported fatalities in the county.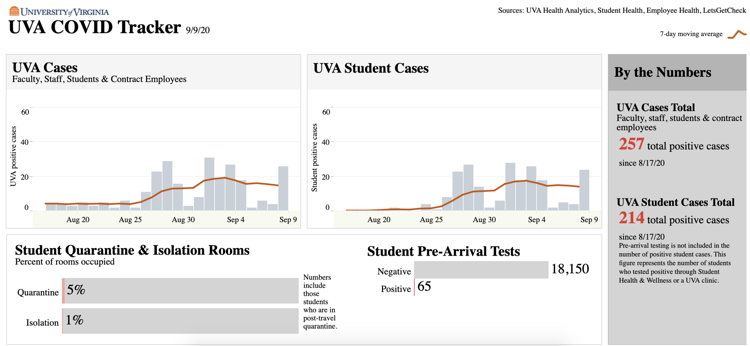 On Wednesday, the University of Virginia's COVID-19 dashboard reported a total of 257 cases in faculty, staff, students and contract employees. There were 26 new positive test results reported in the UVa community from Sept. 8. 24 of those positive results were in students. There are now 214 reported cases in UVa students. 
Five percent of the university's quarantine rooms are currently occupied, while 1% of the university's isolation rooms are occupied. 

Four new COVID-19 hospitalizations were reported on Sept. 8. Currently, the average time it takes to complete a lab test through UVa Health's Hospital Testing Lab is 24 hours.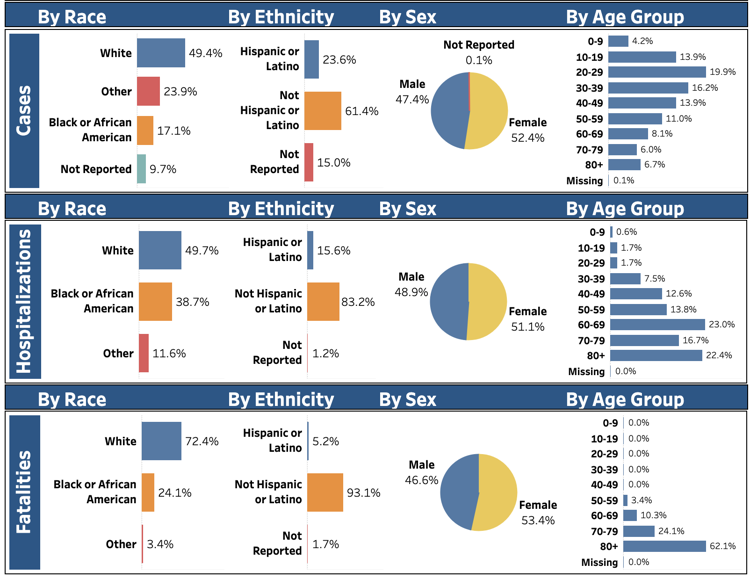 The majority of the region's 58 fatalities have been reported in people 80 and older, with a total of 36 fatalities reported. There have been 14 fatalities reported in people between the ages of 70-79, six in people in their 60s and two in people in their 50s. There have been no reported fatalities in anybody under the age of 49.
To date, there have been 114 cases reported in children between the ages of 0-9; 378 in people between the ages of 10-19; 539 in people between the ages of 20-29 —the largest group of cases in the entire health district—; 441 cases in people between the ages of 30-39; 378 in people between the ages of 40-49; 2898 in people between the ages of 50-59; 220 in people in their 60s; 162 cases in people in their 70s and 182 in people 80 and older.
The majority of the region's cases have been diagnosed in people between the ages of 10-49.
The VDH defines probable COVID-19 cases as people who are symptomatic with a known exposure to COVID-19, but whose cases have not been confirmed with a positive test.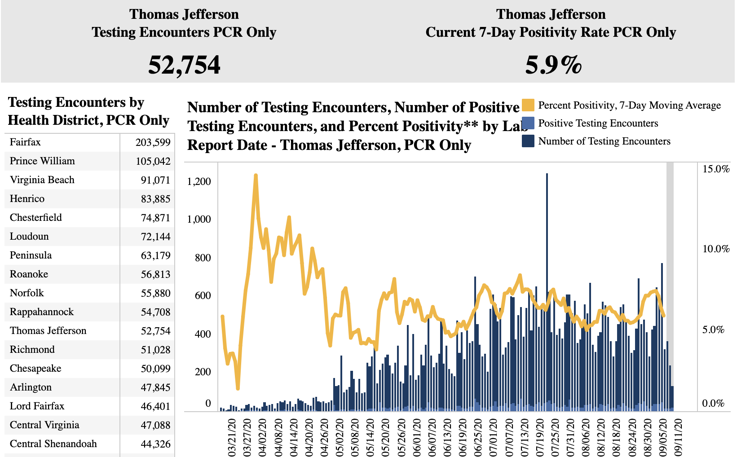 As the overall number of positive COVID-19 test results in Virginia grows, data from the VDH coronavirus dashboard shows the percentage of positive results from testing is down. The seven-day average for percentage of positive test results was at 7.6% as of Sept. 5, which is the most recent figure provided by the VDH. That's down from a peak of 20.8% on April 21, but up from the 5.7% reported on June 23.
Locally, the current seven-day PCR positivity rate is 5.9%, as of Sept. 5. There have been 52,754 PCR testing encounters performed across the district. When combined with the total number of testing efforts across the region, including antibody testing, there have been 56,735 testing encounters with a 6.2% positivity rate.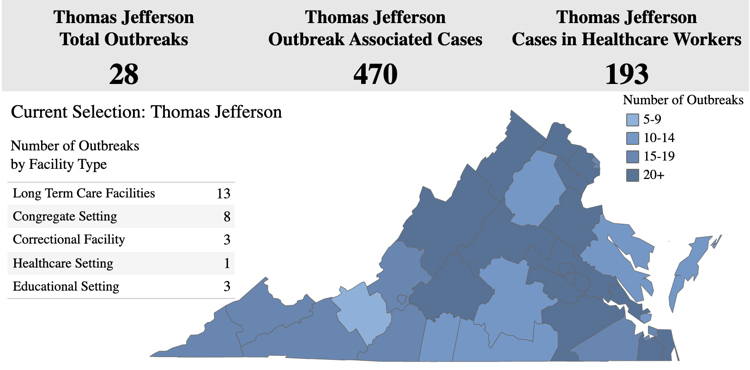 No new outbreaks were reported in the region on Wednesday. There have been 28 reported outbreaks: 13 in long-term care facilities, eight in congregate settings, three in correctional facilities, three in educational settings and one in a healthcare setting. Out of the region's 28 outbreaks, there have been 470 outbreak-associated cases. To date, 193 cases have been reported in the region's healthcare workers 
There are 880 outbreaks, with 18,459 outbreak-associated cases reported. To date, there have been 7,335 cases reported in the state's healthcare workers. The VDH classifies an outbreak as at least two lab-confirmed cases.
State health officials have said there's a lag in the reporting of statewide numbers on the VDH website. Figures on the website might not include cases or deaths reported by localities or local health districts.
Concerned about COVID-19?
Sign up now to get the most recent coronavirus headlines and other important local and national news sent to your email inbox daily.