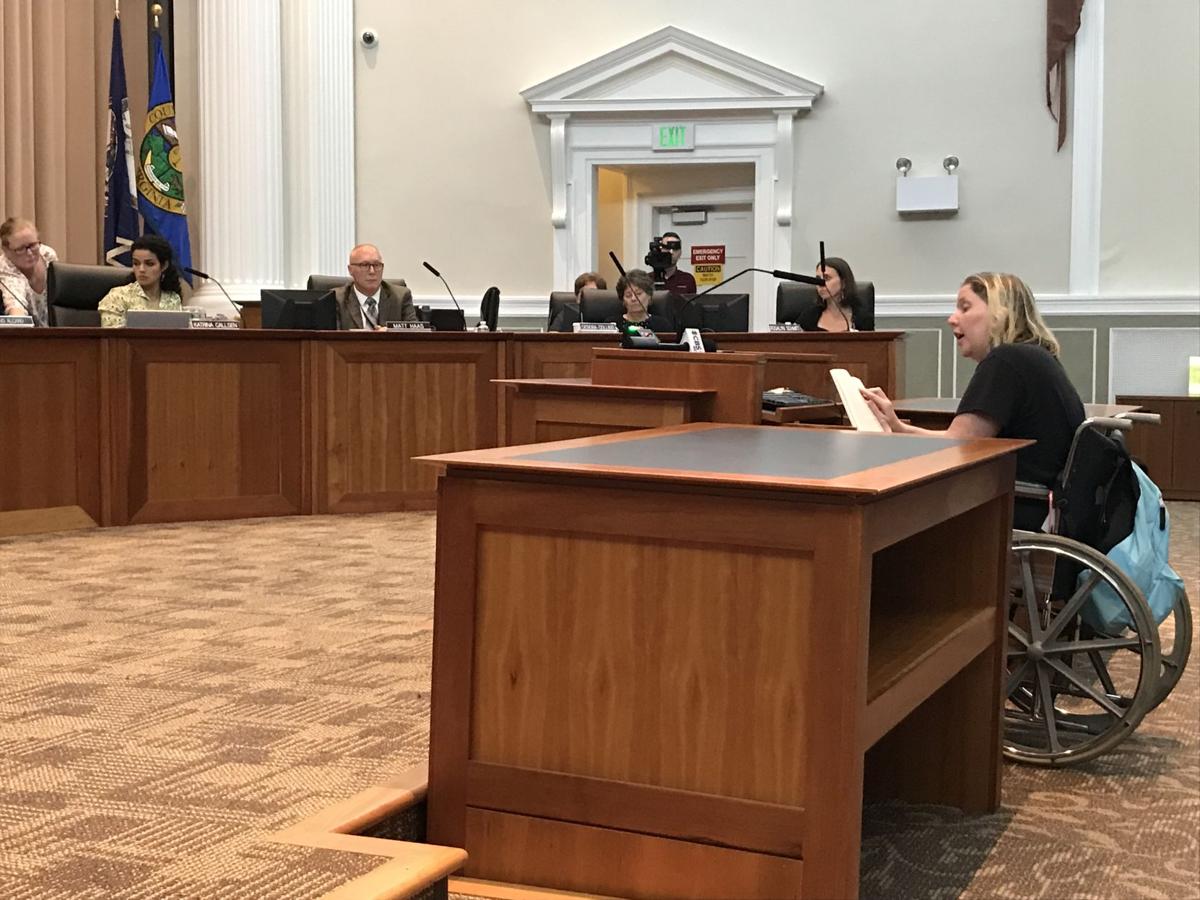 A call to ban Confederate imagery in the Albemarle County school division's dress code again dominated a tense School Board meeting Tuesday.
Matt Haas, superintendent of the county schools, started the meeting by announcing that the division would be partnering with Charlottesville City Schools to combat racism and close achievement gaps between white students and students of color.
"For the most part, our students of color, specifically African-American and Latino students, are not as successful as I believe they can be in our schools," he said. "They are not enrolled in our advanced classes or participating in enrichment opportunities at the same level as their white peers."
However, this did little to assuage more than a dozen community members who spoke during the meeting's public comment period.
Spearheaded by the Hate-Free Schools Coalition, community members have been asking for a ban, saying Confederate images make students of color fear for their safety and do not allow for an equal learning environment. The Albemarle school district fears that banning Confederate symbols could make it liable for violating students' First Amendment rights.
Instead of punishment, the division has opted to use violations of the dress code and instances of students wearing potentially offensive clothing as "teachable moments" that school officials say help students learn from each other.
On Tuesday, community members again called on the School Board to outright ban Confederate symbols.
Emily Thomas-Clark, a recent graduate of Murray High School, said the division's policy of using dress code violations as "teachable moments" does more harm than good. Citing an example at Murray in which she said students had posed with anti-Semitic graffiti, she said a Jewish student had been deeply hurt by the incident.
"Teachable moments do not exist; they harm every student except for the student you're trying to teach," she said.
Star Peterson, a Charlottesville activist who suffered severe injuries in the car attack following the Aug. 12, 2017, Unite the Right rally, read aloud a portion of a book called "White Fragility: Why It's So Hard For White People to Talk About Racism."
Written by sociologist Robin DiAngelo, the book examines why it can be difficult for white people to talk about race and steps they can take to acknowledge that. At a Charlottesville City Council meeting last month, copies of the book were given to the councilors.
After reading the excerpt, Peterson said she hopes School Board members will seek out the book and learn from it.
Before public comment, board Chairwoman Kate Acuff read the rules for public comment, emphasizing that the audience was not allowed to make sound of approval or disapproval — including snapping — while people were speaking.
Instead of snapping, members of the audience raised their hands and wiggled their fingers when a speaker said something they agreed with.
At the last School Board meeting, protesters held a "people's meeting" in a room adjacent to where the board was assembled. After their chants could be heard in the main auditorium, police officers asked the approximately 50 people to leave. When some refused, police began making arrests. Six people were charged with trespassing and two of the six also were also charged with obstruction of justice.
The Charlottesville school division also has heard the call from the Hate-Free Schools Coalition to ban Confederate symbols. At their meeting last week, members of the city School Board expressed their willingness to work with the coalition to develop a new dress code.
"I, too, would agree that there are symbols that evoke fear in adults and in children and we are at a place in our country now where the incidents of violence have increased significantly," city schools Superintendent Rosa Atkins said.
The Albemarle County School Board will meet again at 6:30 p.m. Sept. 27 at the County Office Building-McIntire.
Tyler Hammel is a reporter for The Daily Progress. Contact him at (434) 978-7268, thammel@dailyprogress.com or @TylerHammelVA on Twitter.