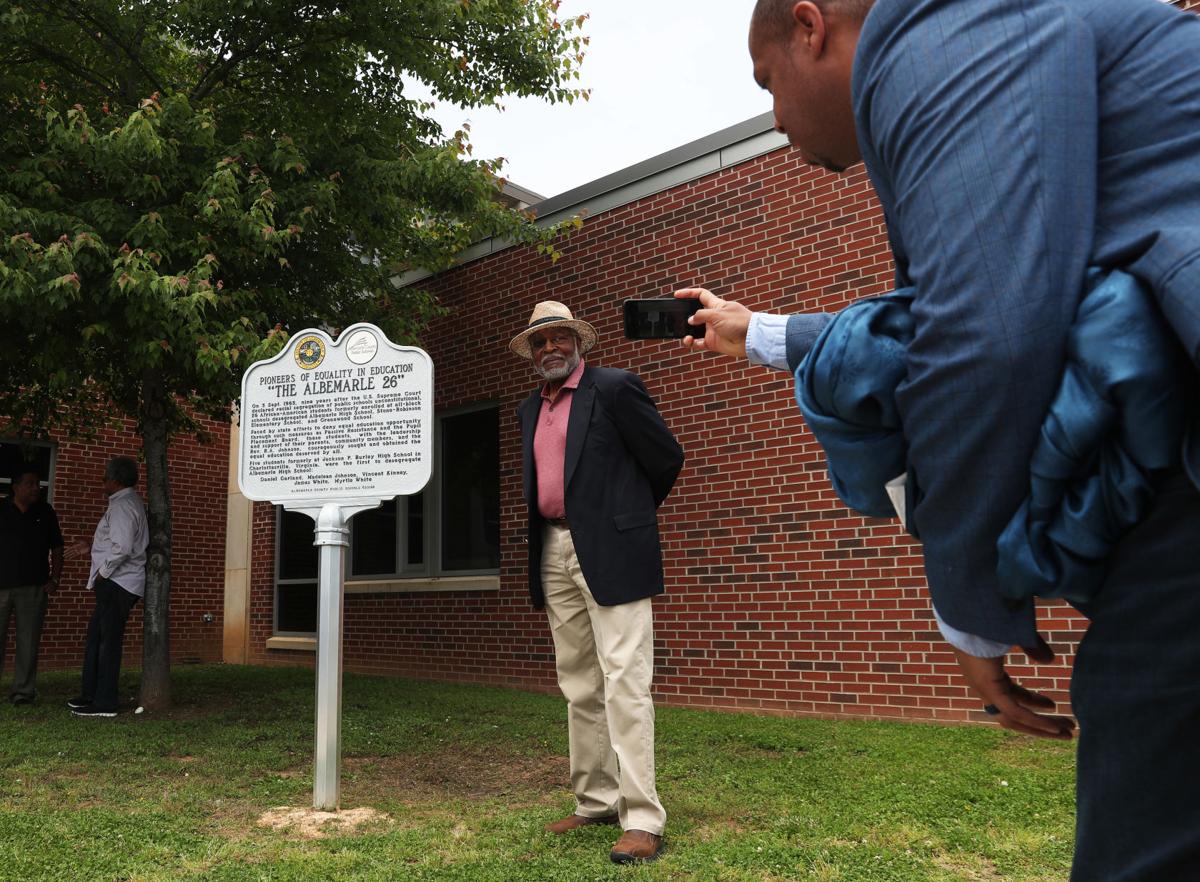 Matthew Johnson remembers being stared down and questioned when he walked into Stone-Robinson Elementary 56 years ago to attend second grade.
Johnson was part of a group of 26 students who were the first to desegregate three county schools in 1963. Albemarle County Public Schools named and recognized these students for the first time Friday — the 65th anniversary of the Supreme Court's decision in Brown v. Board of Education of Topeka that made school segregation unconstitutional.
Historical markers bearing the names of the 26 students are now installed at Stone-Robinson, the former Greenwood School in Crozet and Albemarle High School.
"What I really want for people to get out of it is for the students and administrators who are currently at the schools, when they see that plaque, when they walk in these doors every day, I want them to understand what people had to go through before them in order for them to have the experience that they have," said Lorenzo Dickerson, a local filmmaker and web specialist for the division.
Dickerson spearheaded the effort to identify and celebrate the 26 students.
Virginia opposed the decision through several measures as part of Massive Resistance. Gov. Lindsay Almond ordered the closure of two schools in Charlottesville to avoid integration. Albemarle County didn't face a court battle over desegregation but still took nearly 13 years to fully integrate in 1967.
Johnson said his mother pressed the School Board and fought for him and his siblings to enroll in Stone-Robinson. They were attending Rose Hill Elementary in the city.
"It's because of our mother," he said. "She fought for this for years."
He welcomed the recognition Friday.
"We never got recognized for the stuff we did at Albemarle," Johnson said.
Dickerson also made a 16-minute video featuring interviews with nine of the students that was released Friday.
"I'm hoping that people will start to understand that desegregation happened in the county, as well," he said.
Dickerson said the idea to look into the Albemarle 26 stemmed from his recent documentary on Albemarle's black classrooms, as well as from the Charlottesville 12 marker outside the Albemarle County Office Building, which was previously Lane High School. The city installed two markers honoring the Charlottesville 12 in 2011.
"The thought was, why haven't we done this for the county students a long time ago," Dickerson said. "It's overdue."
The video focused on their first day of school, riding the bus, leaving their teachers and being held back. Dickerson found that 14 of the 26 students were held back the next school year.
"That's tough because that was one of the things we were trying to eliminate by integration," Nathaniel Garland, one of the 26, said in the film.
Lewis Johnson, who also attended Stone-Robinson, said in the film that the teacher asked him help tutor other black children and that he made good grades during the school year. However, on the final report card, he was given straight F's.
"Where it came from, I don't know," he said, adding later that the experience made it more difficult to trust people.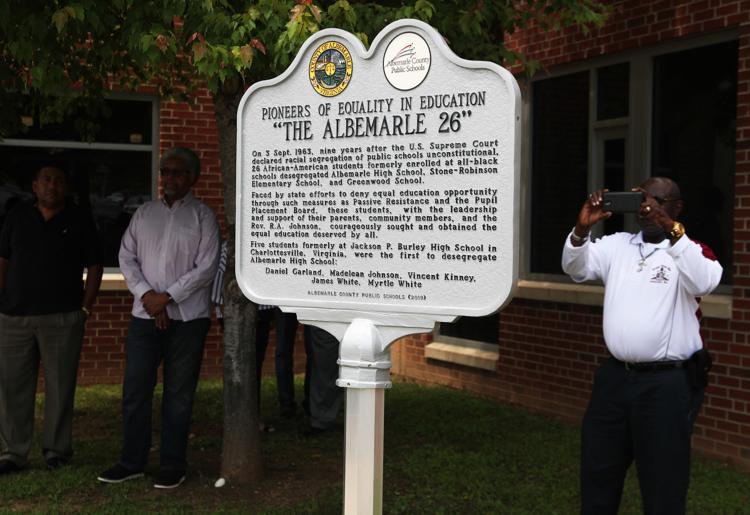 The markers highlight the work of parents and community members, including the Rev. R.A. Johnson, to integrate the schools.
Dickerson said Johnson, pastor at Zion Hill Baptist Church in Cismont, was the leader of a coalition of parents. He would drive parents to pick up Pupil Placement Board applications and plan desegregation in meetings at the church and at their homes.
"It was his brainchild and then the parents came on board, and they worked together," he said.
Matt Haas, superintendent of Albemarle County schools, said the Albemarle 26 inspire him.
"I hope someday I will make all of you, our true pioneers for equity, proud of me for the work that I am trying to do," he said. " … In many ways, you started a powerful change, and it is our job to see it through."
At Albemarle High School, Vincent Kinney was on hand to watch the unveiling. In 1964, he became the first black student to graduate from the school.
Kinney said Johnson and other local pastors had decided the time had come to desegregate.
"And I remember my father came home and said, "We have decided that it's time to do this," and I said, 'I volunteer. I will go and do that," he recalled.
Kinney said he hopes that the plaque reminds current students and staff that sacrifices were made.
"I hope they see that the level of near equality that's shared by all now has been fought for," he said. "Some of us endured scars to get to this place."